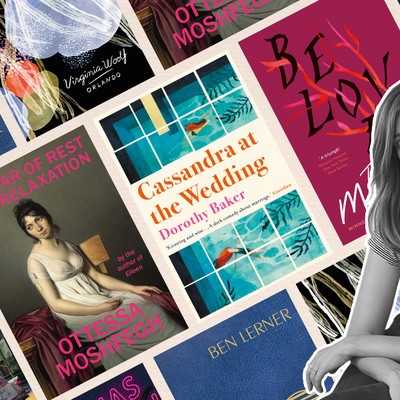 My Life In Books: Erin Somers

Described by Vogue as "a devilishly fun ride" and the New York Times as "taut and incisive", Erin Somers' new novel 'Stay Up With Hugo Best' is one of the most interesting debuts we've read in ages. Here, the author shares the novelists who've inspired her, the childhood favourites she rereads time and again, and her top picks for 2020.

What are you reading right now?
I'm reading Orlando by Virginia Woolf for the first time. I love her, but I've somehow never got around to it. It's a wonder – swift, brilliant, hilarious, weird. It's always gratifying when you find the classics hold up. 
What book from childhood will always stay with you?
The Wayside School series by Louis Sachar is so funny and strange. There's a real generosity to it, the way he assumes kids will get both irony and silliness. He doesn't talk down to them. 
Any children's books you still revisit? 
My daughter is almost five and we've started reading or listening to all the middle-grade novels I loved as a child: Matilda, The BFG, Tales of a Fourth Grade Nothing, The Phantom Tollbooth, Pippi Longstocking, Harriet the Spy, and so on. What a gift to have a reason to revisit them. 
Which books made you want to write?
I always had the impulse, but the book that made me think I could do it was CivilWarLand in Bad Decline by George Saunders. The humour in it and its refusal to be lofty or snobbish or inaccessible made me think the whole thing was doable.
When and where do you read?
I read for hours every night after I put my daughter to bed. I usually read in bed and my husband reads downstairs and listens to records. I like to be alone but able to hear his music, and I like knowing he's reading too. 
Where do you buy books?
My favourite bookstore is Split Rock Books, my local indie in Cold Spring, New York. It's owned by people with great taste. Being there makes me feel hopeful. I also use the library a lot, too.
I usually read in bed and my husband reads downstairs and listens to records. I like to be alone but able to hear his music, and I like knowing he's reading too. 
Print or Kindle?
Print. I like having a sense of where I am physically in a book. Harder to conceptualise on a Kindle.
Do you belong to a book club?
No. I've always suspected writers are no fun at book clubs. It's like a doctor being in a medicine club or a lawyer in a law club. A mechanic in a car club. You get it. The wine part sounds great, and the gossip, but I'm afraid I'd be pedantic when it came to the books and they'd ask me to leave.
How do you choose what to read?
I follow my interests. I go on binges where I read everything an author has written to familiarise myself. Or I follow authors up the tree of their influences. I try to keep up with new books, but also fill holes in my education. 
Do you have a favourite author?
If I have to choose one, it's Anton Chekhov. The stories are just so good. The way he writes disappointment in particular really appeals to me. His stories The Kiss and The Beauties… wow. It's hard for me to imagine anything better being written. 
What's been your favourite read of 2020 so far?
Ben Lerner's The Topeka School. Most of it follows a teenage boy in Kansas in the 90s and I found the milieu familiar. The particular brand of masculine posturing, the white boys rapping, the drunk fist fights over nothing. All of it resembled the boys I knew growing up in South Carolina. Lerner grapples with our current moment in an interesting way, basically by looking for his own culpability. I liked it a lot.
What one novel will always stay with you?
The novel I think about more than any other is Dorothy Baker's Cassandra at the Wedding. It's so winning and moving. Perfectly executed. It's a small story about ordinary people with some style – my favourite kind of book.
Favourite biography?
I rarely read biographies. If I'm reading non-fiction, it's essays or narrative non-fiction. 
When I'm having a hard time almost any book helps.
Favourite non-fiction?
Pulphead by John Jeremiah Sullivan. It's a collection of Sullivan's brilliant magazine writing. It includes an essay on the reality show The Real World, one on a Christian rock festival. It's reminiscent of David Foster Wallace — that smart, that precise — but stripped of the self-importance. 
Any guilty pleasures?
I listen to plot-driven books while I run to trick myself into going for longer. Currently that's The Wych Elm by Tana French. 
What book would you give as a gift?
Ottessa Moshfegh's My Year of Rest and Relaxation or Patrick DeWitt's The Sisters Brothers. Both are smart but fun. I would never give someone a book they're going to have to slog through. 
What was the last book that made you cry?
Women Talking by Miriam Toews, about a Mennonite community where a horrible crime has occurred. It's corny, but what moved me was the bravery of the women in the story. It has one of the best endings I've read in a long time.
Any recommendations for laugh-out-loud reads?
I love Norwood by the great Charles Portis. I was sad to see that Portis died recently. His writing has meant a lot to me. Norwood is a road novel and it is deadpan. That tells you nothing – just go read it.
Are there any books that have helped you through difficult times?
It's impossible to identify one because there have been so many. When I'm having a hard time almost any book helps.
Favourite literary character?
Doc Sportello from Thomas Pynchon's Inherent Vice. He's a stoned and ineffectual detective with an oddly soulful streak. I have a weakness for books about an idiot.
What one book should everybody read in their lifetime?
You could fill a bag with Toni Morrison books, reach in and grab one at random, and it would probably work. 
Do you have a favourite book of all time?
It's Goodbye, Columbus by Philip Roth. The writing is so alive. 
Do you read poetry?
Not as much as I should. I read it in the literary magazines I subscribe to, but I could do better.
Has anything you've read consciously inspired your books?
When I was writing Stay Up With Hugo Best, I studied certain books to see how they handled various things (time, pacing, reveals of information) and sometimes 'borrowed' those devices. They included: Lucky Jim by Kingsley Amis, Straight Man by Richard Russo, The Great Gatsby by F. Scott Fitzgerald, The Remains of the Day by Kazuo Ishiguro and After Claude by Iris Owens. 
Have you got a second book in the pipeline?
I'm working on a new novel, but I'm too superstitious to elaborate...
Shop Erin's book picks below...
DISCLAIMER: We endeavour to always credit the correct original source of every image we use. If you think a credit may be incorrect, please contact us at info@sheerluxe.com.