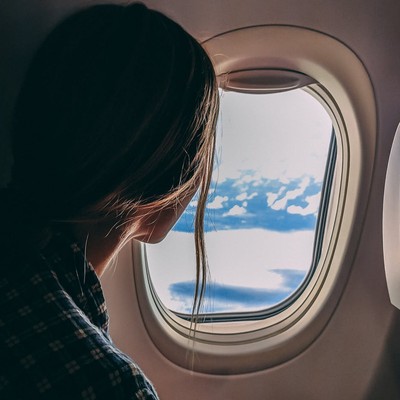 How To Travel Solo As A Woman

Sometimes, time alone is just what the doctor ordered. If you're planning a weekend city break or a backpacking adventure on your own, it's worth knowing what to expect and how to stay safe. To help, we asked a range of travel experts to share their advice, including some of their favourite destinations and more...

All products on this page have been selected by our editorial team, however we may make commission on some products.
Plan Ahead
"Make sure you book plane or train tickets well in advance, especially if your destination is particularly busy during that time of year. It's important to create an itinerary, too, whether you're going away for the weekend or for several months – you don't have to plan every single day but having a rough idea of where you want to go is good. If you're nervous about travelling alone, book your accommodation in advance for at least the first few days. Read reviews to see if it's the right place for you and within walking distance of the sights you want to see. Also, write down the name and address of your hotels and share them with friends and family before you leave – don't just rely on your phone, it's good to have physical copies of your accommodation details, too." – Gemma Thompson, travel writer 
Travel Lightly
"When travelling solo, the lighter you pack, the better. Ditch any unnecessary items and only take essentials you'll use every day. Remember – you can always buy things like toiletries when you get to your destination. Take miniature make-up products with you and double up where you can on things like multi-purpose products." – Vivien Urban, product manager at Exodus Travels and contributor to Destinations Holiday & Travel Show
"Travel with a suitcase you can easily carry and lift yourself. Having heavy baggage can make you vulnerable and feeling like you need help. Investing in a hiking rucksack you can easily transport is a good option – just make sure not to overload it with too many things." – Sarah Stephens, travel expert
Manage Your Finances
"As you don't have any fellow adventurers to split the bills with, it's more important than ever to make sure you're not leaving yourself at the mercy of any last-minute Covid cancellations. If you're making bookings in advance, make sure they have a flexible refund policy in place. It's also important to set yourself a budget and stick to it so you don't run out of money." – Neena Jivraj-Stevenson, chief culture officer at Point A Hotels
"Have a couple of different bank accounts and bank cards that you can access remotely if you need to. Then, always leave one card in a hotel safe and keep the other one on your person. If one card gets stolen, you can easily get the bank to put it on hold then transfer your cash into your other account. It's also a good idea to keep bank cards separate from cash so your money isn't all in one place." – Sarah
Share Your Itinerary
"Be sure to let your friends and family know where you'll be and when. It's also important to share key contact numbers or addresses, too. Vamoos is a great app where you can upload your travel itinerary and share it with others. It stores all the key information, and friends and family can get in touch via the app if they need to. It's also essential to make sure someone else has a copy of your important travel documents. Keep a contact number for that person separate from your other belongings so you can phone them in case you lose any important information. At Nemo, our clients often share their key information and documents with us – if you book through a company or travel agent, ask if they are able to do this for you." – Tom Harding, co-founder of Nemo Travel
"If you plan to go on a trek or day trip alone, let your hotel reception or concierge know where you are going and when you plan to be back. Lots of hotels and resorts will do this for lone female travellers, so make use of the service. Also, their team can advise the best places and restaurants to visit, too. Stay in contact with them and exchange numbers. – Sarah 
"The Find My Friends app is great for sharing your location. You can share your live location with someone you trust so they can follow your whereabouts at all times. On WhatsApp, you can also share your live location for up to eight hours which is worth doing on a day trip or expedition. Also, be sure to have your 'Emergency Contacts' set up. To do this, go into the Health app on your phone and create a medical ID, adding a few contacts. This is linked with the 'Emergency SOS' feature that allows you to alert these contacts if you are ever in trouble." – Taylor O'Sullivan, documentary filmmaker and photographer
If you plan to go on a trek or day trip alone, let your hotel reception or concierge know where you are going and when you plan to be back. Lots of hotels and resorts will do this for lone female travellers, so make use of the service.

Use Social Media Carefully
"Social media is great for connecting people in an area, but it's best to err on the side of caution when using it abroad. Only post where you have visited after you have been there to avoid telling people you a lone female traveller. Post any tags and photos of your day when you are either safely back at your hotel for the evening or on your way home – never post in real time. – Sarah Stephen, expert traveller
"Find local Facebook groups for the places you are visiting and go to group events. Often, solo female travellers post in these groups, so it's a great way to meet new people. Also don't be shy about using apps to make new friends in your geographical area. Just be upfront in your bio that you are new in town and are looking for recommendations. If you do decide to meet up with someone, let someone else know and share your location. Amica App is a great women's-only friendship app for meeting new people." –  Emma Whitehair, managing director of Whitehair.co
Get Off The Beaten Track
"Going solo means there's no debate or compromise necessary when it comes to where to go and what to do. So, when it's safe to travel and plan your trip, think about cool places off the beaten track. Less-travelled destinations offer the chance to meet fellow minded travellers searching for similar experiences and when traveling off-piste, friendly faces will be welcomed. Ask your accommodation owner or host for tips on the must-see things to do or places to visit. It might sound obvious, but friendly local intel can ensure you don't miss those hidden gems." – spokesperson from Booking.com
"Think about what you want to get out of where you are going. What do you enjoy? Is there something new you want to try? If you're heading into a remote area or going on a trek for example, check that's it a safe destination for you – this will depend on what you consider an acceptable risk and where exactly in the area you plan to travel. Take a look at the government travel advisory pages, as well as doing thorough research of the area you are planning to visit." Kate Staniforth, senior marketing manager at Sunsail and The Moorings
Write About Your Experience
"When you look back on your trip, you'll want to remember your experience and all the small details. Aside from taking lots of pictures, one way to do this is to carry a journal. Even if you only write a few short sentences every day, it will help you keep track of your journey and you'll cherish it for years to come. You could do this in a dairy, or on an app like Bonjournal or Momento. Be bold, dream big and have fun with the process." – Alicia Thakrar, travel expert
"Travelling solo is an experience that pushes you out of your comfort zone, but the growth and self-discovery is unparalleled. You get to be more open, reflective and intuitive than you normally would be in the comfort of your familiar surroundings. Take time to document the process and savour all those wonderful memories." – Heeral Pattni, founder of Amica
Feeling inspired? These are the top destinations the experts recommend for solo travellers:
Portugal
"Porto in Portugal was made for solo travellers. The country's second city offers a hub of culture and entertainment located on the coast which is famous for its wine production. It's also renowned for its friendly people, so new friends can be made as you stroll along the Douro River or explore the old town. Discover the city on foot to get your bearings and experience everything on offer. At many destinations, you could join a guided walking tour to see the city while also learning about the local history and culture." – spokesperson from Booking.com
Israel 
"Israel is an incredible country with a population of strong and independent women. The religious areas, such as Bethlehem, are worth taking extra caution with dress and demeaner, but it'll be worth it to immerse yourself in a rich culture. Tel Aviv is very cosmopolitan and has a unique, myriad of cultures, not to mention a fantastic transport system and hotel-meets-hostel style accommodation that caters well for solo travellers. There's also a free and independent spirit to the country, which is unique in the Middle East." – Tom 
Japan is one of the safest places on earth. Whether you're in the hustle and bustle of Tokyo or you're exploring a quiet village in the mountains, you will always feel safe in Japan. The people are incredibly kind and conscientious.

Costa Rica
"Costa Rica is a great country for solo female travellers. Here, an easy way to be alone, but not lonely, is to stay in accommodation that has a sense of community. Whether that's one of the many yoga retreat centres, or a hotel geared towards digital nomads. Selina is a modern and affordable chain of stylish hostels that gives guests access to co-working spaces and group activities." – Emma 
Greece
"The Greek islands have something to offer every solo traveller, whether you're looking for lively party islands, somewhere to escape the crowds and find hidden and unspoilt beaches or enjoy the hospitality of a traditional Grecian village with tasty local cuisine. With over 8,000 miles of coastline and over 2,000 islands to discover, the best way to experience Greece is by boat." – Kate 
Thailand
"They don't call it 'The Land of Smiles' for nothing. Thailand is a place that has something for everyone, from outdoor adventure activities to quiet beaches, and bustling cities. You can spend several weeks on your own in Thailand and feel completely safe. There are many solo travellers in the country, it's very easy to make friends on the road." – Taylor
"Phuket is a must see. Thailand is where solo travel started for a lot of people around the world and is still tough to beat when it comes to transformational travel. With breath-taking views and wildlife on your doorstep you can encounter some of the worlds most treasured animals, from Asian elephants and dolphins, to wild monkeys and even Komodo dragons." – Kate 
Japan
"Japan is one of the safest places on earth. Whether you're in the hustle and bustle of Tokyo or you're exploring a quiet village in the mountains, you will always feel safe in Japan. The people are incredibly kind and conscientious. Don't let the language barrier throw you off, there is more English spoken there than you would believe. Plus, the public transport is incredibly comprehensive, so you won't have to worry about renting a car or having trouble getting around." - Taylor
"Japan is one of the safest countries to travel in as a solo female traveller, as crime rates are very low, and most cities have kouban (police boxes) regularly dotted around the streets. Familiarise yourself the kouban – you can go to them for help if you encounter any problems, even if it's something as simple as asking for directions." – Karan Yamada, Into Japan Specialist Tours
Rwanda ​
"This is a nation that has undergone a huge transformation in recent years and is now one of the most forward-thinking nations in Africa. When travelling solo, the whole nation comes alive and you can really immerse yourself in the unique culture. From roaming the streets of Kigali where your senses come alive to gorilla trekking, when you are by yourself, these sensual experiences are enhanced." – Tom
Shop the experts' recommended books…
*DISCLAIMER: Travel restrictions are changing daily, so please check the latest government advice before you book anything. Visit Gov.uk for more information.
CREDITS: JASON TOVELS / PEXELS
DISCLAIMER: We endeavour to always credit the correct original source of every image we use. If you think a credit may be incorrect, please contact us at info@sheerluxe.com.