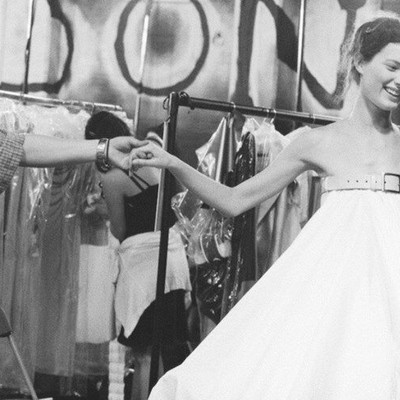 McQueen: The New Film The Fashion World Is Talking About

This documentary about renowned fashion designer Alexander McQueen takes a bold approach to create an authentic celebration and a richly detailed portrait of his life, legacy and influence. Mixing archive footage, photographs and audio recordings with scenes recreated just for the film, it takes a deep dive into the world of the late, great Lee McQueen…

This two-hour documentary, directed by Ian Bonhôte and Peter Ettedgui, focuses on McQueen's transformation from East End lad to four-time winner of the British Designer of the Year award and Chief of Design at both Givenchy and Gucci. Split into six parts, each chapter is named after one of his collections, and is artfully introduced by an intricate skull. This has always been an emblem for McQueen, yet in light of his death, it takes on a macabre turn each time one grins out at the audience. We have a feeling he would have approved.
Stylishly edited using photos, grainy home videos and media interviews, the film follows McQueen's journey in a way that's powerful and poignant. It doesn't gloss over any of the less glamorous elements of his life: both the good and the bad. We see his highs – his Spring/Summer 1999 centrepiece, getting his Gucci funding through Tom Ford, the love between him and eccentric fashion editor Isabella Blow – but we're also exposed to his lowest points: being labelled a misogynist after his Autumn/Winter 1995 Highland Rape show, a cocaine habit (and the terrifying moods that came with it), his lack of trust in people, the abuse he suffered as a boy and, towards the end, an admission that he was HIV positive. Like his catwalk shows, it's unflinching, and all the better for it.
While archive footage of McQueen undeniably steals the show – you get a real feel for his sense of humour and witness how people were so drawn to him – it's his former employees and collaborators that really add colour to the film. Isabella Blow's husband Detmar fills in the blanks on the pair's career-making friendship (Blow also tragically committed suicide in 2007), while fashion pros Bolly Hillson (the founder of the Saint Martin's School of Art Fashion MA), model Jodie Kidd and Italian fashion designer Romeo Gigli show the man behind the label. Meanwhile, his sister Janet and nephew Gary James add depth when it comes to his upbringing, the secret pressure he faced and his final days in the wake of his mother's death.
It's worth watching the film for the catwalk shows alone. Even today, they've lost none of their impact.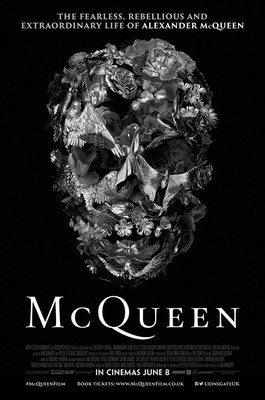 McQueen is both joyful and moving at the same time. It begins with hope: we move through McQueen's work experience across Savile Row and Italy as quickly as his fingers run through a sewing machine in the accompanying shots. You see the creativity, craft and collaboration that went into his work from the off and experience the necessary thriftiness at times – for his first London Fashion Week he made one dress from clingfilm and a £1 zip.
It's worth watching the film for the catwalk shows alone. Long before 'installations', 'immersive' and 'interactive' became common parlance in terms of shows, McQueen captured whole worlds in his collections. Given that this was a pre-digital, social media-free world, McQueen's dedication to evolution and the intertwining strands of sex and fashion shock and impress. His 2001 Voss show was shown in a padded cell; collections were named and themed around ethnic cleansing in 18th-century Scotland (The Highland Rape) and serial killers (Jack The Ripper Stalks His Victims): even today, they've lost none of their impact. Watching McQueen in tears as Shalom Harlow gets spray-painted by robots at the close of his Spring/Summer 1999 show is the film's highlight.
Behind the scenes, you really get a sense of what the fashion house meant to everyone involved. This was a tight-knit group, people were willing to work for free, they lived together and, as the label took off and McQueen and his team headed to Givenchy HQ in Paris, they worked on 14 collections a year, damaging their health and personal lives in the process. McQueen was no exception, yet when it became overbearing, he couldn't just walk away: the livelihood of 50 employees weighed heavy on his mind.
Few people entering the cinema will be unfamiliar with how this film ends. McQueen's suicide in 2010 is reflected on in a matter-of-fact yet respectful way. While you could argue that in this era of prominent male mental health campaigns, the film doesn't go far enough in highlighting his struggles and exploring the issues behind them. But this isn't the right film to do so. McQueen is about celebrating and reflecting on Lee Alexander McQueen's contribution to the British fashion industry and his tremendous legacy. It's dark, yet essential viewing for any fashion fan.
DISCLAIMER: We endeavour to always credit the correct original source of every image we use. If you think a credit may be incorrect, please contact us at info@sheerluxe.com.