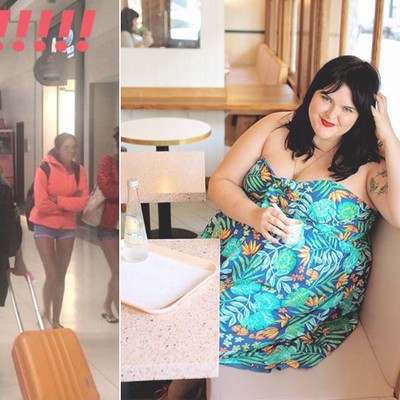 #PlaneBae Shows The Dark Side Of Viral Fame

Are you clued up on the #PlaneBae saga? As one woman's series of live tweets spread across the internet, another found herself at the centre of a huge viral storm without her consent. So, how did something so innocent go so wrong? SL investigates...

It all started when Twitter user Rosey Blair, an actress and photographer, asked to switch seats with a woman on a plane from New York to Dallas so she could sit next to her boyfriend. The woman obliged, and after she sat down next to her new handsome seatmate, Blair proceeded to live-tweet their interactions without the woman's consent as they flirted, talked about their lives and discussed their families.
A handful of fellow Twitter users were quick to call out Blair on her intrusive actions but, on the whole, her tweets were initially regarded as harmless. The thread soon went viral, garnering nearly a million likes and earning Blair thousands of new followers. But then things took a dark turn, as an online hunt ensued; attempting to find the couple in Blair's thread, now referred to collectively as #PlaneBae. The man, former professional football player Euan Holden, leaned into his 15 minutes of fame, but the woman didn't.
Regardless, Holden and Blair appeared on America's Today Show without her. "From the moment we kind of buckled our seatbelts until we touched down on the ground, the conversation just kind of took off," Holden said. "She's a very, very lovely girl, very attractive, beautiful. Had a lot to say, very intelligent."
Despite not being aware of Blairs tweets at the time of posting, and requesting privacy once she shot to internet fame, the internet was determined to hunt the woman down. Even Blair herself said in a video posted to her Twitter page, "So we don't have the gal's permish yet, but I'm sure you guys are sneaky. I think you might…" Once found, the woman was doxed (her private information was published online), and people began posting sexually explicit messages in the comments section of her private Instagram page. This lead to her deactivating all her social media accounts.
Following a spate of think-pieces in the press, calling the story a cautionary tale of the digital age, Blair deleted the majority of her original thread and issued an apology. "When I made this and shared it, I was happy, joyful and overcome with authentic and sincere excitement," she wrote. "So much so I could not see the potentially exploitative nature of outcome and my actions."
It's clear both Blair and Holden had no malicious intent in sharing their stories – it's just that it came at the expense of another person. Viral fame makes monsters of us all; Blair tried to use the moment as PR for herself, saying the moment made her a 'journalist' of sorts and attempting to get a job at BuzzFeed. In her apology to the anonymous woman, she said she would "work to right (or write) this wrong", even using the woman's first name, despite the fact she already explicitly said she wanted to be excluded from the narrative.
Since his brief dalliance with the woman, Holden has altered many of his Instagram captions to capitalise off of the story.  In one snippet of Blair's video, she insinuates that the Holden and the woman might have got up to some funny business in the plane bathroom; one Twitter user asked him about this, to which he replied: "A gentleman would never say", which doesn't seem particularly fair, considering the woman can't give her account of the story.
Viral fame is hard to navigate; the moment it's out there in the ether you've already lost control of it. It is fair to say Blair orchestrated this story with a complete lack of thought into consent, but her intent was of good, not bad. We, the internet, took over it from there. This woman had her 15 minutes thrust upon her, without ever even having asked for it. Her statement just goes to show how harmful viral fame can be. As she says in her statement, "I have been doxxed, shamed, insulted and harassed. Voyeurs have come looking for me online and in the real world.
"I did not ask for and do not seek attention… Please continue to respect my privacy, and my desire to remain anonymous."
DISCLAIMER: We endeavour to always credit the correct original source of every image we use. If you think a credit may be incorrect, please contact us at info@sheerluxe.com.