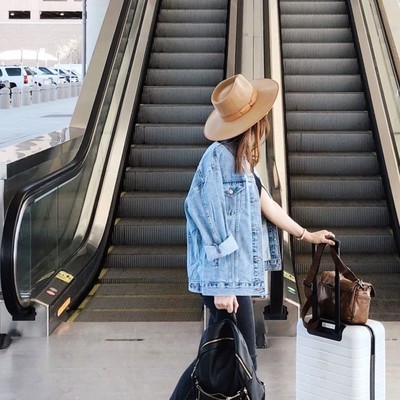 Ready To Travel Again? This Is The App To Know

With international travel opening up more and more, it's time to think about your next escape. But navigating the ever-changing post-Covid regulations safely is something that can confuse even the savviest traveller. Enter App In The Air – a digital personal assistant that helps you plan, book, track and manage your itinerary. Here's why you should download it ahead of your next trip…

CREATED IN PARTNERSHIP WITH APP IN THE AIR
 
App In The Air (AITA) is a multi-award-winning and free-to-download personal travel assistant app which has already helped more than 6m users manage their travel from start to finish. A must-have for travel junkies, the app takes care of everything from choosing the right flights – with options to filter by price, carbon emissions, airlines, Covid policies and more – and getting the best hotel deals, to managing loyalty schemes and tracking flight delays and last-minute gate changes.
The app is designed for frequent flyers and aims to make it easier to juggle multiple itineraries. AITA covers the four phases of travel – booking, pre-trip, day of travel and post-trip – and keeps track of all boarding passes and frequent-flyer programmes in one place. The app has also introduced several new ways to help customers navigate the post-pandemic world by keeping them informed about changing border regulations, plus Covid-19 and PPE rules at each destination.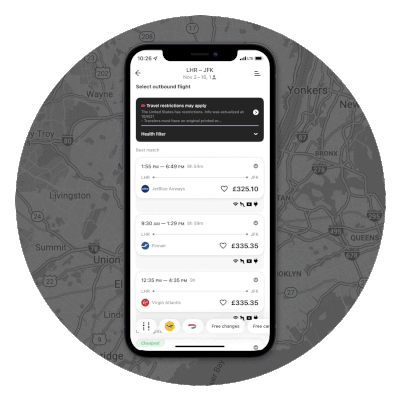 There's also an augmented-reality luggage measurement tool, which is great for helping you to pack correctly for the specific airline you're travelling on. Meanwhile, a crowd-sourcing section of the app enables users to meet for a coffee, share lounge access and find out the latest security queuing times. The team is clearly doing something right: the app tracks an average of 20m journeys each year – suggesting its users love it.
Interested? Here's everything you need to know about the app…
Booking
Users can save time and money by booking flights and hotels through the app. AITA's AI-driven search tool and direct connection to airlines and hotels helps users find the best flights to match their preferences. It will even find you the most eco-friendly flights.
Loyalty Programmes
AITA keeps track of users' different airline loyalty programmes and tallies up the points earned on their journeys and bookings.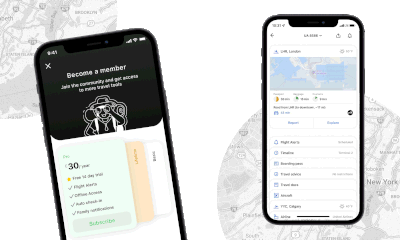 Flight Alerts
The app keeps users informed across all stages of a flight. In case of changes (such as gate alterations or delays), the app notifies users in real time. AITA can also notify users via text message – particularly important if you're abroad with no internet connection.
Automated Online Check-In
This enables travellers to automatically check-in, choose their favourite zone prior to the airline's official check-in window, and helps reduce physical contact at check-in.
Journey History
Flight history (alongside hotel stays and car rental journeys) are all stored in the app, displayed on a map along with detailed stats.
Covid-19
AITA has recently launched a handy Covid-restriction tool, featuring an easy-to-search, country-to-country guide providing insight on the health requirements, government restrictions and border controls required on arrival. In-app, Covid-related health filters provide information on airline policies and the opportunity to choose flights based on the airline's mask requirements and free cancellations. The updates also keep users notified about restriction and policy changes, prohibited flights and cancellations, as well as crowdsourcing information in real time about safety, security and queuing times at airports.
Carbon Offsetting
The app has developed new initiatives to track and help mitigate the aviation industry's carbon footprint, including an in-app carbon calculator, and a partnership with non-profit company One Tree Planted to deliver on a pledge to plant one tree for every flight booked within the app. Users can filter flight searches by estimated carbon emissions when planning future travel, so they can choose the most eco-friendly options to book. At the end of each year, AITA sends out in-app notifications to its users, detailing their total annual emissions and encourages them to offset the carbon impact of their previous flights.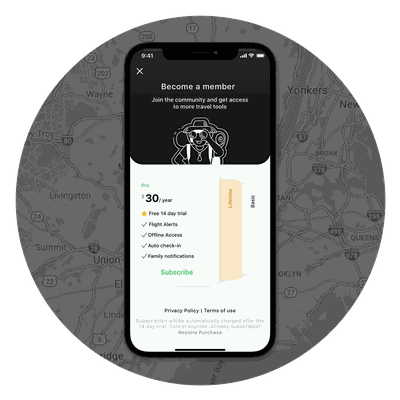 Delay Compensation
When a flight is delayed, the app can help users to receive compensation. 

Airport Maps
Flyers need never get lost in an unfamiliar airport again. Using this tool, users can find any café, shop, duty-free shop, car park or local transport links. 

User-Generated Tips
Crowdsourced from other users, this is the place to look to find the speediest wi-fi, secret places to charge your phone, and the best food in a given airport.

Nearby
Here, you can chat with people who are on the same flight, so you can share a taxi to the airport, gain access to a lounge or, if you're flying for business reasons, search for other members to network or grab a coffee with. 
Wallet
See all the miles you've accumulated from different loyalty programmes in one place.
 
App In The Air is free to download. A premium version (with upgraded features including real-time flight status, offline access, family notifications and automatic check-ins) costs £29.49 for 12 months. The app is available for iOS and Android. 
 
Visit AppInTheAir.com and follow @AppInTheAir to find out more and download the app.
DISCLAIMER: We endeavour to always credit the correct original source of every image we use. If you think a credit may be incorrect, please contact us at info@sheerluxe.com.