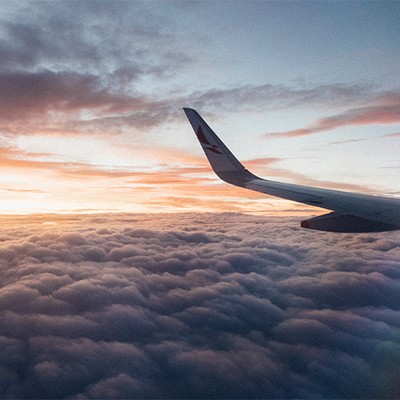 9 Tips For Finding The Best Flight Prices

Making your travel plans a reality but still ensuring you get value for money when it comes to flight prices is something you want to get right – especially when hundreds of price comparison websites all claim their offer is the one to go for. If it feels like it's beyond your control, here are seven ways to ensure you get the best deal every time…

Keep Searches Secret
The internet has given us unprecedented access when it comes to tacking down the cheapest flights possible. But you might be surprised to know that cookies – which effectively track your online behaviour – mean flight prices do increase when you repeatedly search for a particular route. The reason? Airlines and websites want to scare you into booking the flight quickly before the price gets even higher. As such, it's essential, to ensure you start your flight search by going 'incognito' online or using a private browsing mode. In Google Chrome or Safari, simply hit Command (or Control if using a desktop computer), Shift, N. Cookies are cleared each time you open an incognito window, so start over each time you search for a new flight. 
Limit Hidden Charges 
In order to make money, most price comparison websites will inflate the cost of a flight so they can take a cut if you book. It should be said upfront that there's no such thing as the perfect price comparison website or search engine, but some are definitely better than the rest. Skyscanner, for example, checks the prices of more than 1,200 travel companies – including the ones it doesn't stand to make any money from. It never uses its customers data to inflate prices, either, nor does it bury you in hidden charges and unexpected fees. You can also augment your search results to show the eco-friendliest travel options, as well as hotel and accommodation add-ons. 
Find The Cheapest Day
It's an old wives' tale that flying out on a Tuesday at 3pm is the cheapest airline ticket out there. But it is still possible to find some months which are cheaper than others. On Skyscanner, or other sites which permit this function, try adjusting your search settings under the 'Depart' tab to 'Cheapest Month' and 'Search Flights', and let the technology do its job. You can browse all dates to see which time of year is cheapest, before going back to the beginning to book a return trip. As per a study from the Airlines Reporting Corporation, it's recommended that flyers try to book at least 57 days – roughly six weeks – in advance to get the best price, and between 30 days to three months for domestic trips. If you are in the market for something last minute, use a site such as Kiwi to find last-minute deals and comparisons.  
Book Through Partner Brands
Rather than booking more than one seat on a certain flight, it might be possible to save money by paying for a second seat through a partner airline. For example the One World Alliance has 13 different member airlines, all of which work together to sell seats on their various routes and aircraft. Having booked one seat on British Airways, for example, it might be cheaper to find the second person's ticket via one of its partners, such as American Airlines.  Be careful not split up return fares – it rarely works out cheaper to buy two single tickets each way. 
Rack Up Miles And Points
If you travel regularly, and have a preferred airline, it's definitely worth signing up to a loyalty scheme to earn points and miles on your trips. It's common for airlines to offer its regular customers frequent flier bonuses, too, such as free upgrades. Just be sure to check when collected air miles and points expire. Failing that, investigate whether an airline-specific credit card might be appropriate for your circumstances. If you're confident you can hit the minimum spend to trigger rewards without any risk to your personal finances, it might be an easy way to pay your way to free, or seriously discounted, flights – especially if you find yourself forced to book last-minute trips, frequently. A final disclaimer: always read the small print and take professional and independent financial advice if you're unsure of the terms and how it might affect your credit score. You can also find out more information here. 
Opt For Budget Airlines
If you're willing to compromise on leg room, baggage allowance or even the number of layovers, budget airline and charter flights usually offer a far cheaper alternative. But make sure you read the small print when it comes to hidden charges or fees. For example, Ryanair has been known to charge customers for forgetting to print their boarding pass at home or failing to adhere to their strict baggage guidelines. It's also a question of what really feels worth it. For example, a two-hour layover might not be worth the extra £200 to fly direct. Finally, if you're flying to a popular resort, check with a charter travel company, such as Tui, to see if they have any deals. Package holiday companies reserve flights to ferry their passengers, so you could bag a cheap flight when they come to sell off unreserved seats.
Shop The Sales
The British Airways January sale is always marked on our calendar, but with the development of Black Friday, Cyber Monday and even Singles Day, sales of cheap flights are becoming a more regular event. Lesser known is the fact that it's quite common for airlines to post mistakenly cheap fares as a result of technical glitches, currency conversion mishaps and general human error. Airfare Watchdog and Skyscanner are two great sites for flagging such errors. The former updates its top 50 fares daily, while the latter's monthly search function should pick up any anomalies. 
Break Up Long-Haul Journeys
If you're booking seriously long haul – think Australia or Hawaii– then consider breaking up the journey and booking different legs separately to keep costs down. It also counts to know whether your preferred airline flies somewhere direct or not. If not, it might be worth plumping for a budget airline to get you some of the way for less, before coughing up for a preferred airline for the second leg of the journey. Just be careful about how much transfer time you leave between flights – experts recommend between three and four hours, unless you're planning to leave the connecting airport. 
Consider A Different Currency
Depending on the destination, airline and exchange rate, you might find it's cheaper to pay for your flight with a local airline in its native currency. While it's common for airlines to make you pay in the currency of the country you're departing from, this isn't always the case. And always use a debit or credit card which is free from foreign transaction fees: it's often the case that credit card companies charge a small percentage on any transactions made in a different currency, which might make any perceived discount null and void. 
SL's pick of the best flight comparison sites…
DISCLAIMER: We endeavour to always credit the correct original source of every image we use. If you think a credit may be incorrect, please contact us at info@sheerluxe.com.