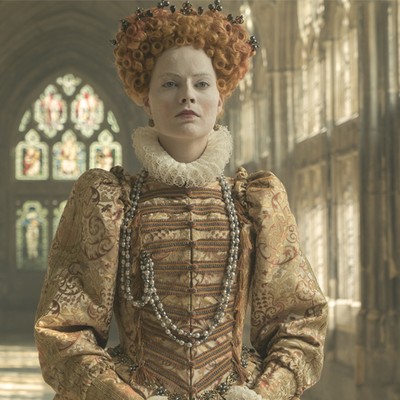 Mary Queen Of Scots Review: A Royal Performance

If you're going to tell a story about two of the most fascinating women in history, you need two formidable actors to bring them to life on screen. Margot Robbie and Saoirse Ronan skilfully rise to the occasion as Queen Elizabeth I and Mary Stuart in the new movie Mary Queen of Scots. SL contributor Susan Griffin tells all...

This retelling is based on the ground-breaking book Queen of Scots: The True Life of Mary Stuart by Dr John Guy and provides a new perspective on a woman who's been wildly misunderstood over the centuries. Mary's often been depicted as weak, but in this film, we see her ferocious, powerful and pragmatic.
Dublin-raised Saoirse, who plays Mary, was only 18 when she was first attached to the role. "As an actor, I know how lucky I am to have been entrusted with it," says the 24-year-old. "That wasn't something I was going to abandon. I always had faith it would come together at the right time."   
 
Mary was just six days old when she ascended to the Scottish throne in 1542 following the death of her father King James V. For her own safety, she spent her formative years in France while Scotland was ruled by male regents. She became Queen Consort at 16; was widowed at 18 and returned to Scotland a year later to take up her rightful throne. Mary, a Catholic, had a rival claim to England's throne and her return was met with suspicion by her Protestant cousin and England's monarch, Queen Elizabeth I. She also faced treachery and rebellion closer to home.
No wonder Working Title's Tim Bevan, who also co-produced Elizabeth and Elizabeth: The Golden Age starring Cate Blanchett, thought it was time Mary had a movie of her own. "In the 10 years Mary lived in Scotland, she packed in a lot of life. Two husbands, two battles, there was a lot of drama to be had," he says. And it's not lost on anyone that both Mary and Elizabeth faced challenges that are as resonant today as they were almost 500 years ago. "The point was to make the film about these two women existing in a male world, learning how to use their powers and one of them ultimately being outmanoeuvred," notes Tim. "It felt very relevant in terms of equality in the workplace and all of the issues we're reading about on a day-to-day basis. These are strong women wrestling with power, politics and love."
"This is, in part, a film about their psychological obsession with each other," says Josie Rourke, the film's director and artistic director of London's Donmar Warehouse. "We see how Mary's in Elizabeth's mind, burrowing into her consciousness and starting to affect her choices, in all areas of her life. Only they can truly and fully understand each other. They're two women either side of the same coin."
The cost of power is very much a running theme so it's apt Beau Willimon who wrote the political thriller The Ides of March and the Netflix series House of Cards was tasked with the screenplay. "One of the things people find so pleasurable about House of Cards is it felt like a kind of Renaissance drama, a revenge play," comments Josie. "There are lots of people plotting and scheming. In a way, this is the period of our history in which modern politics was invented."
 
The two Queens make very different choices regarding marriage and children. While Mary marries numerous times and has a son, James; Elizabeth, the Virgin Queen, remains single and childless. Margot Robbie has received a Bafta nomination for her depiction of Elizabeth but admits she was tentative about tackling the role. "I was really daunted by the prospect, especially as the last time someone played Elizabeth, it was the actress I idolise the most, Cate Blanchett," says Margot, 28, a fellow Australian. "But Josie said she wanted me to play her as a girl, just a young woman. Once I stopped thinking of her as the Queen and thought of her as a woman, I was able to relate and understand her."
Margot underwent a remarkable transformation to portray Elizabeth, including prosthetics and wigs. "Because of the smallpox Elizabeth suffers, we were able to take her down a different route than we took Cate Blanchett," says hair and makeup designer Jenny Shircore. "We wanted to say to everybody, 'This is our Elizabeth. Yes, it's Margot Robbie, but she is the character.'"
The attention to detail in the costumes was meticulous too. "Every single stich was there for a reason and had an emotional pull to it," says Margot. "Knowing that made a huge difference every time I stepped into one of the costumes. Similarly, Jenny's hair and makeup was hugely transformative for me." She and Saoirse never saw each other in full hair, makeup and costume until they shot a pivotal scene, the only one they have together, where it's imagined what might've happened had the two Queens met.
"It was one of the most memorable acting moments I have ever experienced," recalls Robbie. "It was my last day of shooting, and it was so intense. I had already gone through this entire journey, and it was so wild and overwhelming that I truly forgot I was on a film set. It was something quite magical and emotional."
In letters unearthed in 2010, it was revealed Elizabeth did appeal to Mary, referring to them as "sister Queens," but despite attempts from both women to forge an alliance over the years, Mary was ultimately convicted of treason and executed, in an infamously shoddy way when the axe missed her neck, in 1587. Her stoicism to the very gory end has had a lasting impact on Saoirse. "Mary's affected me in a way no other character has done in a really long time. I felt stronger because of her," reveals Saoirse.. "You're always being faced with difficult decisions, but there's something really reassuring about watching a young person who was in such a powerful position go through the same things. What I got from Mary is the fact she took that responsibility on her shoulders and really found her own way. I found that really inspiring to play."
 
Mary Queen of Scots is released on Friday, January 18
 
DISCLAIMER: We endeavour to always credit the correct original source of every image we use. If you think a credit may be incorrect, please contact us at info@sheerluxe.com.