What To Watch Tonight: Landscapers

After a month of hype and trailers, Landscapers lands on Sky Atlantic and Now tonight. A darkly funny exploration of love and fantasy starring Olivia Colman and David Thewlis, this is a true-crime drama like no other. Here's why we loved it…

In Landscapers, national treasures Olivia Colman (The Favourite, The Crown, Broadchurch) and David Thewlis (I'm Thinking Of Ending Things, Fargo, the Harry Potter film series) play middle-aged, mild-mannered husband and wife Susan and Christopher Edwards. When we meet them, the pair have been on the run for over 15 years. But then Christopher makes a call home to his stepmother and their role in a terrible undiscovered crime begins to come to light. As their relationship is subjected to the glare of a full police investigation, the devoted couple are separated for the first time in their marriage – which just might prove to be their undoing.
Inspired by real events that unfolded in Nottinghamshire in the 1990s and 2012, this four-part series was created and written by Ed Sinclair (Colman's husband of 18 years) and sees director Will Sharpe – who won an acting Bafta for his portrayal of Rodney in Giri/Haji and another Bafta for his series Flowers – bring his darkly comic vision to the grisly story. On paper, it might read like a classic true-crime investigation – albeit one that's impeccably acted – but Landscapers is anything but.
The unsettling series tells a bizarre love story involving a seemingly ordinary couple who become the focus of an extraordinary investigation when two dead bodies are discovered in the back garden of a house in Nottingham. Over time, it becomes clear Susan murdered her mother and father, Patricia and William Wycherly, in 1998. Now, in 2012, the couple is living in France, punctuating the day with tuna and sweetcorn sandwiches and jacket potatoes. But their surroundings tell a story – the flat they rent is shabby and cracks in the wall are covered up by old western film posters Susan buys from a local antiques dealer behind Christopher's back. Meanwhile, we watch Christopher lurch from one failed job interview to another. It turns out speaking French isn't one of his fortes. His job hunt is frantic, and the pair are clearly struggling for money – but why?
For all its sirens and police double-acts, Line of Duty this isn't. As the investigation moves forward, the married couple become ever more immersed in Susan's obsession with old westerns and classic cinema – in particular, the famously 'strong and silent type' Gary Cooper. Powered by Susan's extraordinary imagination, the pair's fantasy world provides a much-needed sanctuary from real-world horrors and their own guilt, but also threatens to undermine the carefully constructed story they've sold to themselves since 1998.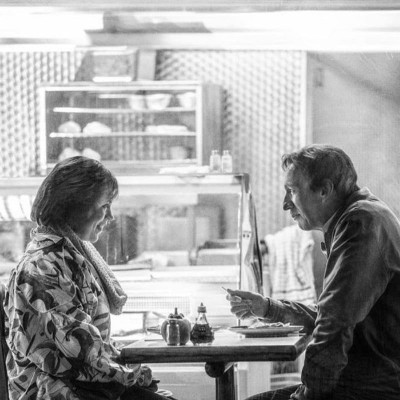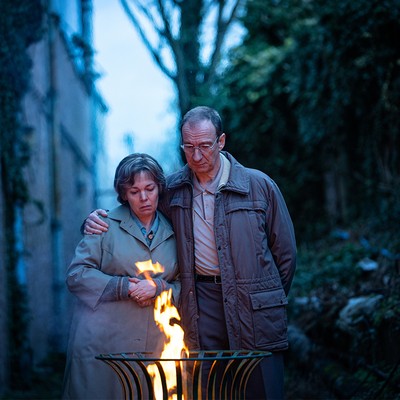 For all their strangeness, Colman and Thewlis do a stand-up job of making us feel for Susan and Edward – impressive when you consider the pair are, now, convicted murderers. Deeply devoted to one another – we really enjoyed flashback scenes to the awkward early days of their relationship – the pair are an absolute mystery. Are they murderers? Did Susan have a traumatic childhood? And how and why do they have frequent correspondence with French film star Gérard Depardieu? By casting themselves as Hollywood heroes in narratives of their own invention, the audience is left to guess what is real and what is fiction.
The casting will no doubt please fans of Channel 4 series Flowers, which reunites Sharpe with Colman and Daniel Rigby, who plays a foul-mouthed detective. The series also stars Kate O'Flynn (Bridget Jones's Baby, Happy-Go-Lucky) and Samuel Anderson (The History Boys, DCI Banks) as the slightly inept pair of coppers tasked with bringing down the Edwards. Dipo Ola (We Hunt Together, Baghdad Central) plays chatty Susan's legal counsel, and we cringe with him as she increasingly goes off script – making his difficult job all the harder. David Hayman (The Boy in the Striped Pyjamas, Still Game) and Felicity Montagu (I'm Alan Partridge, Nighty Night) are Patricia and William Wycherly, and both rise to the occasion, convincingly showing audiences the reasons for Susan's involvement in their deaths.
One of the great joys of Landscapers is its strange, theatrical nature – but it's also this aspect that might put some viewers off. In the opening scene, the first word we hear is 'Action!' shouted by a director. And as the story develops – and the pair find further comfort in their favourite films – the duo are often plunged into sepia. The action increasingly takes place in more obvious sets – such as neon-lit bus stops and a pub hosted inside a soundstage – and the police investigating the crime begin to pop up in flashbacks, most notably while Susan and Christopher clutch fish and chips on a bus back in 1998. We also loved the effect of playing real-life footage and news reels from the trial over the closing credits, while simultaneously showing the dismantling of the episode's sets. All this comes together to create a sweeping story that sends up classic true-crime dramas.
Ultimately, this show isn't about solving a mystery – it's an exploration of the lengths a couple will go to in order to look out for one another. And in that respect, it's fascinating and unlike anything else we've seen. Sharpe's next project is The Electrical Life of Louis Wain, starring acting heavyweights Benedict Cumberbatch, Claire Foy and Andrea Riseborough. We'll be watching with interest.
Episode one of Landscapers is available to watch on Sky Atlantic at 9pm tonight, with all four episodes available to stream on Now now.
DISCLAIMER: We endeavour to always credit the correct original source of every image we use. If you think a credit may be incorrect, please contact us at info@sheerluxe.com.