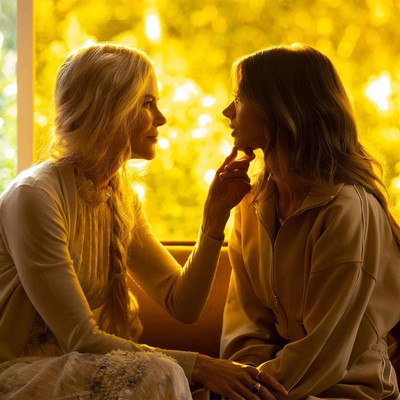 What To Watch This Weekend: Nine Perfect Strangers

Based on the bestselling book from Australian author Liane Moriarty, Nine Perfect Strangers is the latest series from the team behind Big Little Lies and The Undoing. Starring Nicole Kidman – alongside an A-list cast including Melissa McCarthy and Michael Shannon – the eight-part series lands on Amazon Prime Video today. Here's why it's worth a watch.

Given Liane Moriarty's success with Big Little Lies – the inter-family thriller set on the upper-class Californian coast – it was only a matter of time before another of her novels got the small-screen treatment. Produced by David E Kelley – the man behind the adaptation of Big Little Lies and last year's The Undoing – and once again starring Nicole Kidman, this health-spa-gone-wrong drama is just the thing to ignite a Friday night in.
The story is set at an ultra-luxurious boutique health-and-wellness resort that promises healing and transformation. It's so exclusive, it doesn't even have a website: each guest has discovered the retreat through word of mouth – or has been invited with a hefty discount. Upon arrival, the stressed guests must surrender their phones, snacks and medication. There are daily blood tests, 'bespoke' smoothies which they must finish every morning, and contracts to sign.
Watching over the guests during this ten-day retreat is the resort's director, Masha (Kidman), a woman on a mission to reinvigorate their tired minds and bodies. However, these nine 'perfect' strangers have no idea what's about to hit them. And, episode by episode, each character's story – and secrets – are brought to light in front of the group.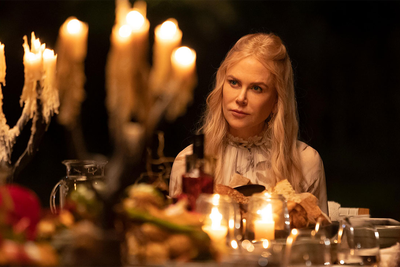 The real draw of this eight-part series are the titular nine guests who arrive at Tranquillum House. An A-list ensemble, each one provides mystery and occasional amusement, whether they're alone with their thoughts or trying to work out the reasons the others have been booked in at the resort. There's Frances (a scene-stealing Melissa McCarthy, Bridesmaids), a famous romantic fiction author whose latest book isn't the hit she'd thought it would be. Then there's Jessica (Samara Weaving, Hollywood) and Ben (Melvin Gregg, American Vandal), a young, good-looking couple with a Lamborghini, huge Instagram following and relationship issues. Carmel (Regina Hall, Girls Trip) is a recently divorced stay-at-home mother who seems to be the only one who's excited to be at Tranquillum House. We also meet Tony (Bobby Cannavale, Boardwalk Empire), a pill-popping, macho presence with obvious anger issues; Lars (Luke Hall, Beauty & The Beast), a Brit who likes to break the rules; and the Marconis, Napoleon (Michael Shannon, The Shape of Water), Heather (Asher Keddie, X Men: Origins) and their 20-year-old daughter Zoe (Grace Van Patten, The Violent Heart), who've clearly got a dark past that's ripping the family apart.
Arriving at the beautiful coastal retreat, the guests soon fall under the spell of the slick and polished interiors – which wouldn't be out of place on The Modern House – and the enigmatic Masha, whose regime finds no cure or experiment too extreme. But as the days go by, Masha's increasingly unorthodox methods threaten to push this explosive group over the edge. While Kidman's accent as a former high-flying Russian CEO turned wellness guru sounds slightly strange at first, she soon settles into it – and with her tall, thin frame draped in white clothes and a sheet of long blonde hair, she truly embodies the role of ethereal, cult-like leader. But she also emits an air of fear and suspicion, bubbling away just below the surface, hinting that not everything at the retreat is as controlled as it seems.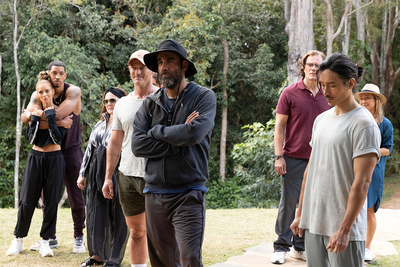 She's flanked by two key members of staff – Delilah (Tiffany Boone, Little Fires Everywhere) and Yao (Manny Jacinto, The Good Place). Outwardly serene and robotic, it's clear from the off that they're in on Marsha's scheme. They politely bat away their guests' many queries about the resort and calmly extol the benefits of Tranquillium House's regime, but behind closed doors they appear to have concerns of their own, which are sure to rear their head as the series progresses.
Nine Perfect Strangers was made during the pandemic, with filming moving to Australia. This scenery is interspersed with frequent, menacing close-ups of a blender creating the guests' morning smoothies, which in turn jars with the series' modern soundtrack (think Bon Iver, Future Islands and The Avalanches). Fans of the book will know how this ends, but for those new to the story, this is a faithful retelling that really captures the sense of mystery surrounding the eponymous nine and the central trio seemingly pulling the strings. Having watched the first three episodes, we can't wait to see where the retreat takes us next.
 
Episode one of Nine Perfect Strangers is available to watch on Amazon Prime Video now, with subsequent episodes landing every Friday.
Visit Amazon.co.uk
DISCLAIMER: We endeavour to always credit the correct original source of every image we use. If you think a credit may be incorrect, please contact us at info@sheerluxe.com.