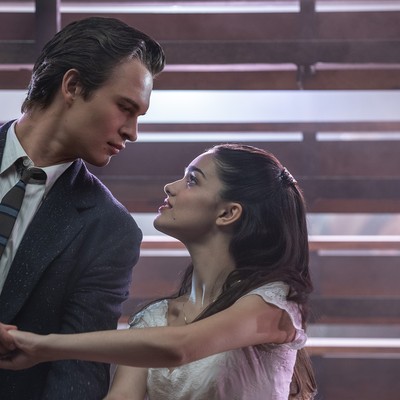 What To Watch This Weekend: West Side Story

When we heard a remake of one of the greatest musicals ever was in the works, we were nervous – even after learning renowned director Steven Spielberg was behind it. Thankfully an amazing cast, great singers and faithful choreography combine to make this our favourite film of the year.

Written by Jerome Robbins – with Leonard Bernstein and Stephen Sondheim on music and lyrics – West Side Story was a Broadway smash when it was first performed in 1957. It went on to become an Oscar-winning film starring Richard Beymer and Natalie Wood as star-crossed lovers Tony and Maria. It takes a bold director to decide to remake a much-loved classic. But that's exactly what happened in 2018, when it was announced that Steven Spielberg – best known for sci-fi and action flicks like E.T., Jaws and Jurassic Park – would be taking on the all-singing, all-dancing romantic drama. After a year's delay due to the pandemic, the remake arrives at cinemas today – and it's every bit as good as (and in some respects, even better than) the original.
 
You're probably familiar with the Romeo & Juliet-inspired plot, but in case you need bringing up to speed: it's 1958 on New York's Upper West Side, a multiracial, working-class neighbourhood. The musical explores the rivalry between the Jets and the Sharks, two teenage street gangs of different ethnic backgrounds. The members of the Sharks, from Puerto Rico, are taunted by the Jets, an all-white gang. Tony, a former member of the Jets and best friend of the gang's leader, Riff, accidentally falls in love with Maria, the sister of Bernardo, the leader of the Sharks. Soon, the rival gangs decide they need to have one big rumble to settle scores once and for all – even if winning means fighting with knives and guns.
 
Much of the 2021 version's success comes down to the fact the score is truly masterful. As soon as the film starts, we're thrown right into a half-demolished Upper West Side and encounter the Jets. We see the demolition of their home in real time, as Bernstein's jaunty 'Prologue' bursts into life. From the off, much of the choreography appears almost shot-for-shot with the original film, as the Jets rattle around the neighbourhood, dancing away their disgust at the incoming Puerto Ricans who have settled in. By the time 'Jet Song' has finished, all suspicions about this new film have melted away.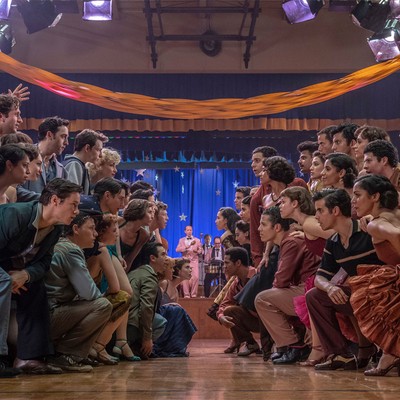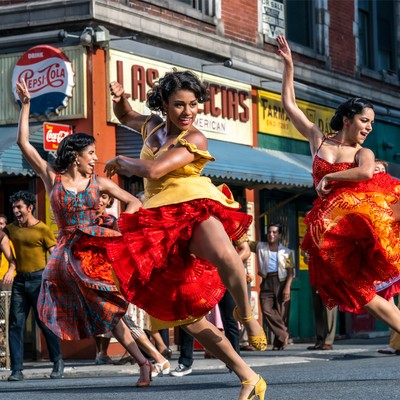 Further joy comes via the cast, who – at this point – are largely unknowns. All excellent singers and dancers, the fact Spielberg didn't opt to fill his cast with huge names makes the film all the better, as each actor fully embodies the characters they play. First up there's Rachel Zegler (Maria) who's excellent in her first screen role. She's well paired with Ansel Elgort, who plays Tony. Best known for Baby Driver, Divergent and The Fault In Our Stars, this is certainly his most prominent role to date. He plays the tormented, love-struck Tony brilliantly – and has a truly gorgeous voice that makes some of the musical's best-loved songs ('Maria', 'Something's Coming', 'One Hand, One Heart') absolutely soar.
 
Elsewhere Ariana DeBose plays ballsy, sexy Anita brilliantly and David Alvarez works wonders as her boyfriend, Bernardo, the leader of the Sharks. Mike Faist is a match for him as Sharks leader Riff, and the scenes they share really fizz with energy. When it comes to the few adults on screen, the always-great Corey Stoll (Homeland, House of Cards) is in charge as Lieutenant Schrank, while Spotlight's Brian d'Arcy James is the more comical Officer Krupke (the Jets number 'Gee, Officer Krupke' comes as welcome comic relief). One of the key bits of casting is Rita Moreno, who won an Oscar for her portrayal of Anita in the 1961 version. In this update, she plays Valentina, who replaces Doc, the owner of the corner store in which Tony works, from the first film. Her version of 'Somewhere' – usually sung by Tony and Maria when they realise they must flee New York – is genuinely touching.
 
In short, it's hard to find fault with this gleaming update, which keeps all the heart of the original, while updating the tale with technicolour sets and backdrops, a genuine Latinx cast for the Puerto Rican characters (something the original film later came under fire for – in this version, there are even several un-subtitled Spanish-speaking scenes) and enough updates to make this production stand alone as a fantastic film in its own right. Even 'I Feel Pretty', a song that Sondheim himself wasn't a fan of, is brought to life by transposing it into a costume-laden department store. The sets, choreography, singing, acting – everything comes together to create a genuinely joyful two-and-a-half hours. We're certain it will turn a new generation onto the timeless classic. We just feel sad Sondheim, who died last month, isn't around to witness that.
 
SL Rating: 5/5.
 
 
West Side Story is in cinemas today.
DISCLAIMER: We endeavour to always credit the correct original source of every image we use. If you think a credit may be incorrect, please contact us at info@sheerluxe.com.