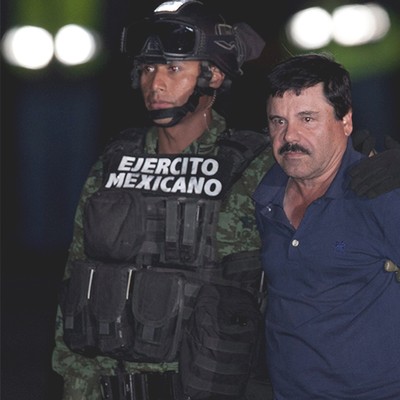 Who is El Chapo?

Narcos and Breaking Bad may have had us glued to our TV screens, but over in New York the trial of real-life drug lord Joaquín "El Chapo" Guzmán is about to unfold. With a career that took him from rural Mexico to ranking in Forbes' rich list, the infamous El Chapo has escaped prison twice and lived a life on the run. As he heads to court this week, here's a cheat sheet on "the godfather of the drug world".

Who is El Chapo?
Born in 1947 to a poor family in the Mexican countryside, no one would have guessed that one day Joaquín Guzmán would have built a wealth estimated at over $14 billion. Raised in a small village in the Sierra Madre mountains, Guzmán began cultivating marijuana and opium poppies in his teens. Already embroiled in a life of crime by his early twenties, "El Chapo" (meaning shorty - Guzmán is just 5ft 6) began working his way up the Guadalajara Cartel. When a police crackdown led the cartel to split its territories, the Sinaloa Cartel was born – with El Chapo at its helm.
At the head of the Sinaloa Cartel, El Chapo began building his multi-billion-dollar empire. He oversaw fields of marijuana and opium poppies stretching 23,000 miles – an area larger than Costa Rica. As of 2013 the cartel was estimated to be behind 80% of the cocaine, heroin, crystal meth and marijuana flowing into the US market via Chicago. El Chapo built the cartel into an international business, with links to drug traffickers found as far as Hong Kong, the UK and Nigeria.

What is he accused of?
While drug traffickers are rarely the gentle type, El Chapo is renowned for his ruthlessness. It is said that he executed people on the spot – the punishment for anything from late shipments to smears on his reputation. A regular employer of assassins targeting 'traitors' or business rivals, El Chapo was known for carrying a gold-plated AK-47. Forbes magazine most recently listed his personal worth at $1bn, although he is thought to have earned $14bn in drug profits over the course of his career.
After the death of Osama bin Laden in 2011, Forbes listed El Chapo again – this time as the world's most wanted fugitive. Today, the drug baron is no longer on the run. Extradited from Mexico and handed to US authorities, he stands accused of 17 federal crimes amounting to a mandatory life sentence. They include the 'Kingpin Statute' continuing criminal enterprise – a federal crime covering long-term and expansive drug conspiracy, plus weapons offences, money laundering and conspiracy to murder. He has pleaded not guilty.

Why now?
The start of El Chapo's trial this week follows a long history of arrests, and an audacious criminal past. The drug lord even counts two prison escapes among his crimes. In 2001 he escaped from Mexico's Puente Grande prison – a maximum security facility – in a laundry basket. It was clear evidence of his power to bribe any law enforcement stood in his way. After avoiding the authorities for 13 years, El Chapo was caught again in February 2015. His recapture didn't last long, however, as he escaped Mexico's top-security prison near Toluca just 16 months into his sentence. The elaborate escape used a 1.5km tunnel with lighting, stairs and ventilation, dug between the floor of his cell and a nearby construction site. 
Eventually, El Chapo was captured once more in January 2016, following a shoot-out with Mexican marines in Sinaloa. By 2017 his extradition was organised and it became clear he would be facing justice in the USA – his multiple escapes south of the border perhaps persuading the Mexican government to hand him over. Several months later, the time has finally come for the drug lord to appear in front of the federal court in Brooklyn.

What can we expect from the trial?
The trial of the man once described as the "biggest drug lord of all time" was always going to demand sizable security – but the violence of the Sinaloa cartel and El Chapo's talent for escapology has pushed US authorities to extreme measures. Initially, US marshals planned on shutting the Brooklyn bridge each day, so El Chapo could be transported to court in a huge motorcade of armoured vehicles. They have now opted for a new plan which will see him held in an undisclosed location in Brooklyn.
Elsewhere, teams of US marshals have been issued to protect the jurors, who will remain anonymous for their own safety and be escorted to and from the court by armed guards. The court itself has been the site of ramped up security, including sweeps by sniffer dogs hunting for explosives. The witnesses – many of whom were former associates of the drug baron – are expected to testify for the prosecution. On top of their testimony, El Chapo is facing a stack of evidence against him: video surveillance, audio recordings, weapons seizures and thousands of pages of incriminating documents. Only time will tell if the US will be able to keep the drug baron behind bars.
DISCLAIMER: We endeavour to always credit the correct original source of every image we use. If you think a credit may be incorrect, please contact us at info@sheerluxe.com.