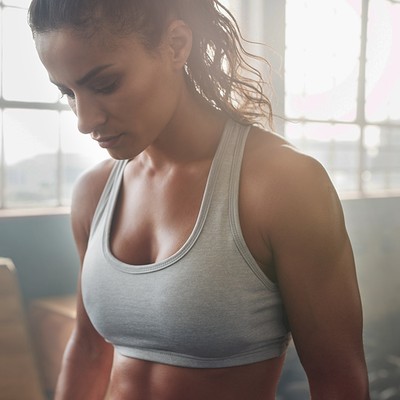 Are You Missing This Key Piece Of Sports Wear?

When it comes to gym wear, eight out of 10 of us are reportedly wearing the wrong type of sports bra. From why the right size is so vital to the best new styles to try now, here's what you need to know…

Let's start with the obvious question, why are they so key?
Experts claim finding the right sports bra is as important as the perfect pair of trainers, yet statistically 44% of us are neglecting them completely. Not only do they support your breasts and keep you from pain and discomfort, they also prevent severe damage to the cooper's ligaments (the area around your breasts). Because these ligaments aren't elastic, heavy impact sport can pull them when there is no proper support, forcing them to stretch – and once stretched, there's no going back as it's been proven they can't repair themselves. The result? Breast sagging over time.

Will my normal day-to-day bra not do the same job?
The simple answer is no. While there are certainly worse things, the sizes between a normal bra and sports bra can vary completely.  The latter are designed to completely restrict all movement, which is why so many users report less, or no pain at all with them in comparison to a bra. As well, reports show that a properly fitted sports bra can reduce bounce by up to 80%, in comparison to a bra which restricts movement by roughly 32%. The results speak for themselves.

How often should I be replacing my sports bra, if at all?
This is down to you and your personal comfort levels. Does it feel loose? Has the elastic stretched? Is it less supportive? If the answer to these is yes, it could be time to treat yourself to an upgrade. Generally speaking though, a good, well-fitted bra will last you at least a year or more, depending on how often you're using it. A handy trick for making it go the extra distance is to air dry it, heat tends to break down spandex.

I have no idea what my size is. Is there an easy way to know?
You can measure this for yourself with any standard tape measurer, then find a table online to get your corresponding size. If this proves tricky or confusing, we recommend heading to a sports shop instead. Most of them offer an in-store measurement free of charge so you can be sure you're getting the best one for you.

What should we look out for when we buy one?
It's vital you find one that completely supports you or you could be signing yourself up to breast, upper back and shoulder pain. Try and opt for ones that aren't too stretchy, ideally you want to feel cinched in, but still able to slide a finger under the band. Shoulder straps are a great option as they help distribute weight evenly, they're also more likely to have padding. If you're a larger cup size, look for bras with built-in cups to further restrict control. The cups should completely hold everything in, if it doesn't go a size up. For more inspiration, we've rounded up some of our favourites below…
 
DISCLAIMER: We endeavour to always credit the correct original source of every image we use. If you think a credit may be incorrect, please contact us at info@sheerluxe.com.