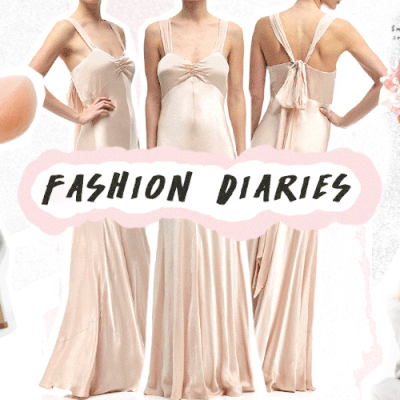 Fashion Diaries: The Bridesmaid VS Bridezilla

Why do we wear what we wear? SheerLuxe's Fashion Diaries series asks Londoners to record their thoughts behind getting dressed. This week, Emily* a 30-year-old PA living in Kilburn, attends a bridesmaid dress fitting where things don't go to plan…

8am
I'm not sure when it happened, the thing with my tits. That's the trouble with big boobs… gravity. I could 'fix' them, I suppose, but getting plastic surgery always seemed to me like a cartoon character trying to stop a leak. The more spurts you cover up, the more pop out somewhere else.
There's no doubt about it, whatever dress Freya picks, I need a bra. I pack a whole range of options – my Intimissimi strapless, with the matching seamless pants (godsends); a Chantelle plunge – and rush out the door. Can't be late, she won't like that.
 

9am
I make it to the Ivy Chelsea Garden just in time for our table, but no one's arrived yet. There's a knot in my stomach, Freya's uni friends can be… difficult.
Amber walks in first, I hear the chink of her giant Chloé Faye before I see her. And Katie – poor, sweet, malleable Katie – trails in behind. Tweedledee and Tweedledumbf*ck. It's hard to believe they're all still close.
"Freya isn't coming," Amber says, crashing her bag down on the table. "She'll just meet us at Ghost on the King's Road." Classic Freya. "You have me to thank for Ghost, by the way."
"Sooo relieved," Katie chimes in. "But what Grace did was cool, though. She gave us £80 each to spend on whatever we wanted. It just had to be lilac. A warm lilac. And fitted."
Amber raises one of her meticulously groomed eyebrows. "I look awful in lilac... Oh God, remember Madeline's wedding? Those baby pink dresses with black shoes. Or Ava's? I swear if I have to look at another multiway strap, I'll throw up. And that make-up artist! My foundation was practically plastered. And she made me have a chignon."
I've never heard someone utter the word chignon with such venom.
 

10am
Freya and her mother are already at Ghost when we arrive. "You're late," she says, struggling to stop the tiny Pomeranian squirming in her arms. "How come you're carrying him?" Katie asks.
"He did a shit in my Goyard."
The sales assistant offers us all a glass of champagne. Couldn't have come sooner. Would it be rude to take two? Freya raises a hand, "Not for me, I'm getting married in six months." Maybe I could take hers. The other bridesmaids decline. Just me and the mother-of-the-bride then…
 

11am
We must have every single Ghost dress in every single colourway waiting in the changing rooms, but Freya's still leafing through rails. "We're the only real couple left aren't we," I'm not sure if she's talking to me or the peach chiffon she's staring at. "Standing in the rubble of their failed relationships…"
She's still speaking but I've zoned out, thinking how much better I'd look in literally any other outfit than a barely-there nightie. At my wedding, I'd pick the polar opposite. Maybe Needle & Thread; embellishments, capped sleeves, a forgiving tulle skirt.
Not that Jake is planning on proposing anytime soon, as Freya always so kindly reminds me. He thinks we shouldn't get married just for a 'party' or a 'title', says it's a bit like putting decorative cushions on a bed; pretty, but pointless.
 

12pm
Two hours. We've been here for two hours and I'm not nearly tipsy enough. I wonder if there's any more of that champagne…
There was a cowl-neck number that looked lovely on everyone (the one time I've been on board with the 90s resurgence) but the only dress Freya's approved of so far is a tie-back slip in almost-sheer oyster crêpe – aka the only dress in the shop that makes wearing any form of bra entirely impossible. And I should know, I've got the whole of Selfridges' bloody lingerie hall in my handbag.
Am I being a bitch? She's already bought us silver diamanté shoes (help) and flower crowns (she saw them on Pinterest) and says they'd go perfectly. Of course, Amber and Katie and their perky C-cups are perfectly fine.
I can hear them all talking outside. Something about keto. Lost four pounds in one day. Fainted on a tube. Worth it, though.
"Look Emily, can't you just come out so we can all get on with our day," Freya's losing her patience now. I step out of the changing room, my insides recoiling.
"Maybe once your hair's down you'll feel better", Katie gestures to my two-minute morning-rush bun. "Well I'm wearing my hair down so obviously none of you are," Freya snaps. Amber looks like someone just did a shit in her Chloé.
I explain, I gesture; point out the lack of fabric, the lack of support, the very large amount of cleavage on show. At one point the sales assistant approaches as if diffusing a bomb and has the nerve to utter the words 'stick-on silicone bra'.

1pm
Our dresses are being wrapped up and apparently my lack of God-given mammary support and pleas for a comfortable uplift is all down to the fact I'm not the one getting married.
It would also seem to suggest I'm somewhat hard of hearing… "I didn't realise I was friends with a sponge," Freya's saying, well-within earshot. "She soaks up everything I say."
Her mother swerves slightly towards me as we exit the door, and clutches my arm for support. Is she… drunk? She's definitely a bit drunk.
"If I get married again I'm never having bridesmaids," she tells me. "I can't imagine liking anyone for longer than a month."
*All names have been changed.
DISCLAIMER: We endeavour to always credit the correct original source of every image we use. If you think a credit may be incorrect, please contact us at info@sheerluxe.com.