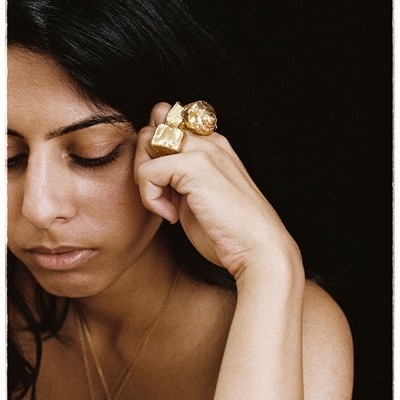 The Fashion Interview: Alighieri

Ask anyone in the know who the coolest jewellery designers are right now, and they're bound to include Alighieri. The brand's deliberately imperfect designs – which are reminiscent of ancient heirlooms – have propelled it to become one of the most coveted names in the business. Here, founder Rosh Mahtani, tells us more…

Before I started Alighieri, I felt lost. After graduating from university and having a tough time personally, everything felt like it was falling down around me. I didn't have a job, so after doing a wax carving course, I began to create jewellery, which gave me a focus and a way to channel my passions. By not knowing the traditional 'rules' of jewellery making, it allowed me to create what I wanted without the pressure of it looking a certain way. The process was hugely cathartic.
My work is heavily inspired by literature. I studied Italian poet Dante Alighieri's Divine Comedy at university and fell in love with it, so I began by making a piece of jewellery to represent each one of Dante's poems. The books really resonated with me, as it's the story of a man lost in a dark wood with a sense of hopelessness, which is very similar to how I felt at the time. 
I've always loved jewellery. I have such fond memories of rooting through my mum's jewellery box as a kid. My brother and I would beg her to show us the contents, and though she didn't have much, each piece had a story and meant something to her. It's what inspires me in my own designs today.  
It's difficult to describe the typical Alighieri wearer. What's really special to me is that a woman in her 50s might buy a piece from us and also give one to her daughter, or a girl in her early 20s will wear a necklace and then purchase something for her boyfriend. There's no particular age or gender that wears the brand, but what's important is that the wearer feels the imperfections and textures of the jewellery, and recognises their own imperfections are okay, too.
​My favourite piece from the collection has to be the Il Leone medallion. It was one of the first pieces I created and remains one of our bestsellers. The lion emblem is inspired by one of the three beasts Dante is confronted by in the Divine Comedy, and the shape is based on an old coin I found at a flea market in Venice. I bought it to remind to myself to have strength and courage, and I hope the necklace inspires the same feeling for whoever wears it. From our current 'Roots' collection I have a soft spot for the Lia earrings – they're mixed metal hoops with a bark like texture and I love the way the gold and silver intertwine.
There have been many highlights from my career so far. Winning the Queen Elizabeth II Award for British Design in 2020 is up there – that was pretty surreal. Going to Africa to shoot our 'Where Is Home?' collection was very special, too. We stayed in a remote eco lodge on the Zambezi river where we could see elephants from outside our rooms. I was really struck by this feeling of how lucky I am to share these experiences with the people I work with. 
The best fashion destination in the world is Florence. I love London for people watching and the way anything goes, but Florence is just the chicest place I've ever been. There's a real art to the way everyone dresses – it's what I imagine The Grand Tour would have been like. 
When it comes to clothes, I try to keep it simple. I definitely have a uniform: I live in oversized jumpers and slip dresses layered with loads of gold jewellery. I think of clothes as my canvas and the jewellery as the main event, so I tend to stick to neutral colours. I'm a big fan of Raey (one of their slip dresses is what I feel best in), Tibi and I recently treated myself to a pair of over the knee boots by Khaite for my birthday. One of my all-time favourite pieces in my wardrobe is a Joseph suit I bought on sale when Louise Trotter was creative director. It's a gorgeous ivory colour and it's so special to me – I would get married in it. 
We should all buy clothes that are built to last. Knowing where something came from and being sure I'll wear it forever is so important to me. I like to invest in pieces I know I'll wear on repeat, like knitwear, slip dresses, great leathers and tailoring made from high-quality fabrics. In my opinion, that's better than having loads of clothes you change up regularly.  
If I hadn't started Alighieri, the brand I'd love to have created is Byredo. Everything they do is spectacular, from the scents to their interiors – the whole world they've created is so well done. 
There are plenty of exciting things yet to come from Alighieri. Everything right now is caveated by the pandemic of course, but we're hoping to have some kind of physical space soon in which to bring the Alighieri universe to life. There's a fine jewellery collection on the horizon, too, so stay tuned for that.
DISCLAIMER: We endeavour to always credit the correct original source of every image we use. If you think a credit may be incorrect, please contact us at info@sheerluxe.com.