Looking Back At The Life Of Karl Lagerfeld

Karl Lagerfeld, the design legend behind Chanel, Fendi and an eponymous label, has passed away today, aged 85. SL looks back at his life in fashion.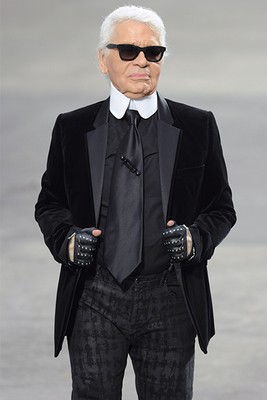 DAVID FISHER/REX/SHUTTERSTOCK
Not everyone follows fashion, but everyone has heard of Karl Lagerfeld. In a career spanning seven decades, the designer helmed some of the world's most illustrious brands, most notably Chanel – a position he acquired in 1983 – whose transformation from a sleepy, Bourgeois French design house to Fashion Week's most anticipated show was all thanks to the designer. From his iconic collections to his showstopping runways, his controversial moments to his famous quirks, here are the seven reasons why he's the most iconic designer of his generation.
The Designer Names
He may be most celebrated for his near 40 years at the fashion house, but Chanel isn't the only designer notch on his bedpost. An apprenticeship with Pierre Balmain in 1954 kickstarted his design legacy and a move to Chloé in the mid-1960s cemented his place on the Parisian fashion landscape, before his appointment as creative director at Fendi in 1965 – a position he held until his death – making his tenure there one of the most enduring in fashion history.

The Quirky Character Traits
With his signature monochrome look, dark glasses and pony tail, Karl's distinctive appearance made him an instantly recognisable face in the industry – so much so, his likeness has been repeatedly used as branding for his eponymous label. Celebrated for his quirks including an insatiable Diet Coke habit and his unconditional love for Choupette, his house cat, he was as much a personality as a designer.

The Show-Stopping Shows
Chanel shows at the Grand Palais are frequently the main attraction at Paris Fashion Week, and with good reason. Spectacle was at the forefront of the designer's vision, and catwalk shows featuring everything from fuming spaceships to a supermarket kitted out with over 500 individually designed Chanel-branded products received significant public attention during the latter years of his life. Highlights also included fall 2010's 265-tonne indoor iceberg imported from Iceland, a fully functioning Chanel-themed café and a funfair complete with a giant, working merry-go-round.

The Fashion
Few creative directors have managed to maintain a brand's DNA so faithfully as Lagerfeld, who kept Coco Chanel's iconic bouclé suits at the core, whilst still carefully evolving the label to incorporate changing trends and relevant faces. Former Editor-in-Chief of British Vogue Alexandra Shulman declared accessories to be his legacy, and anyone with a Chanel-handbag obsession can attest to that, whilst those tweed separates will always be associated with both the founder and his tenures at the house.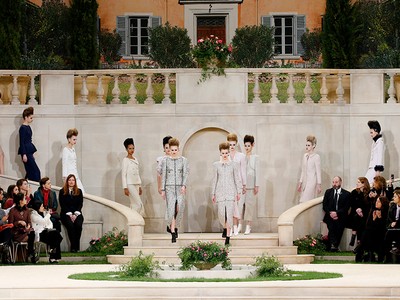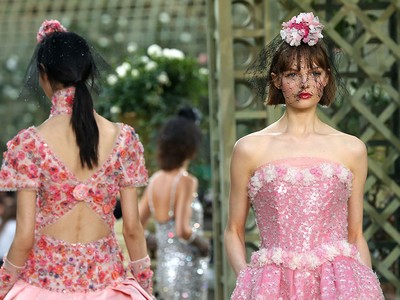 ELIZABETH PANTALEO/REX/SHUTTERSTOCK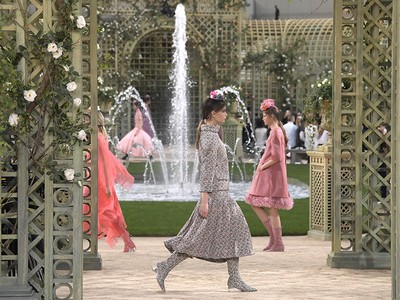 The Pioneering
Lagerfeld was a pioneer for the industry in so many ways; he was the first to take a formerly stuffy, tired brand and breath new life into it both creatively and fiscally (Chanel's 2018 annual sales of $9.6 billion were larger than those of Gucci and approaching those of Louis Vuitton) paving the way for the likes of Marc Jacobs at the latter, and Tom Ford at the former. Plus, his 2004 collaboration with H&M was the first of its kind, creating high-end pieces at high street prices, which sold out in minutes.

The Frequent Controversy
In recent years the designer has been slammed for derogatory comments about a host of female celebrities and has historically been criticised for allowing porn stars to walk the runway (US Vogue Editor Anna Wintour famously walked out of his 1993 show in outrage). Plus, his involvement in politics hasn't always been welcomed, from his critique of Angela Merkel's borders policy to his controversial protest show, in which models brandished placards and chanted slogans.

The Longevity
At a time where designers are so readily moving on to the next exciting project, his steadfast presence will be an unprecedented loss for Chanel, Fendi and the industry as a whole. His contract with the former was reportedly dated through to 2045, and as Vogue put it for context, his tenure at Fendi began before man walked on the moon. This steadfast loyalty to the brands will make his recent words to Business of Fashion ring eerily: '"Why should I stop working?" he mused to anyone who dared broach the subject of retirement. "If I do, I'll die and it'll be all finished."'
DISCLAIMER: We endeavour to always credit the correct original source of every image we use. If you think a credit may be incorrect, please contact us at info@sheerluxe.com.