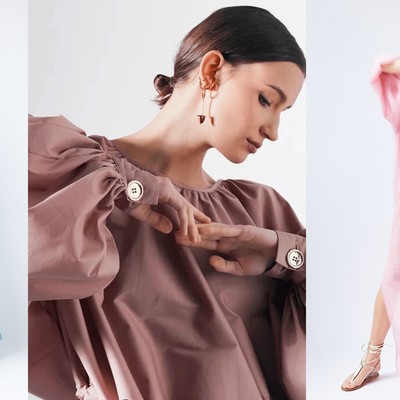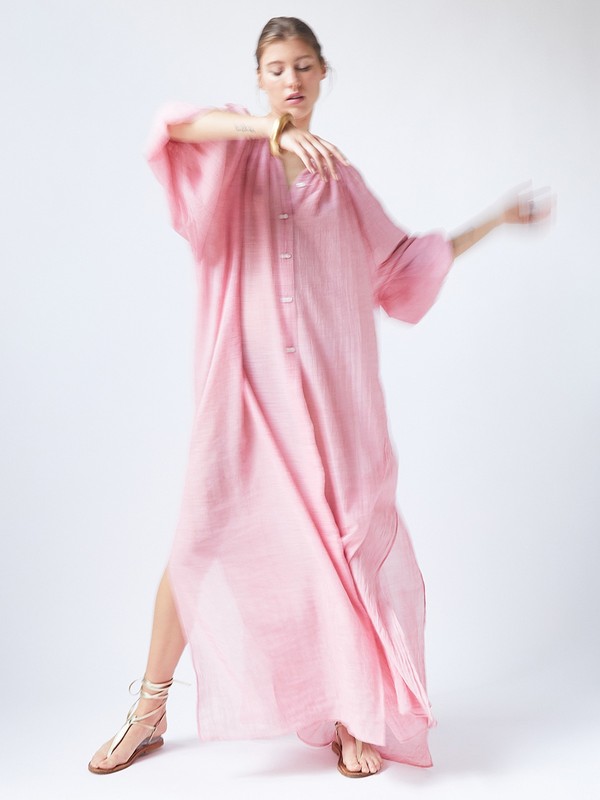 Meet The Creative Director Of A Cult Spanish Brand

Véronique von Siebenthal is one half of the creative duo behind The Label Edition. Known for putting a playful spin on timeless pieces, the Spanish brand gets better every season. Here, Veronique tells us about her love of fashion, where she finds inspiration and what's gone into making The Label Edition a success.

By Emma Bigger
All products on this page have been selected by our editorial team, however we may make commission on some products.
Designing clothes has been my enduring passion. When I was younger, I saw my grandmother's wardrobe as a treasure trove – her clothes and accessories became an infinite source of possibilities in my creative mind, and I loved experimenting and putting together looks like pieces of a puzzle. She always had great style and would wear these unique pieces with such flair and personality.  
Before launching The Label Edition, I worked in luxury marketing and communications. I was constantly globetrotting and soaking up different experiences. But my love of fashion never dimmed, and looking back it's clear timing played a pivotal role. Setting up the brand was not just a career move for me, but a journey of self-expression.
I set up the brand with my co-founder Laura Johansson. We knew each other from our work in fashion advertising and shared a common vision. As the creative director, it's my job to marry artistic freedom with strategic thought. It's about business intersecting with creativity to ensure the brand reaches the right audience and the collections tell the right story.
Fashion is a universal language. When I envisage our consumer, it isn't a particular demographic that emerges but rather a personality that reverberates with our brand ethos. Our customer has a discerning eye for detail, likes comfort and appreciates a certain aesthetic. They're not bound by conventions or stereotypes but are dynamic individuals who value the blend of style and substance, originality and versatility.
The modern woman is all about freedom and confidence. She's a multifaceted individual, living several lives within a single day and balancing various roles. With such a dynamic lifestyle, the transition from day to night often happens without the opportunity for a wardrobe change. Hence, my initial design impetus was rooted in versatility, comfort and elegance. I strive to create pieces that can seamlessly adapt from a casual daytime setting to an evening affair.
Fashion should never be restrictive. It's no surprise that our customers are all ages – it's personality and style that unite them. Our shared values revolve around slow fashion and getting back to basics, without ever forgetting about self-expression.
There was no better place than Spain to launch the brand. I find there's a more human and humble approach to fashion here, as well as plenty of camaraderie among the creative community. Everyone propels each other forward. We are currently relocating our offices to a very special location right in the centre of Barcelona and we shot our recent campaign in Ibiza. It was a very spontaneous and free-spirited shoot, with no constraints or restrictions.
My personal style is very much reflected in the brand. I love mixing old and new, and I'm a big fan of clothes designed to last. I like timeless pieces that can be worn day or night. A white shirt under a sweatshirt is probably my style trademark. I also like mixing the ultra-feminine with a touch of masculinity.
Vintage is a big passion. I own a lot of pieces by designers such as Yves Saint Laurent, Chanel and Hermès – and they play a big part in my wardrobe. I also love Loewe, and Jonathan Anderson specifically. He's been such a breath of fresh air in the fashion industry.
I'd love to develop a shoe line. Shoes are such an important element in any look. At the moment, we're lucky enough to be able to collaborate with existing brands such as Manolo Blahnik, which has supported The Label Edition from the very beginning. We love using Manolo's collections to complement our designs in the shows and shoots.
Travelling is one of my main sources of inspiration. There is nothing like being immersed in a new country and culture. When I arrive somewhere new, I dive right in – it's the people, architecture, nature and, of course, food which I find most alluring. I think inspiration is something you must activate using your senses.
Lately I've noticed more men are wearing our pieces. It's great; although we don't offer an explicitly genderless wardrobe, it seems our style appeals to both very masculine men and those who are more feminine. I like the idea of a piece taking on such a personal dimension that it can have several lives. I'm also enjoying how people style the collections – this new generation of fashion girls like Esther and Clara McGregor or Blanca Miró have such unique style. It affirms the versatility and universal appeal of the brand.
Seeing Amanda Seyfried in our designs was a real 'pinch me' moment. It was totally unexpected. She was shooting for Lancôme and her stylist had a selection of pieces on set. Amanda loved them and asked if she could keep them. A few weeks later she attended an awards ceremony and was wearing an entire outfit from The Label Edition. It was such an exciting moment for us.
Our most covetable design has been the Ezra shirt. We have evolved this piece, unveiling fresh prints every season and it's rewarding to see its popularity grow. However, it's also becoming more frequently imitated. On one hand, imitation can be a form of flattery, but as a young brand it's very disheartening. Each piece is a product of significant effort and time, and while creativity often thrives on shared inspiration, I would love to see respect be more of a priority in this industry.
Sustainability can be a challenging term to navigate. We prefer 'honesty' as our benchmark, as we continually learn how to grapple with various environmental issues. To make a real difference, we need to start with self-respect and, above all, maintain absolute transparency with our consumers.
Prioritising local production, regulating our stock and materials – these are the cornerstones of our practices. At the same time, we're delving into diverse recycling initiatives to strengthen our commitment to the environment.
Visit TheLabelEdition.com
DISCLAIMER: We endeavour to always credit the correct original source of every image we use. If you think a credit may be incorrect, please contact us at info@sheerluxe.com.