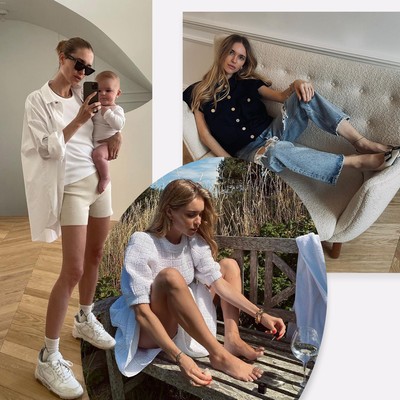 My Life In Fashion: Pernille Teisbaek

One of the most talented eyes for style in the fashion industry, it's no surprise that Danish stylist Pernille Teisbaek has been appointed a creative consultant at Italian shoe label Gia Borghini – indeed, her millions of fans on Instagram follow her for a reason. From stand-out runway shows to her most-worn items, here she talks us through her life in fashion…

My style is best described as minimalistic. This hasn't changed much over the years – I've always preferred a pared-back look and am constantly drawn to timeless, classic pieces I know I'll be able to style in different ways for years to come. The secret to making minimalism feel more exciting is to add one eye-catching detail. That might be a pair of colourful shoes or a chunky necklace – anything like that will make the look feel more personal. 
My earliest fashion memory probably dates back to when I started modelling at the age of 14. My first shoot was for a magazine called WOMAN but I don't remember much about it. What does stick in my mind was how excited I was to show it to everyone! I also remember a Calvin Klein top I bought on a trip to New York when I was 12. It was probably my first ever designer purchase and I felt so cool wearing it. 
The person who has had the most influence on my style is my grandmother. She was always so elegant and had a lot of Chanel suits – which I'm sure was what made me curious about fashion and taught me about timeless looks. My favourite piece in her closet was a waist belt that had playing card symbols on it – I'd love to inherit that one day. 
The best piece of fashion advice is to be confident in what you're wearing. How well you wear an outfit always depends on how you're feeling – it doesn't matter if you're wearing designer clothes or high street, the best you can do is to own your look by being comfortable. 
My number one fashion rule is to buy less and prioritise pieces you can wear season after season. Lately, I've been buying more vintage pieces – it's a great way to be a more sustainable shopper and you can find some real gems out there. Some of my most recent finds include some Hermès towels on Vestiaire Collective that I've been hunting down for years, and some Chanel swimsuits and shorts. 
I have a 'one in, one out' approach when it comes to my wardrobe. What goes comes down to whether or not I've worn the piece in the last year, or if there's something about the fit that doesn't suit me. I give away pieces to my friends and family and others I sell either online or in local vintage stores. It stops my closet from becoming too overcrowded.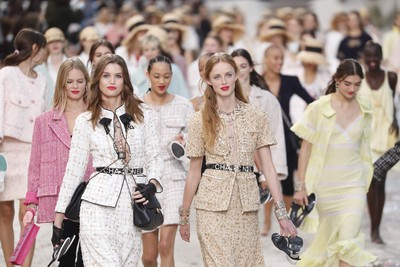 I'm a Chanel girl through and through. I feel incredibly grateful to own a few pieces from the brand and I know I'll never part with any of them. My favourite is a black and white jacket with silk cuffs and golden buttons, which I'll treasure for the rest of my life. I like to style it casually with a pair of jeans and sandals – it makes it look a bit more fun and modern.
The most memorable fashion show I've been to is Chanel's F/W14 show. They always put on the most incredible spectacles, but this one was particularly unforgettable as it was set in a supermarket – a real juxtaposition to Chanel's classic aesthetic. It's one that always sticks out in my mind.  
My role at Gia Borgini has been a long time in the making. I've collaborated with the brand in the past to design a small collection of shoes, so it's really exciting to come on board as a creative consultant. The founder, Barbara, and I are so aligned in our ambitions for future collections and I'm looking forward to seeing where we can go next – there's so much potential, so it's very special to be a part of the process. Some of my favourite styles are the flats in green and black terry fabric, as well as the green heels from our latest collection.
My most worn items are my vintage Levi's – I have them in grey, blue and white and I wear them on repeat. I have to say, it's a bit of a challenge finding the perfect pair, so once I get my hands on them, I do my best to take care of them. I'd recommend eBay and any good vintage store if you're looking for some.
Travelling is what inspires me most. Hopefully we'll be able to do it a little more freely soon… I love sitting in cafés and watching the people pass by. I get a lot of inspiration from architecture too, from the shapes and colour combinations. Paris is one of my favourite cities as everyone is so well-dressed. I also love New York for a more diverse vibe.
My most extravagant fashion purchase was my Hermès Kelly bag. It was definitely an investment, but it's such a forever piece. It's a size 25, which is very rare, and I'd been saving up for a long time beforehand – I waited a year before  tracking one down and finally taking the plunge.
If I could swap wardrobes with anyone it would be the Olsen twins. Like me, they love the kind of timeless pieces you can wear for a lifetime – plus, their stye is so effortless and cool. I've always admired the way they wear clothes and make them their own by adding a few great accessories. 
Follow @PernilleTeisbaek on Instagram.
DISCLAIMER: We endeavour to always credit the correct original source of every image we use. If you think a credit may be incorrect, please contact us at info@sheerluxe.com.