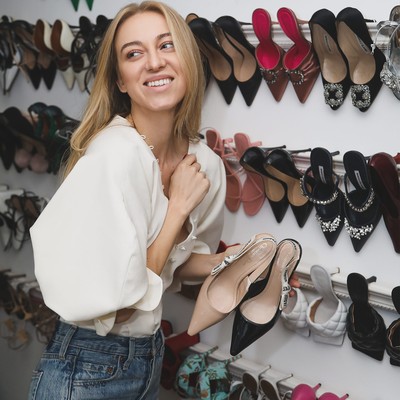 My Life In Shoes: Sandra Hagelstam

Sandra Hagelstam lives and breathes shoes. As the founder of online platform 5 Inch And Up, which celebrates the best in designer footwear, she knows exactly what's on trend and the timeless designs worth investing in. Here, she talks us through her highlights…

My love of fashion started young. I loved dressing up when I was a little girl, but my passion for shoes really started when I was in fifth grade. I was a big fan of the Spice Girls, who wore a lot of platforms, so I eventually convinced my mum to buy me some of Buffalo sneakers. Looking back, they weren't that high, but I loved the way they gave me some extra height and with it, some extra confidence. 
My website, 5InchAndUp.com, is dedicated to shoes. I started it in 2010, originally as a blog, when I first started studying at London College of Fashion. I had no plans for it to turn into anything, but the site grew and grew, until it eventually became my full-time job. In January, we relaunched it as a platform to inform, educate and inspire fellow footwear enthusiasts, with contributions from a variety of journalists and shoe experts.
My first fashion internship was the result of a pair of shoes. While I was studying at LCF, Gucci had created a folklore collection which influenced several high-street collections that year, with fringing, gold studs and paisley prints. I noticed River Island was launching a pair of fringed boots similar to Gucci's design, and saw a woman wearing them before their launch date. I had to go and ask her if they were the ones – and it turned out to be one of the footwear designers at River Island, who ended up giving me her card. 
One of my career highlights was designing a 5 Inch And Up shoe collection in collaboration with River Island in 2014. It was one of those full circle moments.
My first pair of designer shoes was a pair of Barbara Bui sneaker boots from a French boutique. I was in France visiting my sister and I spent €400 on them, which was pretty much my entire budget for the trip. It was a total impulse purchase, but I absolutely loved them – I should dig them out again – I'd probably still wear them. 
I own around 500 pairs of shoes. I used to collect them, but am trying to be more circular these days by selling the pairs I don't want anymore. That being said, I find it hard to let go as I get very attached to shoes and associate every pair with an event. The resale value of shoes is never that good compared to something like a handbag, either, so I always feel whatever money I can get from selling a pair isn't worth losing the memories. 
The shoes that hold the most sentimental value for me are a pair of Louboutin heels. I was invited to an event at Harrods' Shoe Heaven to represent Louboutin, who made a limited edition silver heel for the evening. Knowing I own a design, of which only a few in the world exist, is very special. 
In my opinion, the perfect heels are Louboutin's So Kate. I'll admit, they're one of the most uncomfortable pairs I've ever worn, but they're more like a piece of art. From the arch, to the stiletto heel and pointed toe, everything about them is beautiful to look at. The design has barely changed over the years – a mark of a timeless shoe.
I love different designers for different reasons. Gianvito Rossi is one of my favourites when it comes to comfort – if I'm going out dancing and don't want to go home early because my feet hurt, I'll wear those. Jimmy Choos are great for dressing up, Prada is best for trend-led designs and I have to give a special mention to Amina Muaddi. You really feel like Cinderella when you put on a pair of her shoes.
If I were to design a pair of shoes myself, they'd definitely be seductive. I've always loved what a heel does for someone's posture and confidence, so they'd likely be a variation on a stiletto pump.

In the past, I only used to wear heels, but these days I love a chunky flat. Boot wise, I have some great Jimmy Choos that still feel current and are perfect for colder weather. I'm a big fan of Prada's Monolith, too, of which I own many versions, as well as Bottega Veneta's lug sole boots. Splitting my time between London and Finland means practicality is such an important factor, so I appreciate a sturdy sole. 
If I were to design a pair of shoes myself, they'd definitely be seductive. I've always loved what a heel does for someone's posture and confidence, so they'd likely be a variation on a stiletto pump. Scandi minimalism has a big influence on my personal style, so I like to err on the side of classic, too. 
The next pair of shoes on my wish list is Piferi's Fantasia 100mm sandals. They're a bit different but so cool. This season I'm making the effort to invest in some younger designers like Ghazal and Amina Muaddi, too, not least because the pandemic has hit smaller businesses particularly hard, but because their designs are exciting and they're shaking up the shoe landscape.
Visit 5InchAndUp.com
DISCLAIMER: We endeavour to always credit the correct original source of every image we use. If you think a credit may be incorrect, please contact us at info@sheerluxe.com.