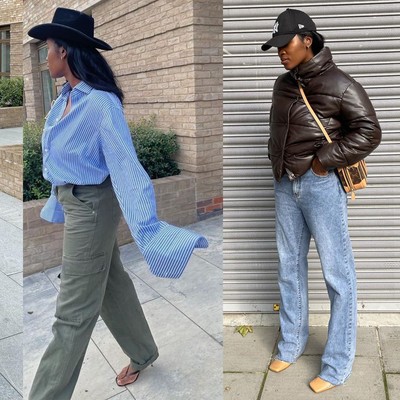 Style Rules: NL Marilyn

A born and bred Londoner, Marilyn Nwawulor-Kazemaks has two lives: one as a professional track athlete, the second as a fashion content creator on Instagram. It's her seriously cool aesthetic which caught our eye – hence why we asked her to share her top style rules…

My style is best described as a balance between masculine and feminine, with a bit of streetwear thrown in. When I'm going out for the evening, I'll wear a mini dress and heels, then add an overcoat I've usually tracked down in the menswear section. During the day it's usually a pair of jeans or cargo pants and a pair of Nike Jordans. I love sneakers and have managed to build a small collection over the last year, which makes it easier to incorporate a bit of streetwear flair into my outfits. 
My number one styling rule is to always iron your clothes. Obviously, it's impossible to keep things perfectly pressed all the time, but in my opinion, nothing ruins a look like creased clothing. As for styling advice, my best tip is not to overthink it. My husband is half Latvian, and they have a saying that goes something like: "Don't worry about what people think of you, they don't do much of it anyway." Essentially there's little point obsessing about what people think of you, because they're not thinking about you all that much!
Try to build an outfit around one statement piece. When I'm heading out into the world, I start by choosing something a little more attention-grabbing and build the rest of my outfit from there. Try not to include too many statement pieces at once, as it can get a bit overwhelming and make you look like you're trying too hard. For example, I like to pair my Prada coat with a black high-neck jumper, straight jeans and pointed black boots – it lets the coat to do the talking. In the evening, depending on the occasion, I like to wear a mini dress or a midi skirt and a plain t-shirt, then add my Amina Muaddi heels for a bold, finishing touch. 
Being a mum doesn't have to mean losing your identity. I never felt I had to change my personal style while I was pregnant or after giving birth to my daughter, but I know it's very easy to lose sight of your sense of style during this time – especially when your clothes no longer fit, and you tend to get stuck in a rut of stretchy basics. I know a lot of women who have children either clear out their wardrobes to start again, or openly admit they don't feel comfortable wearing their old clothes. A lot of them say they feel they should adapt their style to 'dress like a mum'. What does that even mean? Just because you're a mother, you still deserve to look and feel your best. The only change should maybe be dressing to suit a different body shape – and that's totally fine.
Don't be afraid to inject some colour into your wardrobe. My outfits are largely neutral, but this year I've started introducing some brighter tones to mix things up. Some people can colour block really well but personally, I don't think it's something I can pull off, The key is to experiment, try different combinations and see what works for you. Emerald and forest green are trending this season, and I love how they look with other shades of green or white, as well as splashes of yellow or pink. Usually, I'll introduce colour through my shoes or a bag – it's a more subtle way to do it.
Make sure you always size up in outerwear. I nearly always take two or three sizes up in blazers and coats – it makes every outfit feel that bit cooler. My Prada coat is probably my favourite piece in my wardrobe. I try not to buy things when there's too much hype around them as I don't want to end up splurging on a trend. However, this particular coat had been out of stock everywhere for weeks and one day, when I was browsing MyTheresa, I found it and took the plunge. It's technically a size too big, but I love the fit. Now we are heading into winter, it's the perfect practical, yet statement, piece.
The main pieces you need in your autumn/winter wardrobe are… A white boyfriend shirt, a good white tee, blue straight jeans, an oversized blazer or coat, and either chunky boots or dad trainers. Everything is completely interchangeable and will work seamlessly with other items in your wardrobe. My go-to brands are The Frankie Shop and, on the high street, Zara. I also love to shop in the men's section to achieve a more directional look. 
A great bag can completely transform an outfit. Especially when it comes to styling neutrals, a great bag adds a bit of interest. I have three bags on rotation in my wardrobe: first, my Chanel 19; second, a Bottega Veneta mini Jodie in green, which is great when I want to add a pop of colour. And finally, my Louis Vuitton mini luggage, which is versatile enough to use both for travel and for every day. It's surprisingly roomy, despite its size, and you can fit a surprising amount inside.  
Trainers don't just have to be a practical choice. Most of the time, I'm wearing a pair of trainers – but there are so many styles available now that can elevate your outfit. My favourites are my Off-White Jordan 4s, which I got three months ago. I searched high and low trying to find a decent price for them – which proved difficult. I refuse to pay way over the RRP for cult trainers, so I'm glad I was patient and eventually managed to find them for a reasonable sum. 
My style icon is Maeve Reilly. She's a US-based stylist based who works with Hailey Bieber, among others. Her outfits are so relatable. Masculine, feminine, with the odd injection of streetwear – it's very me! On Instagram, I love following @ChanelleNatalie, as every outfit has a bit of wow factor, as well as my sister @Georgia_3.0 – her style is quite different to mine, but I still find her boho looks really inspiring. 
The secret to great style is… Be yourself – and don't be afraid to experiment.
DISCLAIMER: We endeavour to always credit the correct original source of every image we use. If you think a credit may be incorrect, please contact us at info@sheerluxe.com.