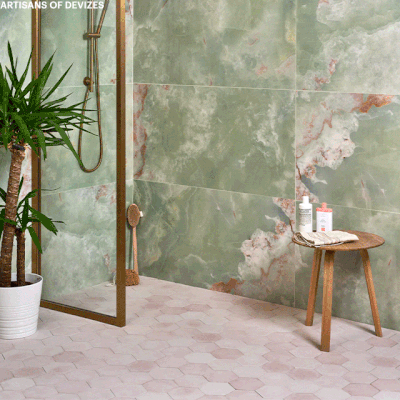 27 Flooring Tips From The Experts

There's more that goes into choosing the right the floor than just look and feel – the truth is, practicality, longevity and cost are equally important factors. To help you make the right decision, we asked six interior experts to share their best advice. From the questions they're always asked to the golden rules they'd never break, here's what they had to say…

CARPET
Cormar Carpet Company
Man-made carpets have come a long way. There are some very high-performance synthetic carpets on the market now, with a range of looks and feels. They have their advantages, too. Carpets made with 100% polypropylene are easy to keep clean, making them perfect for busy family homes. Polypropylene carpets are also a better choice for moth-prone homes as man-made carpets don't contain nutrients in the materials that moths are attracted to. 
Wool carpets are best suited to high-traffic areas. Hallways, landings, and stairs are some of the most used areas in our homes and therefore require something a little more hardwearing. A more robust carpet on stairs is a good idea – wool carpets have natural, built-in resilience in the fibres. 
It's a good idea to invest in a quality underlay. This is essential to getting the most from your carpet, whether it's wool or man-made. Underlays provide extra comfort underfoot, assist with shock absorption from noisy footsteps or furniture movement, as well as providing protection against moisture. Underlays can extend the lifespan of your new carpet, reduce wear and tear and provide additional insulation.
When possible, vacuum regularly. In the first few weeks after getting your carpets fitted, hoover at least two to three times per week to avoid abrasive particles of dirt and dust working their way into the carpet pile and discolouring the fibres. Using a large doormat and removing shoes at the door will also lessen the impact of everyday wear and tear. 
Visit CormarCarpets.co.uk
Natalie Vesty, John Lewis
Man-made carpets are a solid bedroom option. Synthetic fabrics offer a soft underfoot feel, which can work well in a bedroom. They are also good for rooms where you are worried about spillages, such as playrooms. However, a synthetic carpet will flatten more quickly than a wool carpet, giving it less longevity.
Knowing your pile options will help you make the right choice. Most carpet, whether wool or synthetic, is a twist – i.e., one or more fibres twisted together. A higher number of ply means a stronger twist, as this refers to the number of fibres twisted together. A saxony is a longer twist, found in synthetics – this gives a softer feel but is more likely to flatten due to the length of the pile. In a loop carpet, the plys are twisted but not cut to give a cable look. A velvet is a twist cut to give a uniform, smooth look. Be wary of choosing a wool loop carpet if you have pets, as they can pull the fabric with their claws.
Visit JohnLewis.com
Andy Guard, Roger Oates Design
If you're renovating, think flooring first. It's far easier to match paint colours and wallpapers to flooring and rugs rather than vice versa. If your flooring is purely a backdrop for furniture and other accessories, then neutral colours are more tranquil but consider adding texture and luxury with wool and silk. A small subtle pattern can give an overall neutral appearance but can be made up of several colours that can be picked out in accessories and paint colours.  
Wool is an eco-friendly option. As it's grown from a renewable source (sheep regrow their fleece on a yearly basis) wool is a more environmentally conscious choice compared to most pile carpets which may contain plastics and other synthetics. At the end of its life, wool can be returned to the soil, where it decomposes and releases valuable nutrients back into the ground. Synthetics, on the other hand, are extremely slow to degrade. 
When it comes to samples, think big. Always ask for as large a carpet sample as possible and always place it on the floor to look at. Most showrooms offer large returnable samples. Look at your sample at different times of the day and in different lights.
Always buy the best you can afford. If you're looking to create instant impact, think about a bright, colourful runner in the hallway or add drama with a highly patterned wool rug. Consider it an investment – a piece of art for the floor. 
Visit RogerOates.com
TILES
Grazzie Wilson, Artisans of Devizes
Choosing the right tile for the job matters. Floor coverings can make or break a room and getting it wrong can be a costly mistake to correct. Think about the space you want to cover – if it's external, is the tile you want weather-proof and slip-resistant? If it's indoors, is the tile suitable for heavy foot traffic, and can it be used with underfloor heating? Does it need sealing regularly? You might love a product but it's vital to check the tile will work in your intended space – the last thing you want are cracked tiles or stone that's slippery when laid in an unsuitable area.
Natural stone is a timeless choice. It works well in countless areas – hallways, staircases, kitchens, bathrooms, basements, and terraces – and ages beautifully. But it's important to think about how the space will be used. Sometimes a clean and minimalistic look is required for a contemporary space, while if it's a family home then a more characterful floor with fossil content, texture and tonal variation will withstand the most active of lifestyles. 
The grout colour requires the same amount of thought. The smaller the tile, the more grout lines and this can make a space look busy. If lots of grout lines are unavoidable, consider using a coloured grout in a similar shade to the tile to help them flow in symmetry. When it comes to natural stone, always go for a lighter grout to avoid grout bleeding into the stone. If you are wanting to visually see the distinction between the tiles, then a darker grout will give more of an industrial feel.
Three is the magic number. You should aim to have no more than three textures or patterns in a space – if you're opting for a glossy floor, then choose something a little more matte for the walls to create interest. Always check the slip-resistance of your tiles, as textured tiles are often better suited to wet areas, hallways and outdoors.
Always order more than you need. Always order 10% more tiles than you need for wastage and breakages, and 15% more when laying tiles in a herringbone formation to allow for fiddly cuts. Different batches of tiles can vary in colour, too, so the more you have the more you can prevent mixing and matching shades in your design. Try shuffling tiles from different boxes so you have a uniform effect across the whole surface. 
It's worth knowing some tiles require sealing. Natural stone, encaustic, crackle glaze and terracotta tiles will require sealing. Once they are installed, you'll need to use an impregnating sealant for protection against fading and staining. You can also apply a surface finish for further protection and to give an attractive patina, although in non-wet areas only. This would be applied after grouting once fully dry.
For the installation, hire a professional. Installing tiles is a specialist job – the skill and experience required shouldn't be underestimated, which is why one of the costliest mistakes you can make is using an inexperienced tiler. When choosing the right tiler for your project, consider someone who is experienced in the material you have chosen. Whilst porcelain and ceramic tiles are most used, large format, encaustic, glass, and natural stone tiles can come with their own set of challenges during fitting. 
Visit ArtisansOfDevizes.com
Colin Roby-Welford, Fired Earth
Porcelain is perfect for busy homes. Low-maintenance and hardwearing, porcelain tiles are also non-porous, meaning they don't require sealing to protect them from stains. They're ideal for high traffic areas like kitchens and hallways, where muddy footprints, splashes and spills are inevitable. They're also available in countless designs and formats and as they are also suitable for outdoor use, can be used to extend from a kitchen onto a patio or terrace. 
The tile size shouldn't be discounted. Always think about scale, particularly when working with decorative tiles (a little pattern can go a long way in a small space). The smaller the tiles, the smaller the grout lines, too, which can be an advantage for bathroom floors since they'll add texture and prevent slipperiness. Large-format tiles will create more of a seamless look. 
Visit FiredEarth.com
WOODEN FLOORS
Marc Husband, Leader Floors
Laminate isn't all bad. Many people falsely believe laminate and vinyl floors can be sub-par in terms of quality when compared with a real wood equivalent. In some cases, opting for real wood does mean quality, but it also has its drawbacks, such as long-term maintenance, fitting costs and ease of installation. Due to advances in the materials used and construction techniques, laminate and vinyl flooring has come a long way – look to brands like Krono Original and FAUS.
Tongue and groove is the most traditional type of floor fixing. The tongue (a protruding edge) fits into a perfectly sized gap (the groove) to allow two planks to slot together. It is then glued directly onto the subfloor or can be floated over an underlay. Modern click-fit wooden boards, where two planks fit together and audibly 'click' into place, are easier and quicker to install, but aren't suitable for solid wood flooring.
Real wood requires maintenance. Always take care to wipe away water spills immediately and sweep away dust and dirt regularly. Removing footwear and using felt protectors on furniture can ensure no marks or damage, too. It's always worth cleaning a real wooden floor with a microfibre mop and special wooden floor cleaning spray to ensure it stays fresh.
The bigger the space, the bigger the plank. Wider planks are better utilised in larger, more open spaces, as they will showcase the quality of the wood surface and help accent the space. Narrower planks offer a more traditional look, so even if you don't use real wooden flooring, this will create a look that will mimic that of wooden floorboards. 
Floors with a lacquer finish have more longevity. For high-traffic areas, go for a lacquered finish, which requires virtually no maintenance. It also offers a more glossy, reflective finish that works well in rooms with lots of natural light. Oiled floors, on the other hand, have a more matte finish. The drawback of lacquer floors is that scratches are hard to mask, and the floor will typically require a full sanding every seven to ten years. Scratches on oiled floors are easier to maintain by applying a new coat every year or so.  
Visit LeaderFloors.co.uk
Colin Roby-Welford, Fired Earth
Wooden floors in a bathroom require thought. Engineered flooring consists of layers of ply that have been bonded together with a top layer of solid wood. The advantage of engineered flooring rather than solid wood is that it has less tendency to expand and contract – meaning it can be used with underfloor heating and in areas where moisture and temperature levels may vary, such as bathrooms. Engineered wood is very much a product of the modern age and has become a popular choice in recent years.
Herringbone layouts have a timeless appeal. They've been gracing floors for centuries and are equally at home in contemporary schemes and in traditional interiors – they're a beautiful choice for hallways and living spaces. 
Always check samples before buying. As a natural product, wood will exhibit colour variation, knots and grains, and these characteristics are very much part of its appeal. Always see several samples so you can get a good feel for what to expect and avoid any surprises.
Visit FiredEarth.com
DISCLAIMER: We endeavour to always credit the correct original source of every image we use. If you think a credit may be incorrect, please contact us at info@sheerluxe.com.