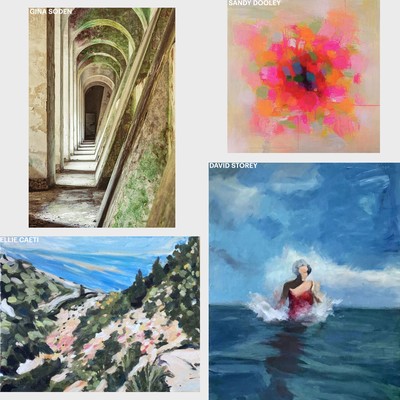 The Artists This Expert Would Buy Right Now

The art world can be a hard one to navigate – after all, high prices and stuffiness can often go hand in hand. Helen Armon-Jones founded The Art Buyer to demystify the process and help art buyers find the right pieces at the right price. As a woman in-the-know, we asked her to share some of her favourite artists right now...

Gina Soden came to my attention as a result of the #ArtistSupportPledge campaign on social media and it was one  image in particular that caught my eye – a disintegrating antique sofa in a shuttered atmospheric room. 
Gina's fine art photography provides an illicit but important view into the forgotten and unseen. Accessing closed and abandoned buildings, she gives collectors the opportunity to own a real piece of history. In fact, many of the locations Gina photographs are later demolished or left to decay into obscurity. Through her lens, she pays homage to the process of nature reclaiming the manmade. Her images are really intense and intriguing.
She also won the UK Artist of The Year and Photographer of The Year in the Rise Art Prize 2018, and has produced commissions for the Soho House collections, as well as the Hoxton Hotel, Paris and The Ned Hotel and Club, in London. Recently highlighted in Vogue and selected for The ING Discerning Eye Exhibition and The Royal Academy Summer Exhibition, Gina's limited edition prints are one way to access her work at a crucial point in her career, for a more affordable price.
I discovered David Storey's work at the ING Discerning Eye Award 2019. It was a sourcing trip for a client and I knew I'd found exactly the right piece and the right artist – I've since started a Storey collection myself! I've also created a short film with David in his studio, to allow collectors to understand his process better. You can see it here. 
He takes a lot of inspiration from old family photographs found at flea markets and is really interested in the notion of hazy memories. It's why he purposefully omits elements (often the facial features) and distresses the image – perfectly capturing the struggle to recollect. Initially, he creates 'miniatures', egg tempera and oil on board,  the best of which get extrapolated up to large gallery size paintings, in a process which can take years. His miniatures are reminiscent of a small photograph and offer that accessible price point for anyone who wants to start collecting. His works on paper have a lovely intimate quality, too.
A relative newcomer to the ceramic sculpture scene, Clare has been invited to take part in multiple shows – and I discovered her via The ING Discerning Eye. As well as tabletop sculptural works, she creates incredible botanical wall-mounted sculptures which are best described in her own words: "One-off vessels in a variety of stoneware and porcelain clays, using a combination of techniques."
It's all about the perfectly imperfect; the undone but the precise. Her pieces really elevate everyday spaces – this isn't about any old fruit bowl, it's about collectible items which are all real conversation starters.
I spotted this creative duo's work in the window of a curated Suffolk lifestyle boutique. They're a mother and daughter team whose creative painting flourished during lockdown. The bold, textural flower studies have a heavily patterned graphic quality – perhaps, in part, influenced by Maria's background in graphic design. Joyful but accomplished, this pairing is definitely one to watch. Finding their creative legs in a pandemic, they've shown with Art For Cure and are soon to debut in London at The Affordable Art Fair, on The Art Buyer stand (F2) in Battersea Park from 8th-11th July.
Ellie brought her paintings to show me during our autumn pop-up show in Putney. I was struck by her completely contemporary take on the Impressionist style of painting. Based between Guernsey and London, Ellie Caeti is a young, emerging artist at the beginning of her career. An interior designer by day with a prestigious design firm, Ellie's eye for an interior-friendly palette brings this traditional genre totally up to date. Her oil paintings of seascapes and coastal paths with swishy grasses have such a calming effect on the eye – as well as the power to evoke those happy holiday memories.
Her works also capture light at different times of the day and in different parts of the world. She often spends a lot of time preparing colours before the painting process even begins and, as a designer, she enjoys creative works which are authentic and interesting. While some of the palettes she uses are unusual, it's important for her that they sit comfortably within an interior setting. Having already been featured in House & Garden, Ellie's work has also sold internationally.
Sandy Dooley 
I discovered Kentish artist Sandy Dooley through seeing one of her pieces in a client's house. Sandy, who studied Fine Art at Central St Martin's School of Art, has a talent for capturing the essence and the beauty of nature. She works in two quite different styles - seeping landscape vistas in soft seasonal hues and then bold, interiors-friendly abstract paintings. She offers accessible price points for contemporary paintings, and each of Dooley's works are joyful and add a sumptuous burst of colour to any room.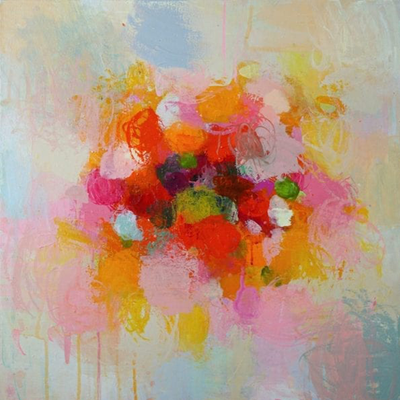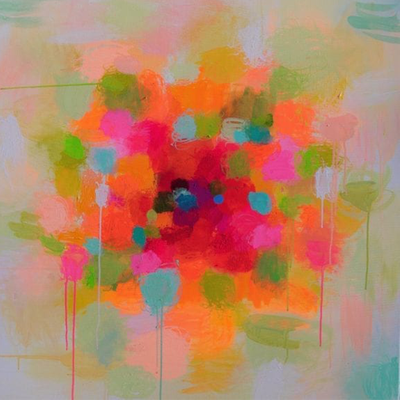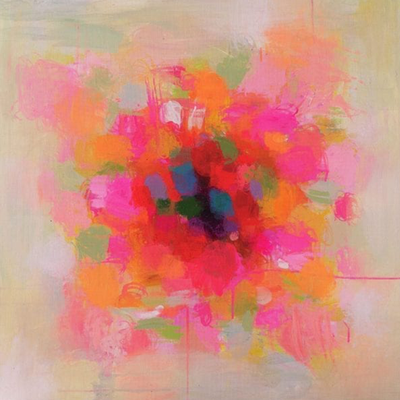 Plus, if you're keen for some expert advice, here's how The Art Buyer works & how it can help...

Having met many people who said they didn't know where to start with art and wouldn't have the confidence to know what to buy, Helen decided to set up The Art Buyer during the first lockdown. 
Aiming to remove the hassle and formality from the art buying process, Helen works to ensure prospective collectors and artists meet each other at the right time, so that pieces can make it into the right hands. Scouring art colleges, degree shows, exhibitions and artists' studios, The Art Buyer also works collaboratively with up-and-coming artists to bring the best in emerging and established talent to the forefront. 
Bringing together an online shop, an art consultancy (with a 'try before you buy' service included) and bespoke commissions option, it promises to make buying art fun and easy.
Visit TheArtBuyer.co.uk for more information 
DISCLAIMER: We endeavour to always credit the correct original source of every image we use. If you think a credit may be incorrect, please contact us at info@sheerluxe.com.