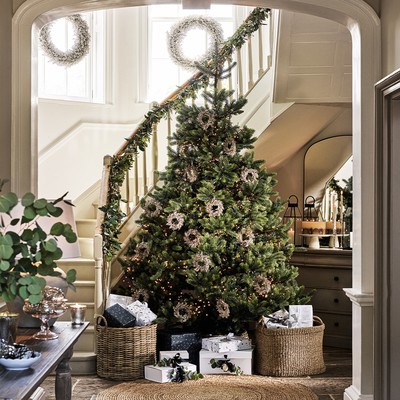 The Dos and Don'ts Of Christmas Decorating

Ever wondered how people who work in interiors get their homes ready for Christmas? From where to use foliage to mixing old and new decorations, scenting a room to setting the table, here are their dos and don'ts.

DO use natural scents, like dry sliced oranges with cloves – they radiate a Christmassy scent throughout the house and double up as an added homemade tree decoration.
DON'T forget your hallway. Mix some fairy lights into your greenery and foliage running down the bannisters. It's so beautiful come night time, and really helps to create a Christmassy atmosphere.
DON'T be afraid to use flowers instead of foliage. If you're not dressing your mantlepiece or don't have one, add height and interest with festive florals instead.
Visit SalvesenGraham.com
DO use old Christmas decorations that have been passed down through generations to inspire your festive theme. Not everything will be to your taste, but there are bound to be a few that will provide a nice contrast with their more contemporary counterparts.
DON'T forget about scent. Christmas decorations don't end with the visual – fragrance should be considered in equal measure. A selection of scented candles and diffusers is a subtle way to infuse notes of cinnamon, nutmeg and pinewood throughout your home. Dr Vranjes Albero di Natale is a great choice.
DO gather seasonal foliage such as holly, ivy and wild berries to make wreaths for your door, and arrange pinecones in a bowl on the coffee table.
Visit SimsHilditch.com
DO suspend mistletoe, holly, and pine branches from the ceiling – it always looks amazing.
DON'T feel you need to buy new candles. Rachel Vosper can fill your existing containers with gorgeous scents that are much more personal. Give her your antique bowls, teacups etc and she'll create beautifully scented candles – opt for classic combinations like cinnamon and orange, and fig and pomegranate. 
DO use bulbs in planters, such as hyacinths, amaryllis and jasmines. Start planting your bulbs in your favourite planters now and bring them inside on Christmas Eve.
Visit EadieAndCrole.com
DON'T scrimp on your tree. Purchase a good quality tree of a suitable scale, with a strong, symmetrical shape. 
DO forage holly and ivy from your garden or the hedgerows – then loosely wind it along the length of the handrails and secure in place with garden twine. Finish by interweaving clear lights between the foliage – the effect is warming and seasonal, and creates a big statement with minimum effort.
Visit BirdieFortescue.co.uk
DO bulk out natural real foliage with faux – it will ensure a nice scent and makes the real foliage go further. 
DON'T forget the outside of your home. Add simple battery-operated lights on a timer to greet you when you get home.
DO keep it simple. Use simply recycled brown paper for wrapping and string and luggage tags. Add lavender, rosemary or olive sprigs for a nice touch.
DON'T clash your colours – stick to two colours that match your home décor.
Visit Studio-Osborn.com
DO have fun with your Christmas decorations – look for new inspiration, and move things around in the space. It is easy to get stuck in a rut of doing exactly the same thing every year, so why not mix it up this year?
DON'T forget the small details. I love a large Christmas tree, for example, but it's just as important to consider table dressing details like beautiful candles, name places, gorgeous napkins and glassware, all worked into your chosen colour theme.  
DO feel free to change the theme every year, but keep the same base of metallics, crystal and lights. This year, for example, we added a handful of beautiful blue decorations in place of the dusty pink and claret tones from last year. The blue looks fabulous against lots of foliage and has a tranquil, peaceful elegance to it. 
Visit KatharinePooley.com
DO dress your table on Christmas Eve so you have one less thing to do on the day. Festive floral displays add a special touch but it's handy to have a stash of faux foliage and pinecones for the centre of the table just in case you don't have time to get anything fresh a day or two before.
DON'T make the tree too curated and perfect. You need some character and variation. We buy a few additional ornaments each year so the collection grows with us as a family and builds on our memories.
DO make or bake some gifts for a more personal touch and display them in a rustic basket under the tree.
Visit LauraHammett.com
DO change the theme between Christmas Day and Boxing Day; try re-dressing your Boxing Day table in a style to contrast the richness of Christmas Day. Buy hyacinths or narcissi bulbs and plant them in a large bowl a few weeks before – they'll be in full bloom for Boxing Day. Make these the centre of the table, and team with crisp, simple white tableware to give a lovely fresh feel.
DON'T be afraid to move away from traditional festive colours like reds and greens to give your table a more up to date and unusual look. One of this season's top combinations is pairing rich royal blue with gold, which will make for a more contemporary Christmas. If you like something a bit softer, then why not try mint green? It works really well with a white linen tablecloth and silver accessories.
Visit th2Designs.co.uk
DO decorate in good time. Aim to have decorated the house as much as possible two weeks before Christmas and mix real with faux. You can find some amazing faux finishes for trees, wreaths and garlands now, and if you mix these up with great fairy lights, lots of candles and then add real flowers and some greenery a couple of days before, it's a real timesaver.  
DON'T forget the entrance. On Christmas Eve, before friends and family arrive, I hang a wreath on the front door and wind battery lit fairy lights into it, plus we light candles in lanterns either side of the front door.
DO have more than one tree. When it comes to the main tree, keep it quite simple. In our house, white fairy lights go on first, followed by a mixture of glass and white baubles. We use smaller, pre-lit faux trees on the windowsills in the kitchen – because they are small, they are very quick to do. 
Visit TheWhiteCompany.com
DO include a little present at each place setting. It doesn't have to be extravagant, just a nice surprise for everyone to discover. This year I'm going to tie Kenyan friendship bracelets around napkins for my guests to keep. 
DON'T leave Christmas tree lighting until the last minute. My biggest tip would be to invest in wireless LED lights that switch on with a remote-control – discovering these has been nothing short of life changing for me!
DO light a real fire with dried oranges instead of kindling, as it creates an amazing Christmassy scent that fills the room.
DON'T overdo the Christmas decorations – it can make the space feel cluttered and guests should have space to put their drinks down and be able to move around freely.
Visit OKA.com
DO add simple greenery to every room – branches of holly or eucalyptus are a favourite. It's worth investing in the real stuff – the colours and textures are so rich and bring a lovely scent to your space. 
DON'T overlook your lighting. It's so important and Christmas is a time to really go OTT with candles. Scatter them throughout your home – if you opt for scented, choose something subtle.
DO switch or flip your cushions for a festive feel – choose deep luxurious colours, seasonal patterns and rich textures; think velvet and thick woven jacquards.
DON'T forget to change out your powder room linens to something more festive and fun. Just aim to keep the theme throughout your home consistent – think crisp whites with green and gold, classic green and red or bright and multicoloured. 
VIsit Wicklewood.com
DO create warmth and glow with large and small candles in different festive tones of red, white and pine green down the centre of your table. Groups of three or four candles in the same tone works best.
DON'T just put out your unusual napkins. Festive green or deep red are a worthwhile investment. Tied with a sprig of holly or eucalyptus, they'll bring any white plate to life and set the tone for your festive feast.
Visit SaraCosgrove.com
INSPIRATION CREDITS: The White Company
DISCLAIMER: We endeavour to always credit the correct original source of every image we use. If you think a credit may be incorrect, please contact us at info@sheerluxe.com.