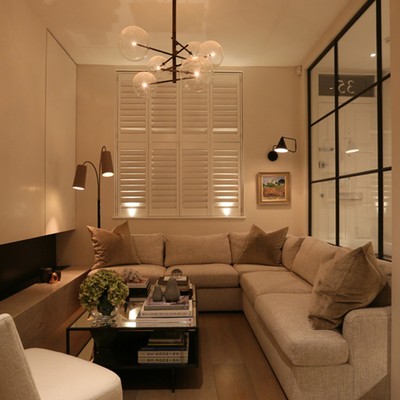 How To Light A Living Space

Talk to an interiors expert and they'll tell you lighting is a priority if you're to make the most of your living space. From using lighting to zone different areas of a room to creating atmosphere with tone, we spoke to three experts to find out how to get it right.

Consider The Purpose Of The Space
"More than any other space within the home, the main function of a living room is to promote a sense of familiarity, relaxation and cosiness – all of which can be enhanced by how you use lighting. Start by considering how much use the room will get, and whether you are selecting lighting for a more formal living room or a casual 'hub of family life' type of space." – Rohan Blacker, founder of Pooky
Layering Is Key
"The key to creating a great lighting scheme for your living room is to introduce layers of light like an interior designer introduces texture. For ambient/general light, use decorative light sources like chandeliers, wall lights and table lamps. Add focused lighting on artwork to bring it alive at night or add a central focus to the centre of the coffee table. Directional downlights are ideal for this or the new LED picture lights work well too. Think of lighting any joinery as this can help add depth with soft, dramatic lighting." – Sally Storey, creative director of John Cullen Lighting 
Give Yourself Options
"Creating a layered look with different lighting sources is a great way to introduce personality and texture into your living room. Pendants will throw down a large pool of light while carefully placed table, floor and wall lights will provide task and accent lighting for reading, watching TV or highlighting your favourite piece of art. Having lots of options also means you can pare back lighting later in the evening for a more intimate, cosy feeling." – Charlie Bowles, director of Original BTC 
Plan Your Circuits
"Think about the living room at the different times of day with your needs in mind. You want to separate sections of the room or certain lights so they can be controlled independently. Each group of lights needs its own circuit so you can switch that group on and off. Generally speaking, three is a good number: one for the central pendant, one for the wall lights and one 5 amp circuit for the table and floor lights." – Charlie
Use Lighting To Zone
"Modern homes often feature multifunctional rooms, so your living room may double up as a home office or dining room. Lighting is an effective way to zone your living space, defining areas for different activities and making every corner count. A perfectly positioned wall light or overreach floor light can create a lovely reading area, while clip lights provide an immediate solution to illuminate a temporary workspace." – Charlie
Create Atmosphere With Tone
"Atmospheric lighting schemes can be achieved by a light's glow – for example, choosing warmer toned bulbs will provide a subtle, ambient light which is the ultimate romantic, moody light level perfect for a living room. For more practical, function-driven lighting, use cooler-toned bulbs. You could also install dimmers to existing light sources so you can control the brightness, toning it down or up depending on the occasion." – Rohan
Get Geeky About Fittings & Bulbs
"Opt for LED fittings due to their longer lifespan and energy efficiency. But get bulbs that match the fitting as well as the ambience you want. The kelvin measurement helps you understand the colour of the light: as a rule of thumb, the higher the value, the whiter the light – with lower values producing softer, warmer glows. To avoid lighting that looks too orange and artificial, aim for 2700-3200K." – Rohan
Consider Your Materials
"Materials are just as important as style when choosing lighting for your living room. Bone china is an ideal choice, bringing a lovely softness of finish and a beautifully translucent glow. This soft light is ideal for creating a cosy atmosphere that makes you feel instantly comfortable and relaxed." – Charlie
Think About Décor
"Always consider the aesthetics of the rest of your décor. Using a mixture of localised lamps, pendant and wall lights in various finishes can easily dictate the style of the space: patterned fabric lampshades for a more traditional, country-inspired feel; matte metals and chromes for contemporary looks; or perhaps you are looking to use lighting as a focal statement-making feature with a pendant cluster or chandelier." – Rohan 
Light A Feature
"Thanks to LED, there have never been more options to light joinery and bookshelves because now the light source is not only smaller, it's also cool to touch so won't damage veneers etc. For a traditional look, consider wall brackets fixed to the shelving or over the shelves. For books on a shelf, front lighting works best. If there are objects on the shelf, add backlight by concealing the strip behind to add drama." – Sally
Look Into Cordless Options
"Clustering a few small lamps on a couple of shelves – particularly cordless lamps to avoid unnecessary cables – is a great way to add impact to a bookshelf. Wall sconces to frame a bookshelf or a large floor lamp standing alongside are also good options." – Rohan
Investigate Clever Solutions
"Clip lights are a flexible, easy way to light key features such as bookshelves and fireplaces. Easily moveable, they can transform your lighting scheme without any installation costs or need for an electrician." – Charlie
 
Sally Storey's new book, Inspired by Light, is available from RIBA Bookshops, Amazon or from JohnCullenLighting.com
DISCLAIMER: We endeavour to always credit the correct original source of every image we use. If you think a credit may be incorrect, please contact us at info@sheerluxe.com.