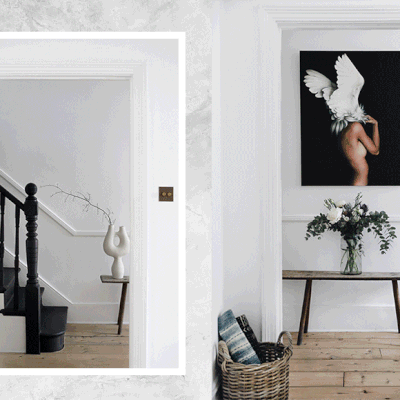 How One Couple Is Renovating Their Dream Home

Sarah-Louise Marks and Christopher Phelps are on a different kind of journey to the one documented on their Instagram account @the_adventuresofus. As they renovate Victorian property @no.17house in London, one room at a time, here's what inspires them and how they plan to build their dream home…

Our style is a combination of traditional, minimal, sophisticated and design-led, but still with cosy comforts. The house itself is Victorian with traditional features, most of which we are very keen to maintain, such as the fireplaces, cornice and original mouldings. 
 
We chose to live in our house for a year without touching anything. The motivation was financial, and so we could understand what was working and what wasn't: where the light hit at different times of the day, where we should place switches and sockets, and what needed to be done first. Houses are a money pit, and you should never jump the gun. Patience is key. 
 
Each area of the house requires a different approach. In our dining area, the space is minimal and calm. We use our shelves to house books, sculptures and art collected from our travels around the world. Our aim is for the eye to be subtly drawn to an object which has a story attached to it. In contrast, our living area is both cosy and welcoming, but also clean and uncluttered.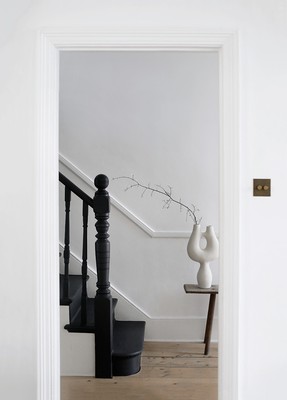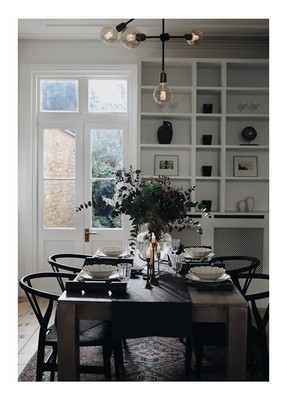 Our next project is the master bedroom. We want to create a sophisticated, comfortable and luxurious space — taking inspiration from some of our favourite hotel rooms. You spend so much time in bed, so why not go all out? 
 
For now, we've painted our walls a warm but bright white. It felt like the natural default from which to develop a colour palette as we acquire new decorative pieces. It's rare from a time and money point of view that anyone can do up their whole house in one go – it's definitely a journey – so the colour palette is something we want to take our time with. We are naturally very monochrome, but want vivid colours to pop through the art we love. We have plans for a few brighter, darker and more adventurous rooms, and we'd also love to introduce some printed wallpaper somewhere along the way. 
Our renovations will be done in two phases. We'll start with the second floor, demolishing and rebuilding it to create a walk-in wardrobe, study/spare bedroom and an en-suite bathroom. At the same time, we want to design and rebuild our front patio, and strip and restore the original brickwork at the front of the house. The second phase will be a side return extension, creating a large kitchen diner and swapping our current dining room for a library/ entertainment nook. Then we'll turn one of our bedrooms into a large family bathroom with double sinks, a freestanding bath and large walk-in-shower. The final job will be to turn the current first floor bathroom into a utility room.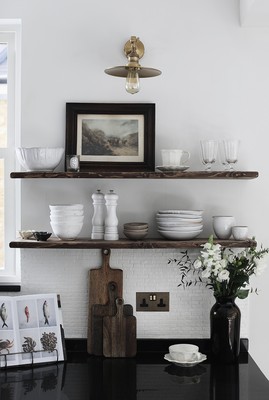 Inspiration for our home comes from anywhere. We could be in a restaurant and like the tiles they've used, or sat in a corner of Soho House and want to capture that relaxed vibe they're so famous for. Most recently, we were very inspired by our stay at Heckfield Place; the interior designer Ben Thompson has struck the perfect balance between traditional and modern. It would be remiss to say a lot of inspiration doesn't come from images of beautiful homes on Instagram. Thank God for the 'saved' function! 
We are both collectors by nature. Aside from the experiences and amazing memories that we try to capture though our photography, we collect ceramics, sculptures, artwork, rugs, and perhaps most importantly, ideas. In our home, we have a lot of things we've picked up in New York, Morocco, Los Angeles, India, and Japan, but one thing we're very careful not to do is emulate a particular room or place that bears no relevance or context to our London house. It's important to stay true to the Victorian era and identity of the property, and just interweave moments from our travels into the design.   
 
Neither of us are particularly gifted when it comes to DIY, although Sarah-Louise did an amazing job painting and restoring our kitchen cupboards. You can see the transformation on our @No.17House kitchen highlights. As for Christopher, hanging a picture is hard enough. Our advice? Leave it to the professionals.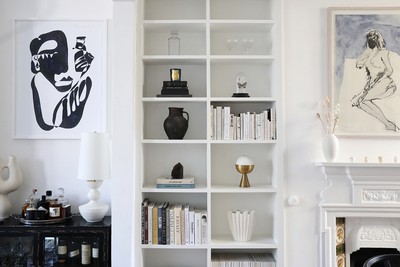 We usually use Farrow & Ball paint. The ground floor of the house is All White and Strong White. We have Railings and Cornforth White on the kitchen cupboards and plan to paint the master bedroom walls, ceiling and woodwork in Pavilion Grey. We also love Paint and Paper Library and Bauwerk; we'll definitely use them in a few of the rooms in the house.
When we moved in, our kitchen was a 90s relic – brown cupboards with dated door handles, disco-coloured tiles and awful flooring. Unfortunately, we couldn't justify changing the floor as the whole kitchen would have needed replacing entirely. As a compromise, we sanded the cupboards and painted them using a combination of Farrow & Ball Railings and Cornforth White, replaced the hardware to beautiful aged brass knobs by DeVol and painted the tiles white. We also removed a wall cupboard and mounted two reclaimed floating shelves to house our dishes, art and glassware. This created a more open and attractive space, and the results were incredible. We now love cooking, eating and spending time in the kitchen. 
 
We have some grand plans for the final kitchen design. We plan to install floor to ceiling Crittal windows to open up the space, beautiful natural parquet flooring and have bespoke cupboards built to create a flowing and functional cooking and dining space. It's likely we'll have a marble top island, although our colour palette is yet to be determined. We also plan to install top of the range appliances to integrate a seamless tech element to the house; combining design and functionality is very important to us.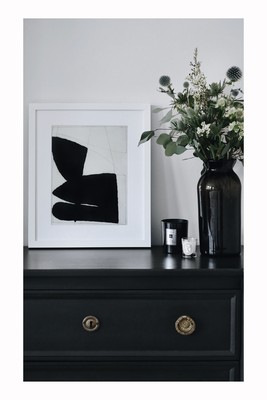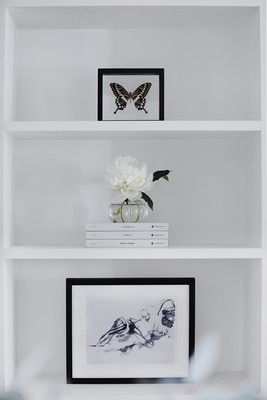 Always leave room in the budget for the finishing touches. One thing we notice with a lot of renovations is that people tend not to budget for the 'icing on the cake', which is always strange. The build quality and materials are vitally important, but for us so are the decorative elements, and that's where you can have the most fun.
 
Our biggest bargains to date are the molecular lights we currently have in our living room. They are a so beautiful in their design and didn't cost the earth, either. We also find lots of bargains on eBay, Etsy and from private antique dealers. We treated ourselves to two George Smith armchairs for our living room and have never looked back. There are a lot of replicas on the market that still charge a pretty penny, so we thought we'd throw down and get the real deal. They are collectors' items, with true British craftsmanship and will stand the test of time. We couldn't be happier with them.
Renovating should be an exciting journey. With that in mind, we would rather wait to save money and do things properly and in the right way to execute our vision. 
Follow @no.17house and @the_adventuresofus
All images Instagram.com/no.17house
DISCLAIMER: We endeavour to always credit the correct original source of every image we use. If you think a credit may be incorrect, please contact us at info@sheerluxe.com.