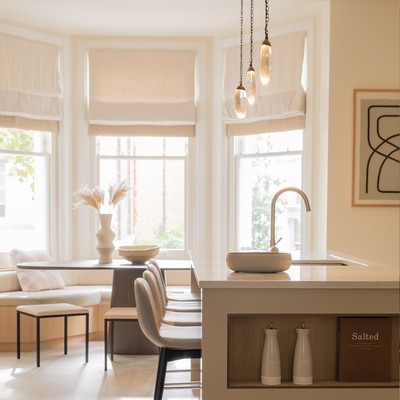 How To Stage Your Own Home To Sell It

Combine Brexit with the pandemic, and it's safe to say the property market has been pretty turbulent over the last year. But whether you're reevaluating your work-life balance or you believe it's a buyer's market, you might be thinking now is the time to move. To help your property stand out from the rest, it pays to invest time and energy into how you present it. Here are some helpful tips…

It's all about first impressions…
"There's a lot that you can do to help secure a sale before taking more serious steps like redecorating and renovating," says Alexandra Laird from home staging experts Burbeck Interiors. "The main thing to remember is that a buyer wants to imagine themselves living in their new home, not your current one, so you need to set the stage to help them do this." 
That means a serious declutter, clean, and getting your stuff out of the way to help people really see the space, while also leaving behind a suggestion of what life could be like living there. Sarah Greig, who offers a professional organising and decluttering service, agrees: "Buyers wants to picture themselves living here, and you should do what you can to help them imagine it, including showing how the space can be used and showing it off to its full potential."
Inspired? Follow these simple steps to present your home in the best possible light…
Declutter & Reassess Your Space
Start by removing or tidying away all the clutter and mess. "You want to create a clean, luxurious, aspirational feel," says Alexandra. "You can even put items in the attic or garage – especially before the agency comes to take the photographs," adds Sarah. "The more you can give the illusion of more space, the better."
Also, think about whether you want to rearrange the furniture to show off certain areas. "For example, if you have a large kitchen, allocate a specific section to show off the dining table or a relaxation area – whether it's a children's playroom or a TV space, – so viewers can see how versatile the space is," says Sarah.
Finally, think about what your home's best assets are, and make sure you highlight them. "If it has a great view, keep distractions to a minimum, or if you have attractive period features like a fireplace, make sure it's swept clean, the surrounding area is polished and the mantlepiece is clear of clutter," says Alexandra.
Think About Your Front Door & Hallway
"The front door is the very first impression your property will make on first-time viewers, so it is important that it's clean and welcoming. Also, ensure the colour is a neutral tone – anything too bright and bold could set a precedent (wrongly or rightly) for what to expect inside," explains interior stylist Leoma Harper. "Then, it becomes hard for a buyer to imagine putting their own stamp on things. Style it up with some pretty greenery outside, too."
"Also, don't underestimate the power of a well-presented hallway," adds Sarah. "Touch up the paintwork if necessary and remove larger items such as prams and scooters so there are no obstacles or unsightly equipment lying around."
Give Everything A Deep Clean
It should probably go without saying, but make sure you give everything a good clean. "Ensure the windows, woodwork, kitchen and bathrooms are all spotless," says Alexandra. "Get any stained carpets and upholstery professionally cleaned, too. It  doesn't cost much, and can make a big difference, no matter how old your carpet is, and the same professionals can also clean your sofas at the same time, to give them a new lease of life."
Always empty all the bins, too, including recycling bins, before every viewing. "It's sounds obvious, but so many people overlook this small detail," says Sarah. "And make sure there are no overflowing bins outside, either."
Organise The Kid & Pet Areas
Hide all the clutter away in the children's spaces, especially the plastic toys. "If you are lacking storage, large baskets are the best way to do this," says Leoma. "Cover them up with a nice cushion and throw and no one will know. Always make up their beds, too, and style them up with a throw. It's fine to keep out a few cute accent pieces, such as stylish soft toys and a few books." Hide away any signs of pets, too. "Think dog bowls, hamster cages – especially for the photos, but also for viewings if possible," addsSarah.
Curate Your Personal Belongings
It's nice to keep some photo frames out on display, but try not to over clutter the space, say the professionals. "Assess your shelves and mantlepiece and remove what you think isn't needed," says Sarah. "Also, take kids drawings off the fridge and tidy up the kitchen noticeboard. It's too personal."
That said, there's no need to completely eradicate your existence from the property. "A few personal items on display is fine, especially if they're capturing happy moments, as it will give the viewer the impression that this is a happy home. If you're worried about privacy, then obviously hide anything you're not comfortable with," says Leoma.
Set The Mood
Scent is hugely important when it comes to presenting a home. "Before a viewing, open the windows and air out the rooms to get rid of any lingering odours, and invest in some fresh scented diffusers," says Alexandra. "Replace your sheets with clean bedding and style your bed to create that boutique hotel feel, too. Nothing beats fresh white bedding, or the scent of fresh laundry. And make sure the temperature is right. You want to encourage buyers to stay and feel comfortable in the space."
Also, open up your blinds and curtains – everyone loves light, bright spaces. "Take down any window treatments that are old or a bit dated, as these can really age a property," adds Alexandra. Sarah agrees: "Turn on all the lights for the photos, and remember to roll up or take down blackout blinds from kids' rooms before viewings."
Use Flowers & Plants 
Don't underestimate the power of plants when it comes adding life and character to a space, say the experts. "Tall palms plants or a fiddle leaf fig plant are a great addition to an empty corner, while green bushy herbs such as rosemary and thyme add a soft touch to kitchens," says Alexandra. "We also love using grass plants such as Pampas grass – just three or four stems in a tall vase can look really stylish."
Flowers and plants can also be used to distract, if needed. "if you have a tired bathroom, a few well-placed plants can pep it up," Sarah says. 
Just try to buy fresh flowers when you can. They brighten up any room, add a luxury feel, and again add to the scent. If in doubt, go for classic white – roses or tulips in low vases look great on coffee tables, or use taller arrangements like gladioli in entrance halls to create impact. Eucalyptus is another great addition that adds scent and greenery.
Finally, Don't Forget Outdoor Spaces
Gardens and terraces can often do with some attention too. "Hire a pressure washer from a hardware store and clean the tiles or decking. Remove any dead plants and old pots. Now is a great time to plant bulbs, and it's an easy way to add some colour and cheer to your garden come spring," suggests Alexandra.
For more information on staging your home for sale, visit BurbeckGroup.com. Meanwhile, Sarah Greig can offer organising, decluttering and styling services at EditBySarahGreig.co.uk. Finally, get more of Leoma's interiors styling tips at StyleTheClutter.com.
 
DISCLAIMER: We endeavour to always credit the correct original source of every image we use. If you think a credit may be incorrect, please contact us at info@sheerluxe.com.