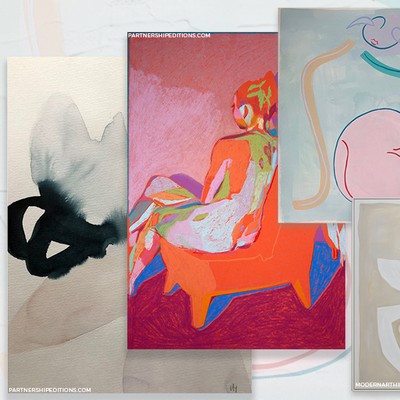 How To Start Buying Art

In recent years, online galleries and inclusive fairs have done a lot to break down the pretence around the art world. If you're keen to buy a piece for your home, or just want to understand a bit more about art, there are plenty of accessible people and places to tap in to – no matter what your budget. Here are eight pointers to get you started…

Know Your Price Point
Events like the Affordable Art Fair and the Other Art Fair have attracted a new generation into the old world of art buying. "You can start collecting art from any age and any price point," says Laura Fulmine, founder of M.A.H, an art rental company which also sells its carefully curated edit. "Art does not have to be expensive to be collectable and worthwhile." With prices at many of these fairs starting from under £100, you can buy something original for less than the cost of a high-street shopping trip. Just be wary of purchasing because you hope it will triple in value in the next five years: for new and emerging artists, the market is too unpredictable. "Buy because you love it. Then, if it doesn't go up in value, you still have your return," says Georgia Spray, founder of Partnership Editions, who represents artists at her gallery and online.
Build Your Knowledge
"People do find the art world intimidating, especially galleries and auctions, which can be insular and cliquey," admits Georgia. "Go to exhibitions and galleries. Get your eye in, and note what you like and what draws you in." You may also be surprised how much you get out of face-to-face conversations, especially if you come armed with questions. The experts are often passionate about their subject and generally keen to talk shop. "Meet consultants and ask them questions. Don't be ashamed of what you don't know," says Georgia. "Have an open conversation, even about price. At Partnership Editions, we love to talk about budgets and objectives."
Look at Instagram
Exploring what's out there – in the UK and beyond – is easier than ever. Social media and influencers are active in the art world and are another great learning resource. "Using social media tools, such as Instagram, helps you find the smaller galleries and artists who you can then follow and visit when exhibiting," Laura explains. When researching an artist, Instagram is often the gateway to their back catalogue and artistic journey. It can help you decide if their broader aesthetic is for you. "Follow interesting artists and accounts from a distance," advises Georgia. "Then watch for what exhibitions they're doing, if they're been featured in the press, if their prices are creeping up. On Instagram, save images and then look back. I look for consistency in an artist's work; I look for someone who has found their style and voice."
Invest In People
Emerging artists are unlikely to provide you with financial returns and well-established artists are generally out of range for most of us. Therefore, investing in art needs a different approach. "The resale market for contemporary artists is very tricky to predict," says Georgia. "But look at it a different way: if you get behind an artist early in their career, you are investing in people and allowing someone to be an artist. So it's a different kind of investment. Buy with the enjoyment you get out of it – watch an artist on their journey, follow them and be part of their career." "I generally buy art I am interested in without thinking about its investment value," adds Laura. 
Consider Limited-Edition Prints
Prints help make art more affordable. From as little as £50, you can find limited-edition prints from emerging artists. A limited edition would normally be a run of 25 to 50 prints. Generally, pricing is aligned to size. An open edition is less valuable, but has decorative value. "It's better to collect from a smaller edition," says Georgia. "We try to sell work by artists whose originals are affordable enough to be a starting point. You are more likely to make money on an original."
Think About Renting
"Renting art is a great way to bring life to a space without having to invest in something that tends to be expensive," says Laura. "This is becoming a very popular idea for the generation of art lovers who not only cannot afford to buy lots of pieces, but also want to change up their collection continuously, or perhaps are renting and know that their space is likely to change. Interior designers are also keen to rent works to show clients, who then fall in love with the pieces." By being able to hire works, clients often feel less like they need to commit, which allows them to be a little more experimental and consider works they perhaps would not even have looked at if they were buying.
Look At Alternative Ways To Buy
If you can't afford a painting you've fallen in love with at a gallery or fair, head over to Own Art. It's a brilliant scheme that allows buyers to pay for a work of art from a gallery over a period of time. A national initiative, it makes buying contemporary art and craft affordable by providing interest-free loans for the purchase of original work. Since 2004, Own Art has helped more than 50,000 art lovers and supported £40m in sales of contemporary art and crafts. It is available across a network of 300 galleries in England, Scotland and Northern Ireland. 
If you really do want to try and see a financial return on investment, but you haven't had a Lottery win, there are schemes to help you buy a share of an artwork. Check out Master Works. "This is a great opportunity to own a piece of art if you are looking to invest and don't have the funds," reckons Laura.
Budget for Framing
Framing is an expense that can be often be forgotten, but shouldn't be scrimped on. "People assume it should be cheap," says Georgia, "but it's a skilled, timely and expensive thing to do. Think about budget and style, and whether you need UV glass." Laura confirms: "A lot of canvas works look great without being framed, especially the larger pieces. If you know a good framer, they will be very experienced in helping advise you on the type of frame to complement your piece. They are also used to this being a lengthy process, so will spend the time thinking about this and looking at options for you. Look online for ideas yourself before heading to the framers. This will help you have a better idea on mount sizes, orientation and colour. We Are Facility, for example, are great framers in Dalston with a huge amount of experience and, most importantly, patience."