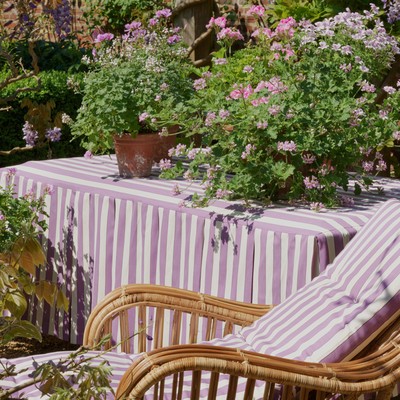 Meet Interior Designer Of The Moment, Flora Soames

Flora Soames's design philosophy combines classic design principles with modern style. It's what's put her on the map – and it's a technique others try to imitate, but few end up replicating successfully. Here, Flora tells SheerLuxe where she finds inspiration, then shares the stories behind two recent projects and her coveted fabric and wallpaper collection.

Style & Ethos
My design philosophy is based on maintaining the essence of the existing architecture and translating that to respond to each client's needs. There's always an emphasis on quality, craftsmanship and longevity, and it's important to remember we're not the ones who will live in the space. Observing the way someone lives, and reshaping a space so it works for them, is the key to a successful project.
Design & Inspiration
Growing up, I was drawn to anything colourful, artistic and interesting – that's what formed my love for what I do, rather than any formal training. My instinct for channelling both the old and the new is the result of a lifetime spent collecting furniture, textiles and accessories. It's also what informed the launch of my own fabrics and wallpaper collection – in which everything reflects my own handpicked archive.
My sources of inspiration run the gamut from influential decorators, homeowners and collectors through the decades, to the work of my contemporaries. The evolution of modern-day design is fascinating. Every idea takes inspiration from another, but originality is about how you adapt and implement that idea. You have to understand the context of where that idea came from and make it relevant to your vision or scheme.
Colour & Materials
Colour is important in my work and my collection. I'm especially attracted to jewel-like colours and textures, although they tend to be balanced with more pared-down finishes and showstopping patterns and luxe fabrics. For example, buttoned upholstery in rich mohair velvets, alongside geometric weaves or chintz, or coloured leather alongside vintage old gold braids. The recent launch of the Pavilion Collection – a series of bold stripes – is a good example. A crisp red and white stripe eiderdown and valance on an antique brass bed, with a vintage floral backdrop creates the perfect balance between striking and comfortable – a room is designed to be lived in, after all.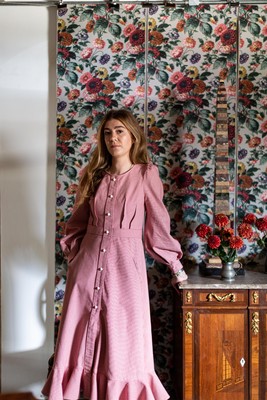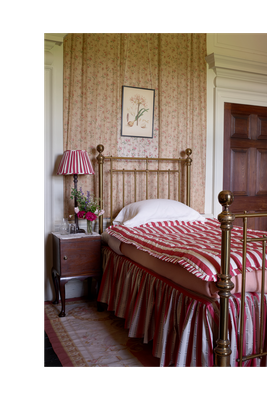 Finishing Touches
With any project, the aim is to bring together the furniture, accessories, artwork and lighting to create a balanced scheme. Lighting plays such an important role, while cushions can add an instant pop of colour – a brush fringe will give a vintage twist.
Who To Follow On Instagram
Instagram can sometimes feel like going down a rabbit hole, but it's such a rich source of inspiration. Whether it's the latest acquisitions by my favourite dealers, fabric showrooms' new collections or just people's gardens or kitchens… the list goes on and on. It's often just about seeing something through someone else's eyes which is so appealing.
PROJECT 1: HOLLAND PARK HOUSE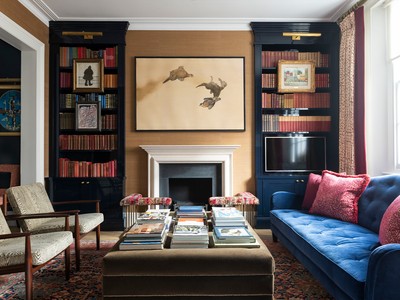 This was a very interesting project, as it was a relatively blank canvas, but at the same time quite a challenging and compact space. The client wanted to embrace colour (which was fortunate) so we introduced a variety of pattern and textures from both American and British brands throughout. The wonderful art collection was a real inspiration for the layout of each room, with each piece providing a distinct focal point on which to orientate the lighting in every space. We used a Norfolk-based high-end joinery company for the luxurious lacquer bookcases and much of the brass lighting was sourced through Soane.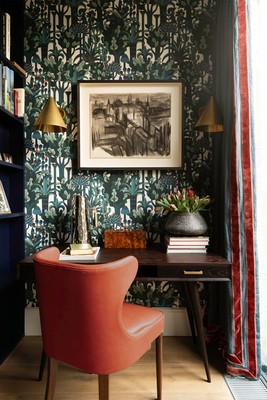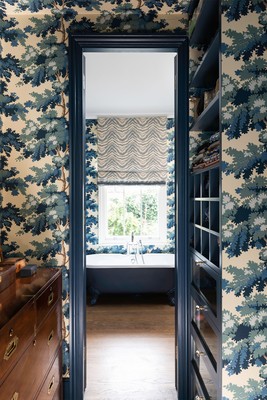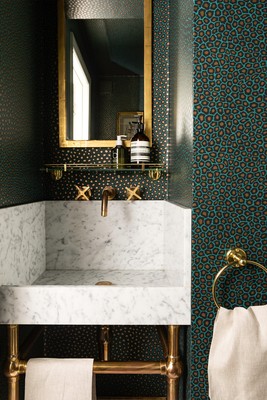 PROJECT 2: KENSINGTON TOWNHOUSE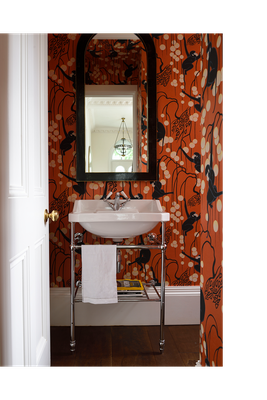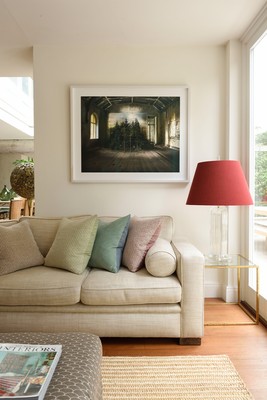 This family townhouse was such an enjoyable project, which played out over a period of about 12 months. The clients were incredibly interested in the process and getting each room just so, while also building a collection of pieces around it. As such, we undertook a variety of bespoke commissions, and really enjoyed working with different British craftspeople. Whether it was a perfect dining table inspired by a Poillerat design that just needed to be adapted to the family's needs (we succeeded thanks to Cox London), or an antique crystal chandelier for the bathroom, there was nothing formulaic about our approach.
As usual, we were balancing more flamboyant fabrics, such as a tobacco and gold Fortuny tribal prints, alongside more pared-down weaves – one of which I loved so much it formed part of the inspiration for a fabric we will launch as part of our collection this autumn.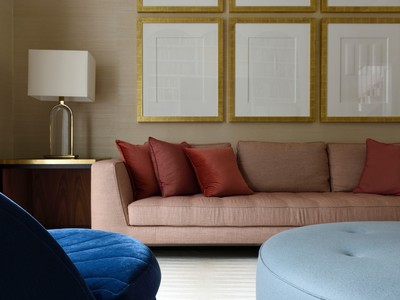 PROJECT 3: THE COLLECTION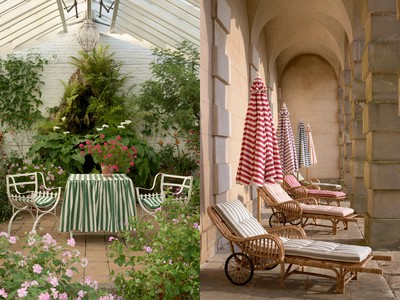 Originally, my fabric collection included a handful of prints, weaves and one (seminal) Dahlias wallpaper – all of which were personal to me and years in the making. The collection has grown significantly since then, but every new design or style has to be something I would like to work or live with. Craftsmanship and traditional printing techniques also remain key to the manufacturing process – I'm passionate about championing the work of British mills.
The colours we choose are pretty instinctive, but discovering what others are drawn to or how they use it is just as fascinating. There's something for everyone in the mix – be it bold, floral or nostalgic – but ultimately we want everything to have a sense of longevity.
 
To see more of Flora's work, visit FloraSoames.com
DISCLAIMER: We endeavour to always credit the correct original source of every image we use. If you think a credit may be incorrect, please contact us at info@sheerluxe.com.