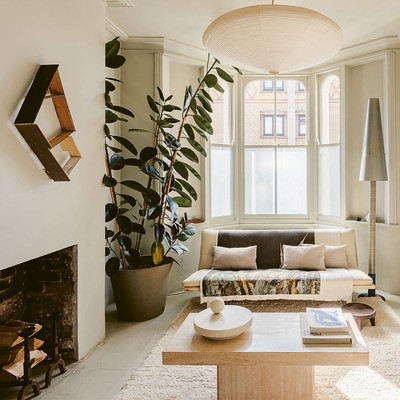 SL Meets… The Modern House Co-Founder Matt Gibberd

Matt Gibberd and his co-founder Albert Hill have sold thousands of stylish properties through their estate agency The Modern House. Be it flats in brutalist blocks or Victorian family homes, Matt has noticed people tend to follow some very similar design principles – which is what inspired his new book 'A Modern Way to Live'. Here, he tells us more about these principles, his impressive career and what he's learnt along the way…

I didn't know how to run a business before The Modern House. I also had zero property experience. Albert was working at Wallpaper magazine and I was at The World of Interiors. We wanted to find a way to indulge our love of design but retain some of the creative control. We did the only thing we knew: took an editorial approach and applied it to property sales. We asked our friends to photograph the houses and researched the history behind each one ourselves. 
I've met hundreds of creative people. Some of them own compact apartments, others have country houses or holiday homes by the sea. They all tend to follow the same unwritten design principles – many of which can be applied to any home. The purpose of the book is to explain what these rules are by grouping them together under five headings: Space, Light, Materials, Nature and Decoration. 
Space is the foundation of everything. It's essential if you want to build in surprises, like an unexpected nook for a chair, or a simple step to divide an open-plan space. It can also be a powerful psychological device, whether it's used to disguise clutter or to zone a space for different uses depending on the time of day. But remember: you don't need a big home to embrace this principle. Installing a curtain, a sliding door or a bookcase in a studio flat can be enough to transform it.
Lighting is such an important consideration. I sometimes suffer from insomnia, so the link between light and the circadian rhythm particularly intrigues me. The link between light and circadian rhythms is so strong – I sometimes suffer from insomnia, so trust me when I say I know. Simple things like placing a desk near a window when you're working from home or using some candles rather than artificial light in the evening can have a profound effect on your quality of life. To introduce more light into a home, keep the windows free of decorative swags, pelmets and Roman blinds. You can also put a mirror near a window to increase the proportions of a room. Alternatively, install a skylight, which will admit more light than a conventional window. 
Natural materials are generally preferable to manmade. For me, it's all about thinking about where things come from and their effect on the planet. It's more than possible to find joy in weathered surfaces and the natural ageing process. In fact, if we stop striving for perfection, everything becomes less anxiety-inducing. The way materials feel to the touch can have a significant effect on how we feel. Spend your money on things you come into physical contact with every day – light switches, door handles, kitchen worktops and so on. 
Natural elements are the key to a happy home. We spend approximately 90% of our time inside, so we need to think about how to bring the outside in. Sharp-angled objects stimulate the amygdala – the part of the brain associated with fear – whereas rounded forms are suggestive of life. Choosing organically shaped furniture and objects is an easy way to nod to nature in any living space. At The Modern House office in London, we've put plants on the ceiling and hung landscape paintings on the walls. All the paintings use colours found in nature. 
The décor of any home should reflect the personality of its occupants. John Pawson, the godfather of minimalist architecture, can't bring himself to hang a single picture on the wall because it causes him anxiety. The singer Paloma Faith told me her house is crammed full of objects because they stimulate her creativity. In the end, a home should only reflect the person who lives there – it's fascinating how varied people's decorative preferences are.
I live in a manor house in the South Downs National Park. It was built in the 19th century using a very early form of in-situ concrete. We needed to be in a specific area, close to my parents-in-law and our daughter's school, but the property market was notoriously tight. We ended up buying something that wasn't officially up for sale but found it by driving around and trawling through an estate agent's database.
Despite its age, the property feels surprisingly modern. The rooms are large, the ceilings high and there aren't many decorative elements to contend with. We're coming towards the end of a year-long refurbishment which has involved reinstating some of the character which has been lost over the years. We swapped the engineered floor for reclaimed quarry tiles, stripped the paint off the original fireplaces, removed the plastic light switches and installed hand-blown glass panels in the glazed doors. Those are just a few examples…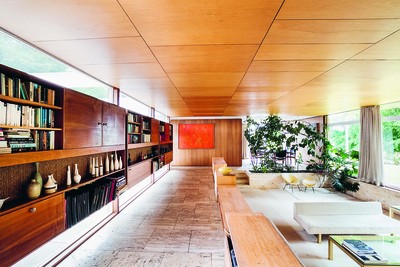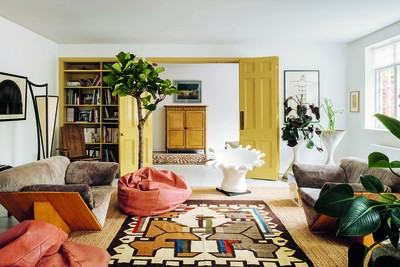 We followed the five main design principles during the renovation. The house has large, bright spaces for socialising, and small, dark-painted spaces for relaxing. There are big sash windows that let in lots of light, and we've banished all the ceiling lights in favour of low-level wall sconces and lamps. We also used natural, UK-sourced materials such as fossil-stone worktops and rush floor mats, and planted a wildflower meadow as a small contribution to rewilding the landscape. The decorative objects are ones that mean the most to us – family heirlooms or things we've picked up on our travels. 
When buying a house, think about how it makes you feel. It's an emotional decision, so you need to feel connected to it. When you're looking, think about whether there's enough natural light, how the property relates to the landscape, and what the bones are like. Try to see past the owner's decisions – their stuff will disappear when they leave – and concentrate on the things which might prove difficult to alter. Always go back for another look, ideally at different times of the day. The second viewing is an opportunity to be more practical. When it comes time to sell your home, presentation is everything – make sure the photographs are the very best they can be.
Our new estate agency, Inigo, celebrates the beauty of historic architecture. Whereas The Modern House is founded on the principles of modernism, this new brand is deliberately decorative and hopefully provides a bit of optimism in these uncertain times. I grew up in a Georgian house in London, so have witnessed first-hand the quality of the materials used in a classical building. 
My life is all about the concept of 'home'. It's the centre of family life – where we cook and share meals together, and where the children spend hours playing in the garden. It's also my office and a place of endless fascination. I will never tire of visiting other people's homes and sharing creative ideas with each other.
'A Modern Way to Live: 5 Design Principles from The Modern House' is published by Penguin Life on 28th October.
DISCLAIMER: We endeavour to always credit the correct original source of every image we use. If you think a credit may be incorrect, please contact us at info@sheerluxe.com.