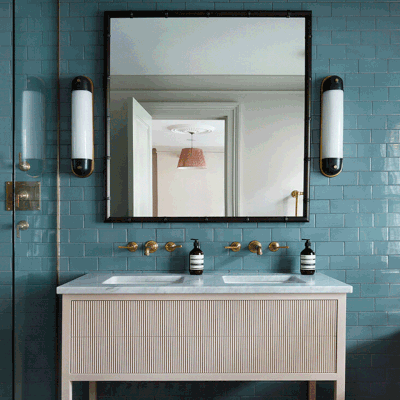 Trend Watch: Fluting

From vanity units to joinery, lighting to furniture, fluting can add a touch of character to any room. We spoke to the experts to find out how they use it – and how you can, too.

Designers Love It
"Fluting is a classical style which adds a subtle touch of luxury," says Tom Corbett-Winder of Blockhouse Build. "We see a lot of shaker furniture in the UK, and fluting (also known as reeding) is a great way to inject a bit more style and detail. It also adds a sense of formality and character – especially in a modern space where skirting and coving hasn't been used." It also brings in some texture, particularly in areas such as kitchens and bathrooms where fabric and soft finishes may be lacking, explains Katie Cox from HÁM Interiors. "I love the subtle elements of light and shade a reeded design adds," she says.
It Works Almost Anywhere
"Fluting can work in both classic and contemporary schemes," Katie continues. "For instance, we're often inspired by the reeded detail seen in Swedish antiques which, when paired with a scraped back paint finish, provides rich and characterful interest to simple pieces of furniture." You can use it anywhere, adds Tom. "Think vanity units, bookcases, kitchen cabinets, and islands. It also works well against contrasting surfaces and in spaces with good lighting. If you want to keep it classical, it looks beautiful on the face frame of a bookcase, going all the way up to the cornice of the room."
It's Versatile
You can vary the width of your fluting according to the purpose and effect you're after, say the experts. "The width of the fluting can be adapted to suit the space and style of the project," says Katie. "For a larger piece or more rustic feel we would increase the size."  Alternatively, a slimmer flute will add more detail, says Tom. "We spray and hand paint our joinery. Spraying gives it a very clean sharp finish, which we would recommend when fluting. If you want to try something a bit different, you could spray or hand paint it with a gloss finish. Sometimes no paint is better when you're using solid wood, so you can show off its natural beauty." An eggshell finish is better in bathrooms, adds Katie. "We also love using a limed oak finish on our reeded pieces which has a great texture, while still having a contemporary feel."
There Are Practicalities To Consider
"Our vanity has a push pop drawer to keep the lines clean and contemporary," says Katie. "In instances when we pair hardware with our fluted pieces, we keep it simple – such as small antique brass ball style knobs." Tom adds: "We love the Sycamore Furniture Handle in all finishes from Corston Architectural Detail. They work really nicely, as they accentuate the elegance of the fluting. Handles are a great way to show off your style, so try to have fun with them."
Lighting Is Another Alternative
"Fluted lights give a bit of a deco nod while also being restrained and elegant," says Emily Bizler of Studio Bizley. "I recently used the 60cm narrow pillar light from Original BTC. I chose it for this bathroom (pictured above) as the vertical glass rods in the light worked with the reeded glass in the metal wall cabinets which we had made. This sort of light fitting works well in bathrooms because it has a straightforward, clean aesthetic, but they can look great in dressing rooms and entrance halls, too – anywhere where you need a touch of glamour. Reeded or fluted glass pendants and wall light shades are also everywhere at the moment. They can be a bit glare-y, though, so they're not suited to every setting."
 
Visit BlockhouseBuild.com, HAMInteriors.com and StudioBizley.co.uk