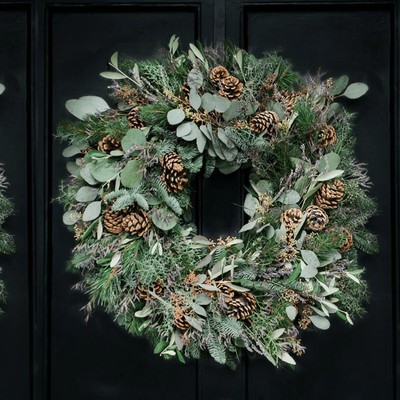 What You Need To Know About Buying A Christmas Wreath

They say first impressions count – which is why your Christmas wreath should be high on your list of priorities. From colour combinations to care tips, we asked two of our favourite florists for their advice.

SIZE
"When it comes to finding the perfect wreath, it's essential to understand the size of space you're working with – which means you should measure your front door to find one big enough to act as an appropriate centrepiece, but not so large that it overpowers the overall look. At FLOWERBX, we've researched the most popular door dimensions and created two show-stopping sizes to suit: premium and extraordinary." – Whitney Bromberg-Hawkings, co-founder of FLOWERBX  
"The placement of your wreath is another important consideration: do you want it to go in the centre, above a door knocker, or perhaps in the middle of a door windowpane? Measure the space so the outside edges of your wreath finish within 2-3in of the outer frame of your door. If the voluminous look is something you like, you can always have long tendrils of foliage coming away from the main wreath – and you can always add more or tweak them once it's up." – Sue Barnes, founder & creative director of LavenderGreen.co.uk
COLOURS
"People use all sorts of colours to transform their homes at this time of year, so don't feel like you have to be a slave either to trends or tradition – just make sure your wreath reflects your home's personal style. If you're more classic in your interiors taste, it makes sense to extend this to your wreath; likewise, if you prefer something more modern, a sleek beautiful willow frame with a delicate mistletoe or berry garland wrapped around it could look far more appropriate." – Sue  
"It's also important to consider your surroundings, such as the shade of your front door, the style of your front garden, and even how your entrance hall looks and feels. You want the overall look to feel cohesive and polished, so think of your wreath as part of your entire Christmas décor theme. Everything you use, from the wreath to the Christmas tree and even your Christmas lunch tablescape, should nod to one another in some way. It's great if there's a common thread throughout." – Whitney  
"A final note on using dark, wintery hues in your wreath: while they're certainly seasonally appropriate, if your door is also dark and not well lit, your wreath is likely to become lost or completely hidden come 4pm. For this reason, it might worth adding something brighter – be it a pretty winter white ribbon or even some actual fairy lights – to lift the look." – Sue
FOLIAGE
"These days, you'll find lots of wreaths come with extra floral elements, while others are entirely foliage based. It really comes down to personal preference, but if you prefer a classic look, opt for foliage styles that also use lots of pinecones and berries. Eucalyptus – which is really popular right now – is definitely a more modern approach, especially when it's used as the dominant element." – Whitney 
"No matter your preference when it comes foliage, it should always serve to add texture, volume and interest to the overall look. Eucalyptus, fresh pine and beautiful lichen-covered branches all last well both inside and out – plus, when they do eventually dry out, they still hold their form. In my opinion, branches and twigs will give your wreath a bit more character, while the various shades of green found in eucalyptus offer great depth." – Sue 
FLOWERS
"Dried hydrangeas are one way to add a floral element without the expense of having to refresh fresh flowers every three days. You can usually buy them dried, or you can do it yourself at home by hanging any fresh hydrangea heads upside down until they go crunchy. Then, simply wire the stems into place – they look perfect when nestled in among some foliage or bunched together as a dried hydrangea-only wreath. If you do wish to add fresh florals, do so only on Christmas Day – or those afternoons or evenings when you're expecting visitors – and match this with your table décor for consistency. This is one way to switch up your wreath over the festive period and elevate it for the big day." – Sue 
People use all sorts of colours to transform their homes at this time of year, so don't feel like you have to be a slave either to trends or tradition.

DRIED FRUITS
"Dried fruits are one way to enhance the scent of your wreath. Wired in clusters – in colours that complement the overall palette – will add some personality too. Either as whole fruits or slices, lemons or oranges, and all together or just a touch here and there, use them to dial up the festive ambience." – Sue 
"It's the little extras that make your wreath unique. Just remember that sometimes less is more, so be sure to shortlist your festive favourites and work within a curated colour palette – especially when it comes to adding in seasonal dried fruit or cinnamon sticks." – Whitney
SPECIAL TOUCHES
"We love adding a full and fabulous velvet ribbon bow to our wreaths to add something that's both seasonal and stylish – just remember it's not always going to be weatherproof, so if you're not hanging it in a sheltered spot, it might not be worth the extra money. However, lots of people use wreaths inside now, so this is where you can really get creative." – Whitney 
"Lighting your wreath will help it stand out. If your front door is already well lit, this should suffice, but if you have a dark door or gloomy porch, weaving in some thin wire fairy lights among the foliage (go for a battery-operated set and hide the battery pack within the foliage) will ensure a soft glow night after night." – Sue
SCENT
"Scent is one of the most crucial factors in Christmas décor and your wreath should be no exception. For me, the scent of the season is full of rich notes of orange and sweetly toned cinnamon – most authentic and even faux wreaths will be infused with some sort of scent (often with dried fruits and cinnamon sticks) but a gentle room spray can also work wonders to prolong the fragrance as the season develops." – Whitney 
BLOOM
DISCLAIMER: We endeavour to always credit the correct original source of every image we use. If you think a credit may be incorrect, please contact us at info@sheerluxe.com.