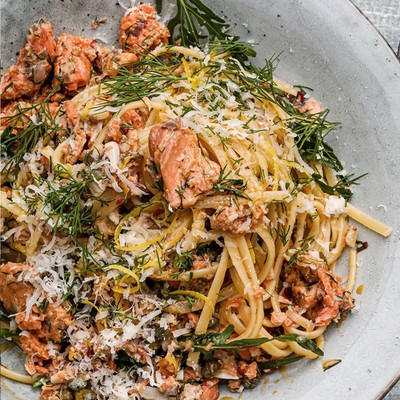 10 New Dishes To Try This World Pasta Day

If you're looking for fresh and interesting ways to cook pasta, you're in the right place. In celebration of World Pasta Day, here are ten new recipes to try – from baked kale, spinach and ricotta stuffed conchiglioni to slow-cooker spaghetti Bolognese.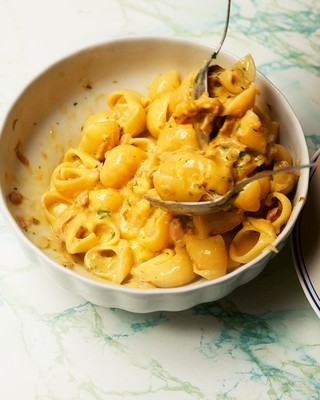 Lumache With Tuna, Egg & Capers
An A-Z of Pasta: Stories, Shapes, Sauces, Recipes By Rachel Roddy
Ingredients
200g

tin of oil-packed tuna, drained
2

tbsp

of tiny capers, rinsed
Method
Step 1
Bring a large pan of water to the boil for the pasta.
Step 2
Peel and dice the onion. Trim the celery to the palest bit, pull away any strings and dice that too.
Step 3
Put the onion and celery into a frying pan with the olive oil and a pinch of salt and then on to a medium-low flame and cook until soft, which will take a while.
Step 4
Add the flaked tuna and capers, stir a minute, then add the wine and allow to bubble for 10 minutes, adding 3 tablespoons of lemon juice and some zest in the last minutes. It should be saucy – if it is watery, cook a bit longer.
Step 5
Meanwhile cook the pasta until al dente, drain and tip into a warm serving bowl, tip the sauce on top, toss quickly, then add the yolk, toss again and serve.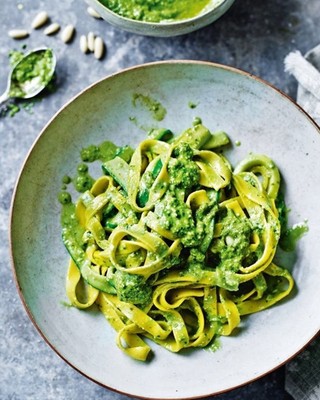 Tagliatelle With Pesto & Courgettes
Theo Randall
Ingredients
250g

of fresh or dried tagliatelle
2

courgettes, cut into long strips
For the pesto:

75g

of pine nuts, preferably Mediterranean
100g

of parmesan cheese, freshly grated
5

tbsp

of extra virgin olive oil
​Sea salt and freshly ground black pepper
Method
Step 1
First make the pesto. In a pestle and mortar, crush the garlic with ½ a teaspoon of sea salt to a smooth paste. Add the basil leaves and pound so the leaves turn to a pulp. Add the pine nuts and crush until smooth. Add 3 tablespoons of water and emulsify, then add the parmesan cheese. Finally, slowly work in the olive oil.
Step 2
Cook the pasta with the courgettes in a large pot of boiling salted water for about 3 minutes – the pasta should still have a bite.
Step 3
Meanwhile, warm half the pesto in a frying pan. Using tongs, lift the pasta and courgettes from the water and add to the frying pan. Toss with the pesto and add 2-3 tablespoons of the pasta water to loosen the sauce so it coats the pasta strands.
Step 4
Check the seasoning and serve with the remaining pesto on top.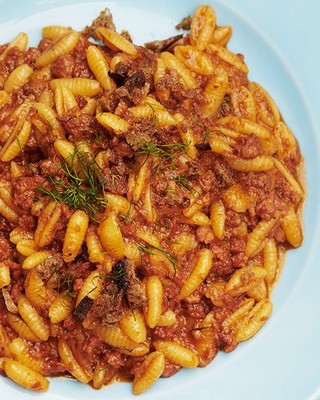 Sausage Malloreddus
Pastaio
Ingredients
1

dried red chilli, crushed
1

small handful of rosemary leaves, chopped
2

garlic cloves, finely sliced
2

tomatoes, roughly chopped
1

handful of grated parmesan
2

handfuls of fresh oregano leaves or

1

tsp

of dried oregano
Method
Step 1
Bash the fennel seeds, chilli and rosemary in a pestle and mortar until ground and nicely combined. Heat a splash of olive oil in a nice heavy casserole style pan and add the garlic. When it begins to colour and becomes sticky, add the fennel mixture, stir for a moment, then squeeze the sausage meat out of the skins and into the pan. Fry until the meat colours breaking it up a little with a spoon as you go.
Step 2
Stir in the white wine and cook until it reduces. Add the tomatoes, then turn the heat down and cook very gently for a couple of hours.
Step 3
Bring a pan of salted water to the boil and cook the pasta according to the packet instructions. Drain, keeping back some of the cooking water.
Step 4
Stir the pasta through the sausage sauce, then add the parmesan and a little cooking water if it needs loosening, sprinkle with parmesan or toasted breadcrumbs.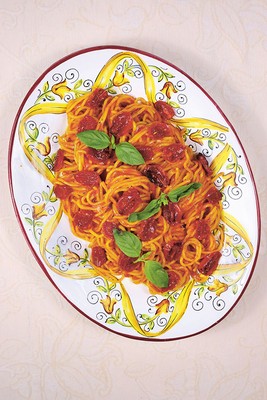 Spicy Bomba Rossa: Spaghetti With Spicy Tomato & Basil Sauce
Circolo Popolare
Ingredients
2

tbsp

of olive oil, plus extra for drizzling
2

pinches of espelette pepper or paprika
600g

of spaghetti or linguine
For the tomato sauce:

250g

of small fresh tomatoes, such as datterini or cherry tomatoes
500g

of canned peeled tomatoes, such as San Marzano
For the confit tomatoes:

300g

of datterini or cherry tomatoes
Method
Step 1
First, make the tomato sauce. Add the olive oil to a large heavy-based pan. Heat for 3 minutes and add the fresh tomatoes. Crush a few of the tomatoes with the back of a spoon to release their juice. Using an immersion blender placed directly in the can, purée the canned tomatoes and add to the pan. Season with salt and pepper. Gently simmer for 1 hour, stirring occasionally. For a less runny consistency, continue to cook for another hour. When cooked, adjust the seasoning if necessary.
Step 2
Meanwhile, make the confit tomatoes. Preheat the oven to 180°C. Wash and halve the tomatoes vertically. Place each half cut-side down in an ovenproof dish. Drizzle with olive oil, sprinkle with salt and the sugar and add the thyme. Roast in the oven for 30 minutes.
Step 3
Once both tomato elements are made, put a frying pan over a low heat, warm 500g of tomato sauce, olive oil and half of the basil leaves for 5 minutes. Season with salt, pepper and a pinch of espelette pepper.
Step 4
Meanwhile, bring a large pan of salted water to the boil and cook the spaghetti according to the package directions. Remove with pasta tongs and transfer to the frying pan. Add 1 ladle of the pasta cooking water and continue cooking for 5 minutes.
Step 5
Transfer the pasta and sauce to a serving dish. Scatter over the tomato confit and remaining basil leaves, then sprinkle with another pinch of espelette pepper. Drizzle with a little olive oil and serve immediately.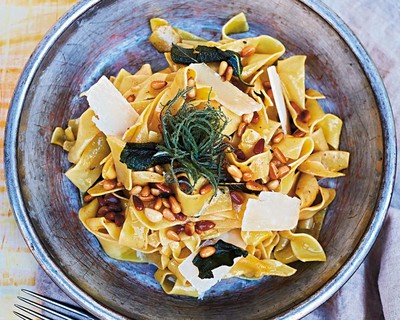 Pasta Al Dente With Sage, Butter & Pine Nuts
Happy Food for Life by Niklas Ekstedt and Henrik Ennart
Ingredients
400g

of pappardelle, dried
8

-10

sage leaves, plus extra to garnish
3

tbsp

of pine nuts, toasted
Black pepper, for serving
Method
Step 1
Cook the pasta al dente, according to the instructions on the package. Drain and leave to steam thoroughly.
Step 2
Step 3
Brown the butter slightly and add the sage and garlic.
Step 4
Add the pasta and mix thoroughly.
Step 5
Serve with parmesan shavings, toasted pine nuts, extra finely sliced sage and freshly ground black pepper.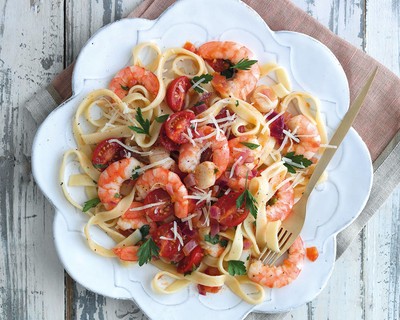 Seafood & Tomato Pasta
The Original Piccolo Cherry Tomato®
Ingredients
4

large vine tomatoes, skinned and finely chopped
1

red onion, finely chopped
Few drops of balsamic vinegar
180g

of tagliatelle or linguine
200g

of cooked, peeled prawns
2

tbsp

of chopped fresh parsley, plus extra to garnish
6

-8

Piccolo tomatoes, halved
30g

of parmesan cheese, finely grated
Salt & freshly ground black pepper
Method
Step 1
Heat the olive oil in a frying pan. Add the chopped tomatoes and red onion and cook over a low heat for 10-12 minutes, until very soft, adding a splash of water if needed. Season with salt, pepper and a few drops of balsamic vinegar.
Step 2
Meanwhile, cook the tagliatelle or linguine in lightly salted boiling water for 10-12 minutes, until tender.
Step 3
Add the scallops to the tomato mixture and cook for 2 minutes, then add the prawns, parsley and piccolo tomatoes. Cook, stirring, for about 1 minute, until heated through.
Step 4
Drain the pasta. Gently stir through the tomato mixture and share between two warmed serving bowls or plates. Serve, sprinkled with parmesan cheese and extra parsley.
Step 5
No scallops available? Use a few more prawns and add a handful of thawed frozen peas. To skin tomatoes, put them into a heatproof bowl. Pour over boiling water and leave for 15-20 seconds, then drain. The skins will be easy to peel away.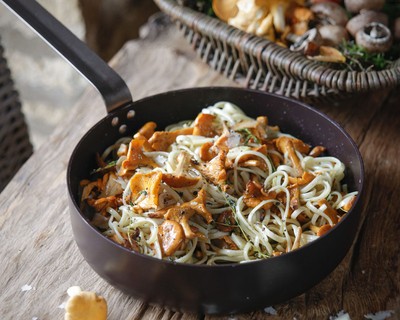 Mushroom Linguine With Brown Butter & Thyme
Daylesford Organic
Ingredients
300g

of linguine or spaghetti
3

cloves of garlic, finely sliced
4

sprigs of thyme, plus extra to garnish
200g

of foraged mushrooms such as chanterelle, ceps or puffballs
Sea salt and black pepper
Method
Step 1
Bring a pan of salted water to the boil and add the linguine. Cook the pasta in a pan with a little salt for 6-8 minutes or until al dente.
Step 2
While the pasta is cooking, place a large frying pan over a high heat. Add the butter, garlic and thyme sprigs and fry for a minute or so, until the butter has turned slightly golden and is foaming. Add the mushrooms to the pan and sauté for 2-3 minutes until they are evenly coated in the butter and just tender. Remove the stalks of thyme, add the lemon juice and a generous sprinkling of seasoning and toss together.
Step 3
Drain the pasta and return to the pan, tossing through a generous glug of olive oil. Tip the mushroom and brown butter mixture into the pasta and toss together really well to evenly combine all of the ingredients.
Step 4
Taste to check the seasoning and serve with freshly grated single Gloucester cheese or parmesan and a sprinkling of chopped parsley.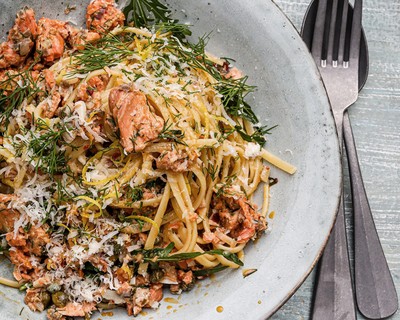 Salmon Linguine With Chilli Oil
James Strawbridge
Ingredients
3

cloves of garlic, finely diced
2

tbsp

of chilli oil, extra to serve
1

small handful of rocket leaves
2

tbsp

of grated parmesan
A pinch of sea salt & cracked black pepper
Method
Step 1
Boil your water for the linguine and cook for 8-10 minutes if dried or 3 minutes if fresh.
Step 2
For the salmon start by softening chopped shallot, garlic and capers in chilli oil. Cook for 4-5 minutes and then add in the red salmon, lemon zest and dill. Add a spoonful of the pasta water and cook for 3-4 minutes.
Step 3
Using a slotted spoon or set of tongs move the cooked pasta into the pan with your salmon. Add rocket leaves and parmesan and cook all together for a final minute.
Step 4
Season to taste with salt and pepper and then serve with a little drizzle of chilli oil to finish.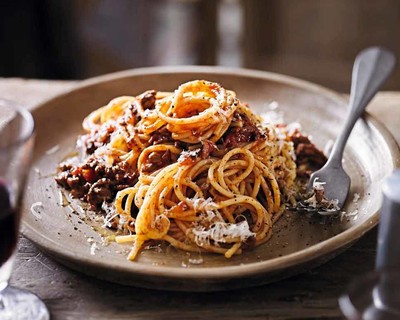 Slow-Cooker Spaghetti Bolognese
Waitrose
Ingredients
1

clove of garlic, crushed
1

stick of celery, sliced
400g

can of Cirio chopped tomatoes
2

tbsp

of Cirio Supercirio double concentrated tomato purée
1

sprig of rosemary, leaves chopped
300g

of De Cecco spaghetti
Method
Step 1
Fry the mince, onion and garlic to brown, and stir in the beef stock cube. Add all the remaining ingredients except the spaghetti, and place in a slow cooker. Set on high and cook for 4 hours. Alternatively cook on low for 8 hours.
Step 2
Cook the spaghetti in boiling water for 8-10 minutes or until tender, and then serve with the bolognese.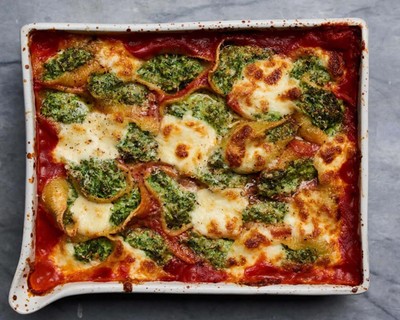 Baked Kale, Spinach & Ricotta Stuffed Conchiglioni
Slow By Gizzi Erskine
Ingredients
250g

of kale, stalks removed
1

green chilli, roughly chopped
1

handful of parsley, leaves picked
750ml

of slow-cooked tomato sauce
Sea salt & freshly ground black pepper, to taste
Method
Step 1
Bring a large saucepan of salted water to the boil and blanch the kale for two to three minutes. Remove from the water with a slotted spoon and refresh immediately in a bowl of ice cold water. Repeat the process with the spinach, but reduce the cooking time to 30 seconds. It's important you don't overcook your leaves as not only will that destroy all their nutrients, you'll also lose their vibrant green colour.
Step 2
Once all your leaves are blanched, squeeze out any water. Throw the spinach, kale, chilli and parsley into a food processor and whizz for a few seconds. Scrape out the green goodness into a bowl and add the oil, ricotta, 30g of the parmesan, the nutmeg, lemon zest, salt and pepper. Mix together until everything is well combined, and taste for seasoning. Transfer the mixture into a piping bag, squeezing the mixture towards the nozzle so it is nicely compacted and ready to pipe. This might seem a bit cheffy, but it makes life so much easier.
Step 3
When you're ready to assemble the bake, preheat the oven to 220°C. Bring a large pan of salted water to the boil, and cook your pasta shells for ten minutes. Don't fully cook the pasta – the shells should retain a good amount of bite (a little more than the standard 'al dente'), as the remaining cooking will be done in the oven. Drain and allow to cool until you can handle them.
Step 4
To fill the pasta, cup a shell in one hand with the piping bag in the other, and with your thumb open up the shell and squeeze about a tablespoon of filling into the cavity. Repeat until all the pasta and filling is used up.
Step 5
Take a medium size ceramic baking dish (about 26cm square) and pour in the tomato sauce. Then arrange the filled pasta shells on top, packing them in tightly and pressing them down a little into the sauce. Tear the mozzarella and scatter over the top, followed by the remaining parmesan. Bake in the hot oven for 20 minutes until the cheese is delicious and bubbling and serve with a simple green salad.
DISCLAIMER: We endeavour to always credit the correct original source of every image we use. If you think a credit may be incorrect, please contact us at info@sheerluxe.com.