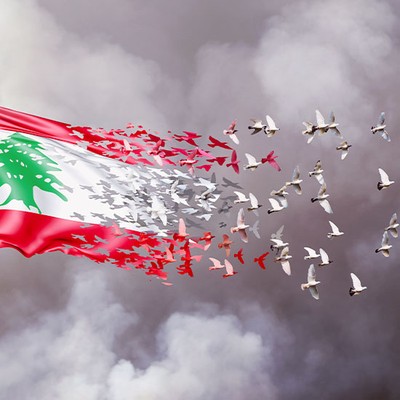 11 Ways To Support The Beirut Relief Effort

Most of us stood in front of our TV screens watching the events in Lebanon on the evening of Tuesday 4th August in utter disbelief. While the world reels from the devastating impact of coronavirus, one can't imagine what it must be like to be living in Lebanon right now. If you can justify the means to make any kind of donation, here are the main places aiding the recovery effort…

At the time of writing, fatalities and the number of casualties from Lebanon's deadly explosion in the capital of Beirut are still rising. With authorities blaming the blast on a large store of ammonium nitrate (ignited by an accidental fire) the impact of the explosion is understood to have equated to roughly a fifth of the 1945 Hiroshima atomic bomb. As a result, Beirut and its people now face a monumental challenge – not only to grieve for those they have lost, but to recover the damage to homes, businesses and the port itself. And that's during a global pandemic.
In light of the coronavirus crisis, many of us are under pressure financially. But pennies make up the pound, so if you can spare anything at all, please consider one of these organisations…
THE LEBANESE RED CROSS
If you're local to Beirut, or know anyone who is, the Lebanese Red Cross has issued an urgent call for blood donations from all blood types. Find more information, including the location of transfusion centres, here. Otherwise, the Lebanese Red Cross is accepting monetary donations as usual. It is the country's main provider of ambulances, with more than 3,000 emergency medical technicians on its staff. Click here for more information. 
BEIRUT BLAST VICTIMS RELIEF FUND
The Beirut Blast Victims Relief Fund has been set up on GoFundMe to help raise money for non-governmental organisations to help victims. The organisation has also pledged to provide evidence of how the funds get distributed, specifically in terms of buying a range of supplies, including food, water, first aid, meal boxes, shelter, medical supplies and paying for medical bills of those injured by the explosion. To donate, click here.
@LOCATEVICTIMSBEIRUT
Just hours after the explosion, an Instagram account was set up to help people locate their missing loved ones. Having racked up more than 83,000 followers in less than 24 hours, you can follow @LocateVictimsBeirut here and share posts to help spread the word. 
THE LEBANESE FOOD BANK
The Lebanese Food Bank is accepting donations via bank transfer and you can also follow its Instagram account, @LedFoodBank. Feed Lebanon's penny appeal continues here, too.
SAVE THE CHILDREN
As Covid-19 continues to spread, Save The Children warns that children and families in Lebanon are now growing more vulnerable each day. Home to nearly 1.5m Syrian refugees, Lebanon is already experiencing severe economic crisis. The country's weak health system and current political crisis have also left families with little means to protect themselves. The charity's teams are on the ground distributing essential supplies. You can help support their work here. 
IMPACT LEBANON
Impact Lebanon is a not-for-profit organisation aiming to unite the global Lebanese community to support common causes. It is aiming to raise £500,000 to support the recovery effort following Tuesday's explosion. Click here for more information. 
THE EMBRACE LIFELINE
The Embrace Lifeline is the first national emotional support and suicide prevention helpline in Lebanon. With hours now extended to 24/7, you can donate to ensure the organisation can continue providing this vital service here. 
BEIT EL BARAKA
A non-profit organisation based in Beirut offering help to families and elderly people who are struggling with the cost of living, Beit el Baraka stated on its Instagram that it plans to help fix the homes of families that were severely damaged as a result of the blasts. You can support them here. 
DONNER SANG COMPUTER
Founded a decade ago, Donner Sang Computer promotes blood donation in Lebanon, setting up blood drives and offering a 24/7 call centre. Following the explosions, the organisation stated on Twitter that all its blood banks were overcrowded. If you're in Lebanon or know someone who is, there are multiple ways to get involved here. 
LIVE LOVE BEIRUT
The organisation is asking for people to donate money to its monthly fund to support non-profit organisations in the aftermath of the explosion. Follow @LiveLoveBeirut on Instagram here and find out how you can support its work here.  
OTHER LOCAL NGOs & RELIGIOUS ORGANISATIONS
On-the-ground activists in Lebanon have put together list of local groups and resources – around 20 – which are helping the recovery effort. The list can be found here. Otherwise, Christian Aid, Muslim Aid and Islamic Relief are all raising funds individually. 
To keep up to date with events live from Beirut, follow the BBC live blog here. 
DISCLAIMER: We endeavour to always credit the correct original source of every image we use. If you think a credit may be incorrect, please contact us at info@sheerluxe.com.