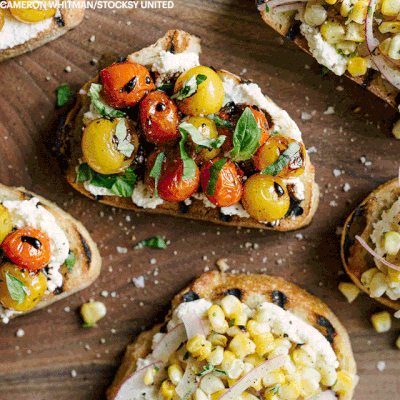 11 Ways To Take Toast To The Next Level

Toast is the ultimate crowd-pleaser. A simple base that works just as well with ricotta and blackcurrant jam as it does piled high with avocado and eggs, if you're looking to take yours to the next level, we asked some our favourite chefs to share their top toast toppings. From an Indian-inspired take on beans on toast to sumac scrambled eggs, these are the ideas to try…

Zoe Simons, development chef at Waitrose
"Cheese on toast can often be underrated, but it is perfect for a quick working from home lunch or comforting mid-week meal. While you can keep it simple with a classic cheddar, there are so many exciting and innovative ways to upgrade it. Lifting classic flavours with quality ingredients can elevate this everyday lunch to something really delicious. My favourite is either 'nduja, burrata, salami and rocket or cheddar, kimchi, mozzarella and tahini."
Visit Waitrose.com
Richard Bertinet, Bertinet Bakery
"For a healthier take on cheese on toast, try cottage cheese and harissa on sourdough. Mix some low-fat cottage cheese with a grated clove of garlic, a squeeze of lemon juice, salt and pepper. Spread on your sourdough toast and top with 1 tsp of harissa, a sprinkle of chilli flakes, basil leaves and a drizzle of olive oil. For something sweet, we love ricotta and blackcurrant toast. Mix ricotta with lemon zest and the juice of half a lemon. Spread on some seeded sourdough bread, drizzle with blackcurrant jam and sprinkle flaked almonds on top for crunch."
Visit BertinetBakery.com
Dee Momi: chef, nutritionist & founder of Mint Wellbeing
"The best baked beans are ones flavoured with Indian spices – they're also a great vegan option you can enjoy any time of day and take just five minutes to prepare. This recipe was a staple in my youth, and also tastes amazing in a toastie or over roasted sweet potatoes. Gently heat 1 tbsp of olive oil in a saucepan, on medium heat. Add a chopped onion and cook for 2 minutes until softened. Add 2 cloves of garlic and 1 tsp of cumin seeds, stirring so the garlic doesn't burn. When the seeds start to pop (around 30 seconds) add 1 tsp of garam masala, ½ tsp of turmeric, 1 tsp of curry powder and ¼ tsp of chilli flakes. Add a splash of water if the spices start to catch on the pan and cook for a minute, then add a tin of baked beans, turn up the heat a little and warm through. Serve on toasted seeded bread or allow to cool before adding to a toastie."
Visit MintOnDemand.com
Adria Wu, Maple Street Eats
"Mushrooms on toast are so moreish. Start by sauteing mushrooms in a big pan to caramelise them, minimising the amount of water released with no salt and just a little oil. Once softened, blitz them together roughly and run through a little hummus to lift the texture before seasoning and serving."
Visit MyMapleAndCo.com
Nathan Outlaw, head chef at Outlaws
"Serving simple food at home doesn't mean it has to be boring. Cheese on toast is my go-to recipe at home and I like using either a thick slice of sourdough or crusty white bread with a really decent mature cheddar. Being from Cornwall, I tend to use Davidstow. The cheese needs to be grilled to the point that it's bubbling and beginning to colour and then to elevate it, add some finely chopped onion, a touch of Marmite or a sprinkling of curry powder."
Visit BigFeastival.com
Irini Tzortzoglou, MasterChef Winner 2019
"Depending on the topping, some types of bread are better than others, but a good sourdough is perfect with both savoury and sweet toppings. When using vegetables on my toast like avocado, I like to sprinkle it with seeds and drizzle with a date or pomegranate molasses. The occasional sweet combination is good too, though. My ideal spring breakfast treat is nutty and earthy tahini, topped with strawberries, a drizzle of agave and a sprig of mint."
Visit IriniCooks.com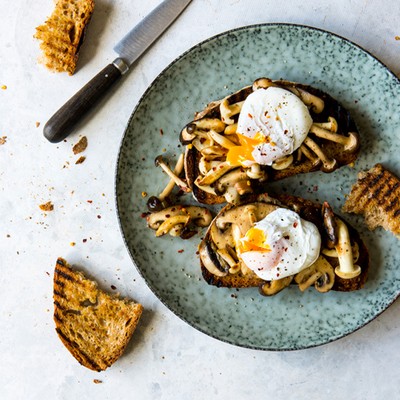 NADINE GREEFF / STOCKSY UNITED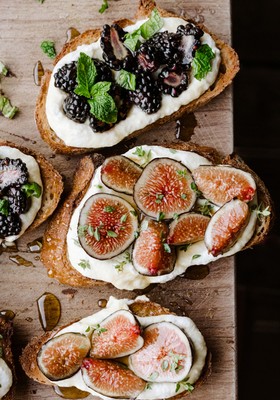 NICOLA HARGER / STOCKSY UNITED
Su Tran, head chef at Mien Tay
"If you like pâté on toast, you're only a few steps away from replicating one of the best sandwiches in the world – the bahn mi, courtesy of the combined efforts of the French and Vietnamese. Add pâté to a freshly buttered slice of toast, then top with some fresh Asian herbs, a few slices of fresh chilli, some picked vegetables, a slice or two of fresh cucumber and a squeeze of lime. If you have it in your cupboard, a splash or two of Maggi seasoning adds a true taste of Vietnam."
Visit MienTay.co.uk
Mark Greenaway, head chef at Grazing
"Adding sumac to smoked salmon and scrambled eggs really does just elevate the dish to a whole new level, as sumac marries extremely well with the creaminess of the eggs and the saltiness of the smoked salmon. Whisk together six free-range eggs with a pinch of salt and 15ml of double cream. Melt 50g of butter in a non-stick pan over a gentle heat. Add the scrambled egg mix to the pan and cook gently, moving with a heat proof spatula. Once almost cooked, add 15ml more of cream and half your smoked salmon. Lay the rest of the smoked salmon between two slices of toasted sourdough on two plates. Top with chives, ½ tsp of sumac and a wedge of lemon." 
Visit MarkGreenaway.com
Paulene Enigboken, head chef at Dualit
"Try using supermarket own-brand bread – it tends to be a little drier than fresh bread and will therefore toast exceptionally well. Cheese on toast is a great way to use up old or leftover bread that's going slightly stale, as this will also feature that critical dryness that results in the perfect crisp. For something slightly fancier, try an artisan bread like sourdough or opt for a sesame seeded or poppy seed bagel, baton or loaf, adding extra crunch and a nutty finish. I like using gouda, mozzarella, edam or emmental. Feta is also a great option for a slightly saltier flavour, but tends to pair best with fresh toppings, like tomatoes. Try using a more mature cheese like cheddar or red leicester if you want to add multiple toppings, as these have a much stronger flavour and can be paired with other intense ingredients that may otherwise overpower the cheese. To take cheese on toast to the next level, try adding different spreads and sauces like basil pesto, guacamole, BBQ sauce, ketchup, mayonnaise, siracha, tomato purée or garlic butter – all simple yet delicious."
Visit Dualit.com
Angel Zapata Martin, head chef at Barrafina
"Here's my recipe for pan con tomate – the ultimate tomatoes on toast. It's all about the ingredients here – good tomatoes, good extra virgin olive oil and good bread. At Barrafina, we use the white sourdough that we bake at our sister restaurant, Quo Vadis, just round the corner. Lightly toast the bread on both sides and rub each slice with the cut side of the garlic. Using your hands, squeeze two or three tomatoes over each slice so that the juice and pips fall on to the toasted bread. Drizzle a tbsp of olive oil over each slice. Season well with salt and pepper and sprinkle with a little chopped parsley before serving."
Visit EstrellaGaliciaBeer.co.uk
Dayashankar Sharma, exec chef at Heritage Dulwich 
"One of my favourite dishes is Indian akuri on toast – an elevated, spiced kind of Indian scrambled eggs. Chop an onion, tomato, green chilli and clove of garlic, and whisk together two eggs with salt and double cream. Heat a tbsp of butter in a pan then cook the garlic, green chilli and onion until soft, then add the chopped tomatoes and eggs and cook until the mixture is lightly scrambled but creamy. Stir through fresh coriander leaves and serve on toasted, buttered bread. Delicious." 
Visit HeritageDulwich.co.uk
DISCLAIMER: We endeavour to always credit the correct original source of every image we use. If you think a credit may be incorrect, please contact us at info@sheerluxe.com.