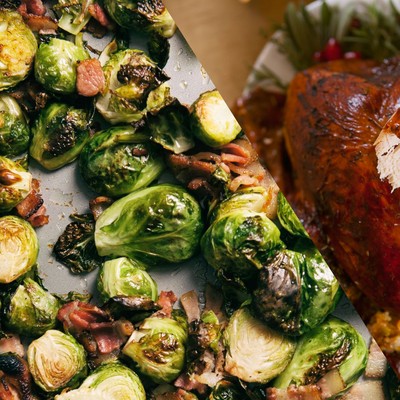 25 Chefs Share Their Festive Cooking Tips

Whether you're a novice or a seasoned cook, it's always good to hear how the experts do it. We asked the head chefs at some of the UK's very best restaurants to share their advice for tackling the turkey, sorting out the sides and what to serve for dessert if you're not a fan of Christmas pud...

STARTERS
"We like to serve something fresh and clean – something that can be served cold to save time, like an Asian-style fish carpaccio that's zesty, herby and a little bit spicy. You can easily slice it up before and keep it in the fridge, until you're ready to plate up. Or a buffalo mozzarella salad with clementine, almond brittle, pomegranate and fresh oregano." – Jemima Jones & Lucy Carr-Ellison, Wild by Tart
 
"Christmas is all about luxury and lobster is right up there. I like to lightly poach native lobster to keep its fresh flavour and then add all those classic 'cocktail' garnishes. Use the shells to infuse an oil and make your own marie rose sauce, and don't be afraid to splash extra brandy and spice into it. Finally, you need to have amazing bread and butter to serve alongside it." – Richard Foster, Chiltern Firehouse
 
"If you are going to serve a starter, try to make it as easy as possible. A really good soup would be ideal – you can heat it up, pour it from a jug and quickly add a garnish to the top. I've got a celeriac velouté I whip up most years. The whole point of Christmas is to enjoy yourself, so take as much risk out of the day as possible so that you don't feel stressed or under pressure." – Shaun Rankin, Shaun Rankin at Grantley Hall
 
"Fish at Christmas is a classic, but why not look beyond smoked salmon for your Christmas Day starter and try crab this year? Some white crab meat bound with a little mayonnaise on toast is a great way to start your Christmas lunch (or breakfast). And it works a treat with a glass of something cold and fizzy." – Jack Stein, Rick Stein Restaurants
 
"Smoked salmon on thinly sliced, thickly buttered brown bread. Top it with freshly grated horseradish stirred through crème fraiche and serve with plenty of wedges of lemon." – George Barson, Kitty Fisher's & Cora Pearl 
 
"For me, it has to be gin-cured trout with toasted granary bread and lemon yogurt." – Alex Head, The Social Pantry
 
"I like something very light and simple – like a salad of bitter leaves dressed with walnut oil and champagne vinegar." – Skye Gyngell, Spring
TURKEY
"After years of having a fridge full of leftovers and endless days of using up turkey, why not cook a turkey breast for Christmas instead? It's easy to carve and there's often no waste. I like to serve it with a pistachio and dried cranberry stuffing." – Bill Granger, Granger & Co
 
"Rub your turkey in plenty of butter and put loads of herbs in the cavity and roasting tray. Make sure it's at room temperature before cooking. Most importantly, don't overcook it! I think people get paranoid about undercooking it as it's so big. Once it's ready, rest it for at least an hour." – George Barson
 
"Ask your butcher to roll and tie a turkey breast up with some butcher's twine. Then take it home and brine it in a 6% salt-to-water solution for 24 hours. Remove it from the brine then pat it dry with kitchen paper and pop it in a freezer bag or wrap it in cling film and then freeze it. When you want to cook the turkey, simply defrost it fully and roast it in the oven until the core temp reaches 60°C when inserted with a digital temperature probe. Rest it for half an hour before enjoying. It's so simple to do, and it will be super juicy and tender from the brining and freezing process, without all the fuss of roasting a whole turkey." – Luke French, Joro
 
"I always cook turkey, but it's not for everyone. You may prefer beef or goose, but no matter what you choose, it's important to understand the cooking times. For turkey it's usually 20 minutes per pound. You don't want to cook your meat too early – timing is everything. Don't forget to take your meat out of the fridge at least 30 minutes before you intend to cook it. If your meat is fridge cold, it can put an extra 40 minutes on your cook time." – Shaun Rankin
 
"Brining is essential if you're going to try and cook the breasts and legs together and, as ever, success is all down to finding the best, most carefully reared meat you can afford. There are some amazing small producers out there now." – Charlie Carroll, Flat Iron
 
"You can make vegan turkey from tofu or seitan (Google is your friend), but make sure you season it properly with herbs that make you think of Christmas. For me, sage, rosemary and thyme are the key players, but everyone has their childhood flavour memories, so go with that." – Meriel Armitage, Club Mexicana
 
"Brine overnight then fill with pork with apple and chestnut stuffing, but make sure the stuffing is nice and wet. Slide lots of butter under the skin and cook it very slowly. Once brown, cover in foil and leave to rest for an hour. Make your bread sauce with chicken stock and finish with bone marrow and loads of black pepper." – Margot Henderson, Rochelle Canteen 
ROAST POTATOES
"Par-boil the potatoes in salted water until you think they might be ruined. Drain and then spread them out on a tray to dry out and cool. Then roast in plenty of duck fat until golden and crisp. Avoid the temptation to cook too many, it will only hold things up during the hectic final hour before eating." – Pascal Wiedemann, Pompette 
 
"Boil your potatoes in salty water; be brave to cook them for longer than you think. Carefully drain them when cooked and leave them to cool. Once cool, carefully scrape them with a fork to rough the edges (do this on Christmas Eve and leave in the fridge overnight – this will dry out the potatoes to make them even more crispy when cooking). Pre-heat your oven to 200°C and place a large tray in the oven with a generous amount of oil, then leave for 5 minutes to get hot. Put the potatoes in the oven (try not to keep opening the oven door) and turn them every 15 minutes. They should take 40-50 minutes in total." – Tom Booton, The Grill at The Dorchester
 
"You need a dirty potato like a Maris Piper or a King Edward. Dirty potatoes have a lower sugar content, so they crisp up better without burning. I peel them and cut them into what I call 'roast potato shape' – this is basically as many edges as possible. It's the trick to maximising your crispy edges! I then cover them with cold water and a good handful of salt. Preheat an oven tray with beef fat at 200°C, plunge the potatoes in and roast them at a high heat until golden and crispy." – Tom Westerland, Crockers
 
"For the best roast potatoes, use Marmite. With just a salty slick of Marmite rubbed over your boiled potatoes before roasting, you will end up with craggy, crunchy savoury roasties – and nobody will believe that not an ounce of goose fat has been involved. Use a good amount of vegetable oil pre-heated until extremely hot, give the potatoes a good grind of rock salt before putting them in the oven, and remember to turn them every now and again. The result will be crunchy, umami-laden roasties." – Gemma Simmonite, Gastrono-me
 
"Always parboil your potatoes in salted water. This helps season them but will mean you don't need to cook them as long in the oven. Always place your boiled potatoes into hot oil. You can always break a little piece of potato off to test the oil. And never overload your tray. A single layer of potatoes is best. You want to start your potatoes on a high heat (200°C) but slowly drop the temperature as time goes on (every 10 minutes) down to 180°C. Once golden they can be finished with a couple sprigs of rosemary or thyme or a couple of crushed garlic cloves for the last few minutes in the oven." – Graham Brown, Lorne
SIDES
"My top tip for vegetables is steam them. You save oven space, and if you go for seasonal greens like kale and cavolo nero you can add some colour and vibrancy to your Christmas plate. Pop them in a pan with a tight-fitting lid and a splash of water and turn the heat on. Meanwhile, slice a few cloves of garlic, cover in olive oil in a mug and microwave for 1 minute. Then lift the lid on the greens, let the last of the liquid steam away, then add the garlic oil and sauté for another minute. Season to taste." – Jack Stein
 
"Prep a cauliflower cheese. Pop it on the table along with the other roast elements, and I promise there won't be much left. Here's a good tip for a properly tasty cauliflower cheese (nothing like the watery mess of school-dinner nightmares): never boil your cauliflower. I roast my cauliflower in a pan to caramelise it. This is the best way to bring out the flavour – it will be slightly sweet from the roasting and won't go soggy. Assemble the roasted cauliflower with your cheese mix and pop it in the oven whenever it's needed." – Tom Westerland
 
"Cavolo nero tossed into crisped chilli and garlic; cumin and lemony roasted carrots with crumbled feta, nigella seeds and chopped coriander; a bubbly cheesy number from the oven – these all taste great. We love Ottolenghi's sweet potato and sage gratin, or a citrusy crunchy salad of shaved fennel – something to slice through all the heaviness." – Jemima Jones & Lucy Carr-Ellison
"I love braised red cabbage with apple, vinegar and spices; and roasted celeriac with hazelnuts and brown butter." – George Barson
 
"Don't go crazy with sides: do around five, but do them well. The tops of brussels sprouts are my favourite green at Christmas, dressed with a really good sherry vinegar and salt once either steamed or boiled." – Kian Samyani, Berenjak 
 
"Stuffing is a big thing for me; my favourite is lemon and rosemary. I love roasted brussels sprouts. Cut them in half and make extra effort to get some of the outer leaves to fall off so they go really crispy. Cranberry sauce is a great side too, and naturally vegan. Try spicing it up with a pinch of chilli." – Meriel Armitage
 
"Blanch your brussels for a minute, then plunge them into cold water. Next, flash fry in a pan with pancetta cubes, toasted hazelnuts and lots of butter. Brown them in the oven on the highest heat. Add a pinch of ground coriander and chilli powder. Serve them with a thick coconut curry spiced with turmeric, mustard and fenugreek seeds, shallots and curry leaves for a Sri Lankan touch." – Karan Gokani, Hoppers
 
"I would thinly slice brussels sprouts, fry off some bacon lardons (so they are super crispy), then place the lardons to one side and keep the fat. Sweat the sprout slices in the bacon fat and butter until they are cooked, then put pre-roasted chestnuts and the bacon lardons back in." – Luke Phillips, Chewton Glen
 
"Everyone loves mashed potatoes, but at Christmas you have to take it up a notch. Make super smooth mash like you normally would, then slowly incorporate enough butter to turn it into a purée – when you think you've put too much in keep on adding it, the more the better. Next, add a good-quality truffle paste to taste. Finally, grate over fresh black truffle to serve – do this at the table for maximum aromas." – Richard Foster
CHRISTMAS PUDDING ALTERNATIVE
"I love using up leftover mince pies by making a mince pie 'affogato'. I have a big scoop of vanilla ice-cream with a warm mince pie crumbled on top, a good shot (or two) of Pedro Ximenez sherry, and some grated orange zest. It's delicious." – Lisa Goodwin-Allen, The Game Bird at The Stafford
 
"I love old-school puddings, so trifle or even queen of puddings. If you haven't had it, it's a bit like bread-and-butter pudding topped with jam and then meringue." – Charlie Carroll
 
"There is no alternative! Buy the St John steamed pudding; it's fantastic and serve with masses of cold brandy butter. Otherwise, apple and calvados trifle is always a winner, or panettone bread-and-butter pudding." – Margot Henderson
 
"For me it's got to be a Christmas pudding soufflé. Blend a Christmas pudding with rice pudding. Fold in French meringue and bake in a ramekin (it will rise like a soufflé) then serve with brandy sauce or cream. Cook for 12 minutes at 165°C." – Luke Phillips
 
"A Christmas tradition I picked up in Spain involves getting a really good vanilla ice-cream and pouring PX sherry over the top – it works a treat!" – Marcis Dzelzainis
 
"I love Christmas pudding! But if you must have an alternative, make it panettone bread-and-butter pudding." – Skye Gyngell
 
"We'd go for a spiced apple strudel with a homemade cardamom ice cream or an indulgent chocolate number that's salted and served with creme fraiche." – Jemima Jones & Lucy Carr-Ellison
ONE TOP TIP
"The best gravy starts with the best stock. I make a chicken stock from a tray of roasted chicken wings, then add that instead of potato or cabbage water. You also need to make sure it's seasoned right." – Charlie Carroll
 
"Vegan gravy is harder to make than regular gravy as you have to create your own flavour. Make a roux with vegan margarine and flour (the more of this you make will determine the thickness), then add any of the following: soy sauce, bouillon, tomato purée, red wine (lots), balsamic vinegar and mustard (dijon or wholegrain). You can always add something like miso or Marmite to give it that umami flavour." – Meriel Armitage
 
"When it comes to gravy, roast the turkey bones with the vegetable water and place in pan. Bring to the boil, skim and simmer for six hours. Reduce a glass of white wine and pour over the stock, and reduce to gravy consistency. At the end, add cold butter to enrich and give a nice shine." – James Cochran, 12:51
 
"Christmas lunch wouldn't be Christmas lunch without yorkies – whether you're having beef, turkey or sit in the nut-roast camp. Make your batter the night before, as it yields a fluffer, bigger, better yorkie. Just cling film it and leave it to rest in the fridge overnight. To get that picture-perfect, classic Yorkshire pudding shape (and to stop them going wonky) heat the fat properly and pour the batter directly into the very middle of the tin." – Tom Westerland
 
"If you have any cranberry sauce or similar sweet condiments left over after Christmas lunch, I suggest turning them into a delicious chutney for Boxing Day to have with your pâté, terrines or pork pies. Simply dice up some onion and sweat it lightly in a little oil. Deglaze the pan with whatever vinegar you have in the cupboard, then add your leftover cranberry sauce and some herbs and spices. Cook on a low heat for around 30 minutes, being careful it doesn't catch the bottom of the pan. Give it a taste and adjust the sweetness to your liking by either adding some sugar or more vinegar." – Joshua Mann, The Camellia at South Lodge
 
"I always cook the stuffing on the side, never in the bird. Kimchi adds a deep complex flavour and a serious umami hit, so I make an exquisite kimchi sausage stuffing alongside our turkey. It is that little extra kick that transforms the dish into something extraordinary and memorable." – Judy Joo, Seoul Bird
DISCLAIMER: We endeavour to always credit the correct original source of every image we use. If you think a credit may be incorrect, please contact us at info@sheerluxe.com.