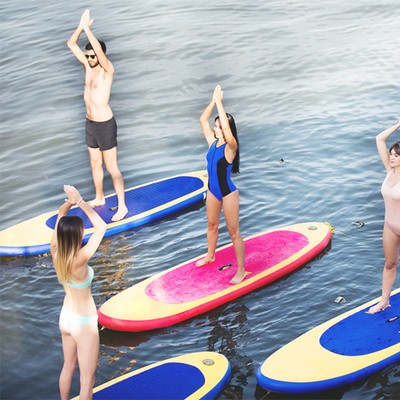 6 Of The Best Water-Based Workout Classes

Water-based workouts have come a long way from aqua aerobics, with a whole host of innovative classes popping up across the capital. And for good reason – with water being 800 times denser than air, your body has to work harder to overcome the resistance, meaning quicker results with less impact on joints. Whether you're a spin or HIIT fan, these are the ones to keep on your radar this summer...

An aquatic riff on the world-famous Insanity workout, SwimSanity proves HIIT doesn't have to be land-based. The drag of the water will add resistance to already challenging cardio moves, whittling the body into a lithe powerhouse. Developed in London and carried out at studios across the capital, the class is suitable for non-swimmers but water babies will notice an improvement in their stroke skills through muscle strengthening and stroke-specific drills.
Classes run at The Circle Gym in Southwark, Chelsea Health Club & Spa and selected branches of Bannaytnes Gyms; visit SwimSanity.co.uk for more information and pricing

Did you know SUP (stand-up paddleboarding) is the UK's fastest-growing watersport? As well as being a sociable and fun way to get fit, it's a full-body workout that'll improve balance; strengthen the core, arms, shoulders and back; and reduce stress. Active360 is the company to know when it comes to SUP in London – starting in Kew, their weekly classes (group and one-to-one sessions are available) are a great way to see the sights of London and boost your fitness.
Classes start from £20, but cheaper if you buy a package; visit Active360.co.uk for more information

Hydro Spinning
Keen spinning fans looking to take their workout up a gear should check out London's water-based cycle classes, offering a low-impact way to burn calories and stimulate the body's lymphatic drainage system, giving weary metabolisms a real boost and helping to tackle stubborn cellulite. While it's by no means easy to pedal through water (resistance is up to 12 times stronger than in air), proponents of the hydro-craze insist the low-impact workout is ideal for those with injuries or those looking to improve cardiovascular endurance without the stress on joints.
Chelsea Health Club & Spa run Cycl'H20 classes weekly (club memberships start at £95 per month), AquaAllure in London Docklands runs regular classes with pricing starting from £20 per session; visit AquaAllure.co.uk and ChelseaHealthClub.com

FloatFit HIIT
Take your burpees and planks to the next level with one of FloatFit HIIT's classes. A HIIT class done on a board in the pool may sound easy but the constant fight to stay afloat will engage every muscle in your body, whipping you into shape in no time. Expect to burn around 400 calories in just 30 minutes.
FloatFit classes take place at five different London locations – the London Aquatics Centre and Haymarket Hotel as well as Enfield's Southbury Leisure Centre and Highgate's Park Road Pools; visit AquaPhysical.com for more information and pricing

Watsu
If you're more of a yoga and stretching kind of girl then head down to Hotel Café Royal's Akasha Spa, which is home to London's first-ever Watsu pool. Separate to the lap pool, the totally private Watsu pool is heated to a bath-like temperature of 35 degrees and where you'll find Steve Karle, Akasha's dedicated Watsu practitioner. Using a combination of yoga-like stretching and joint mobilisation, the hydrotherapy treatment will leave you feeling restored and revived. There really is nothing else like it.
Prices start from £60 for 25 minutes; visit HotelCafeRoyal.com

Hydro Powered By Speedo
Powered by Speedo – a brand that knows a thing or two about swimming – Virgin Active's Hydro is a 60-minute class which features a mix of sprint sessions, resistance activities and endurance exercises to create a challenging full body workout. Based on the principles of HIIT training, the workout is designed to develop muscle strength as well as boosting fitness. Ideal for keen swimmers looking to improve their technique, runners looking for a new workout or those training for a triathlon, we guarantee this session will boost endorphins.
Virgin Active's Hydro Class is available in all Virgin Active clubs nationwide with a pool; visit VirginActive.com for more information
DISCLAIMER: We endeavour to always credit the correct original source of every image we use. If you think a credit may be incorrect, please contact us at info@sheerluxe.com.