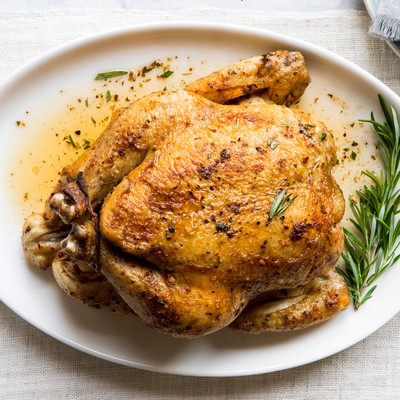 6 Ways To Make The Most Of Leftover Chicken

If you're partial a roast chicken on a Sunday, but are often left wondering what to do with the leftovers beyond making a chicken salad, here are seven new and interesting recipes worth trying.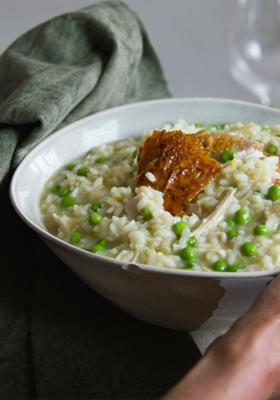 Chicken, Pea & Lemon Risotto: Sutton Hoo Chicken
Ingredients
1

small glass of white wine
200g

of leftover roast chicken – or as much as you like or as little as you have
4

tbsp

of grated parmesan
Sea salt and black pepper
Method
Step 1
It is important when making risotto that you keep your stock hot so firstly put this onto a gentle heat and bring to a simmer. Heat half the butter and the oil in a large saucepan. Add the shallots and celery so they are lovely and soft but not too coloured. This can take a good 10 minutes as you don't want under cooked onion in your final risotto.
Step 2
Add the rice and stir thoroughly so that the rice absorbs some of the oil and butter. Add the wine and cook until it evaporates then start to add the hot stock, a ladle at a time and continue to stir. This can take between 15-20 minutes.
Step 3
Test the rice to see if it still has a little bite, this is the time to add the peas, chicken and to grate some lemon zest into the risotto. Give this a good stir to combine, add a little more stock and heat through for another 5 minutes or until the chicken is hot.
Step 4
Take off the heat and add the parmesan again give it a good stir. Put a lid on and leave to rest for 5 minutes before you are ready to serve.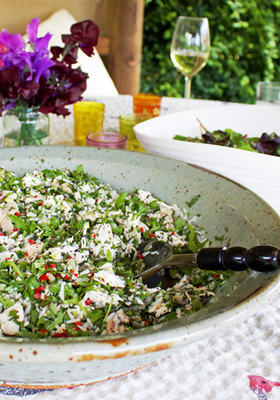 Three Rice & Chicken Salad
Ingredients
1

whole chicken, bones removed, and the skin and meat shredded
1

large cup of basmati rice
1

white onion, diced and chopped
6

spring onions, chopped thinly
2

large handfuls of mixed salad leaves or rocket
3

mild red chillies, seeded and cut into thin strips
2

cups of fresh coriander, chopped
2

cups of mint leaves, chopped
Sea salt and black pepper to season
For the dressing:

4

tbsp

of freshly squeezed lemon juice
2

tbsp

of Thai fish sauce
Method
Step 1
Preheat oven to 220°C/Fan 180°C/Gas Mark 8.
Step 2
Smear the butter over the chicken and season well inside and out. Place the rosemary, half bulb of garlic and half a lemon inside the cavity of the chicken. Place the chicken into a deep roasting tray. Pour over about 2 ½ tablespoons of olive oil and place in the oven for 10 minutes then turn down to 190°C.
Step 3
Roast in the oven for 1 hour 20 minutes, until the chicken is thoroughly cooked, remove from the oven and leave to cool.
Step 4
While the chicken is roasting in the oven, cook the rice in a separate pan following the guidelines on the packaging. Bring to a boil and simmer gently, uncovered.
Step 5
Remove all of the chicken skin and set aside, then use two forks to strip and shred meat off the chicken. Place in a large bowl.
Step 6
Whisk all of the dressing ingredients together and gently pour over the shredded chicken meat. Heat the remaining 1 ½ tablespoons of olive oil in a pan, add the onion and a pinch of salt, and fry over medium heat until golden. Set aside and leave to cool.
Step 7
Add the rice, fried onion, spring onions, red chilies, and chopped herbs to the chicken. Mix well and add salt or pepper to taste.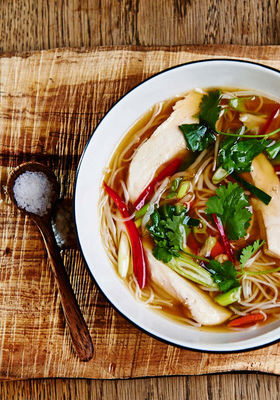 Oriental Chicken Noodle Soup
Ingredients
12

chicken wings, plus

1

chicken carcass
2

large thumbs of root ginger, crushed with the back of a large knife and roughly chopped
½

red chilli, cut in half lengthways
4

spring onions, washed and ends trimmed off
1

small white onion, peeled and cut in half
1

stick celery, washed and cut in half
1

tbsp

of light soy sauce
For the noodle bowl:

200g

of rice or egg noodles, cooked according to pack instructions
2

spring onions, trimmed and finely chopped
½

red chilli, finely chopped
1

handful of fresh and washed coriander
Method
Step 1
Firstly, prepare the stock. Place all the ingredients, apart from the chicken breast, soy, sesame oil and fish sauce, into a pot and cover with the water.

Step 2
Bring to the boil and then simmer for 90 minutes. It is important to skim off any foam and impurities during this process so have a ladle and pot next to your stockpot and keep checking. This will help produce a clear soup.

Step 3
While the stock is simmering you can prepare the noodles, according to pack instructions, and chop the spring onions, chilli and coriander.
Step 4
After an hour, place the chicken breast into the stock and continue to simmer. You can top up with a little water as you go if it is reducing too quickly.

Step 5
Remove the stock from the heat after another 30 minutes. With a ladle carefully strain the stock into another clean pot. Set the chicken breast aside and discard the rest. Place the strained stock back onto a simmering heat. Add the soy and fish sauce and taste, adjust the seasoning as required and add the sesame oil if needed.
Step 6
Divide the noodles, chopped chilli, spring onion and coriander into 4 bowls. Double check the chicken breast is cooked through, if not return to the stock for a few more minutes, tear or cut the chicken breast and add to the bowls. Pour over the stock and serve.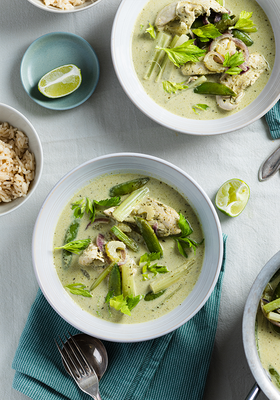 Speedy Chicken & Celery Green Curry: Love Celery
Ingredients
2

small red onions, peeled and cut into half-moon slices
1

bunch of celery, half the stalks thinly sliced, the other cut into

6cm

sticks
4

tbsp

of Thai green curry paste
2

x

400g

cans of coconut milk
Zest and juice of

2

limes
Method
Step 1
Heat the oil in a medium pan, add the red onion and thinly sliced celery and fry for 2 minutes. Tip in the paste and cook for 1 minute more.

Step 2
Pour in the coconut milk, fish sauce, lime zest and juice. Bring to a simmer, then add the sugar snap peas, celery sticks and chicken. Cook for 5-10 minutes or until the chicken is warmed through.
Step 3
Serve in bowls with rice, if desired.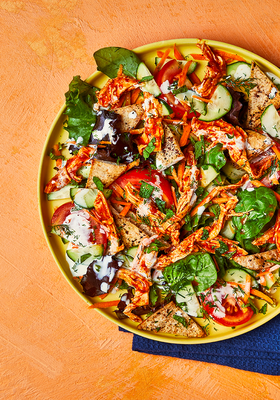 Shredded Harissa Chicken & Crunchy Pitta Salad: Gousto
Ingredients
108g

of leftover roast chicken
Method
Step 1
Preheat the oven to 220°C/ 200°C Fan/Gas Mark 7.

Step 2
Boil half a kettle. Heat a large, wide-based pan (preferably non-stick with a matching lid) with half a tablespoon of olive oil over a medium-high heat. Once hot, add the chicken with a pinch of salt and warm for 3 minutes on each side or until golden.
Step 3
Meanwhile, dissolve the tomato paste and harissa paste in 100ml of boiled water. Once the chicken has browned, reduce the heat to medium and add the harissa stock. Cook, covered, for a further 12-15 minutes, turning the chicken halfway, until the stock has reduced.

Step 4
Meanwhile, chop the pittas into rough bite-sized triangles. Add the pitta triangles to a baking tray with half a tablespoon of olive oil, a pinch of salt and the sumac. Give it a mix up and put the tray in the oven for 8-10 minutes or until golden and crispy.
Step 5
While everything is cooking, chop the tomato into wedges. Cut the cucumber in half lengthways, then slice finely. Top, tail and grate the carrot (no need to peel). Strip the mint leaves from their stems and chop them roughly, discard the stems. Chop the dill finely, including the stalks.
Step 6
Combine the mayo with the juice of half a lemon and a pinch of salt and pepper in a small bowl. Give it a good mix up until it's smooth – this is your lemony dressing.
Step 7
Once the chicken is warmed through, transfer it to a clean board and shred it apart, using two forks. Return the pulled chicken to the pan with a pinch of salt and pepper and give everything a good mix up until fully coated in the sauce.
Step 8
Wash, then add the baby leaf salad to a large bowl with the grated carrot, sliced cucumber, tomato wedges, crunchy pitta and most of the chopped mint and dill (save some for garnish).
Step 9
Add half a tablespoon of olive oil and the juice from the remaining lemon and a pinch of salt. Give everything a gentle mix up.
Step 10
Serve the shredded harissa chicken over the crunchy pitta salad. Drizzle with the lemony dressing and garnish with the remaining chopped mint and dill.

DISCLAIMER: We endeavour to always credit the correct original source of every image we use. If you think a credit may be incorrect, please contact us at info@sheerluxe.com.