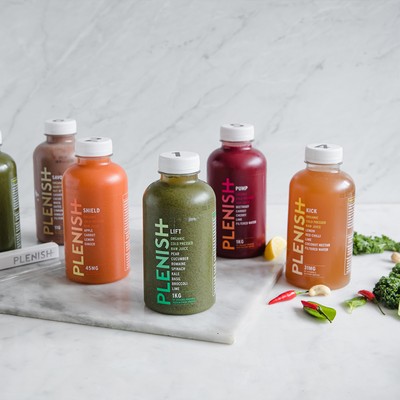 7 Of The Best Detox Juice Brands To Know

Whether you're looking to clean up your diet after an indulgent Christmas, want clearer skin or are keen to give your immune system a helping hand, there's no better time to reset with a juice cleanse. These are the brands we rate…

BEST FOR VARIETY: Radiance
Thankfully, juice cleanses have had something of a makeover from the days of lemon juice and cayenne pepper. Radiance is a case in point. Choose from one of its set cleanses – we love the Winter Cleanse, an entry-level option which contains traditional green juices as well as a lemon and ginger tonic which can be diluted with hot water and a spiced cashew mylk which can also be warmed through – or build your own box. Made fresh to order, Radiance juices last for 72 hours, so if you don't fancy a full-on cleanse, you can pick and choose your favourite juices to enjoy as you please. Power Greens, packed with cucumber, pear, celery, wheatgrass and spinach, is a classic, but we also rate the Hedegrow, made with red cabbage, blackberries, apple, ginger and coconut water for something different. 
From £70 per day.
Visit RadianceCleanse.com
BEST FOR A NUTRIENT BOOST: Junius
If the concept of sticking to a cleanse schedule doesn't appeal, keep Junius on your radar. Founded by a nutritional therapist, Junius juices are handcrafted in small batches and designed to be consumed alongside your diet as opposed to a stand-alone cleanse. Its range of cold-pressed juices and shots are divided into seven colour-coded pillars, each targeting a specific health goal – think gut health, energy, stress and immunity. To keep winter sniffles at bay, we rate the Spa Range, which contains nearly a kilo of vegetables in each bottle, including hormone-balancing broccoli, liver cleansing parsley and celery, naturally rich in electrolytes. Or try a mixed box, the perfect fridge fill for cold winter days.  
From £49.50 per box.
Visit WeAreJunius.com – use code SHEERLUXE15 for 15% off until 4th February
BEST FOR RESULTS: Presscription
Formulated by nutritionists, Presscription's award-winning cleanses offer something for everyone. All its juices are made using the finest cold-press machines (to keep nutrients and enzymes intact) and any cleanse lasting longer than three days will come in separate deliveries to ensure maximum freshness. The Gut Cleanse contains juices made with digestion-supporting ingredients such as probiotics, dandelion root, aloe vera and cinnamon, while the Sugar Detox is ideal for those looking to cut back on sugar. There's also an Active Cleanse for gym goers, a Weight Loss Cleanse, celery juice-only bundles and packages designed to replace food on 5:2 fasting days. 
From £65.
Visit Presscription.co.uk
BEST FOR QUALITY: Purearth
A go-to for those in the know, Purearth's juices stand out from the competition for several reasons. Not only are they organic and pesticide-free, but they're packaged in glass bottles and made to order in small batches, meaning each and every blend brims with vitamins, minerals and antioxidants. The Medicinal Juice Cleanse – which makes use of highly potent superfoods such as medicinal mushrooms and adaptogens – is a bestseller, while the Winter Warmer Cleanse has been designed to keep energy levels topped up and support the immune system. All of Purearth's juices can be bought separately, if you don't want to commit to a programme – be sure to try its Water Kefir, a first-of-its-kind drink which contains 27 billion live cultures per bottle. 
From £74.99 per day.
Visit Purearth.co.uk
BEST FOR GREEN JUICES: Plenish
Eating more greens is something we know we should be doing, but a plate of steamed kale doesn't always appeal. The UK's first cold-pressed juice brand, Plenish is renowned for its variety of top-quality juices, and it offers cleanses for all levels. Its raw, organic green juices are some of the best we've tried and vary in intensity (many are sweetened by a touch of apple or pear). The Level 1 Beginner Juice Cleanse – a gentle first cleanse that comprises four juices, one spicy lemonade and one chocolate milk per day – is a perennial favourite, while its new Immunity Cleanse can be done for up to seven days and comes with concentrated, plant-powered shots for additional nutrients in the winter months. 
From £59 per day.
Visit PlenishDrinks.com
BEST AFFORDABLE OPTION: Press
Press has been at the helm of the UK cleanse market since launching in 2014. Fast-forward several years and it's become a go-to for those looking for speedy results at sensible prices. For a quick reset, consider the 48-Hour Detox Cleanse, which has been designed to kick bad habits, aid gut health and digestion and boost energy levels, while the Virgin Juice Cleanse is made for first-timers (it comes with eight juices to drink every two hours to keep energy topped up). If you've struggled with juice cleanses in the past, try a Soup Cleanse, which combines cold-pressed juices with hearty protein-packed soups. We can't wait to try the Immunity Soup Cleanse, packed full of immune-strengthening vitamins B, C, D and E. 
From £33 per day.
Visit Press-London.com
BEST FOR LOSING A FEW POUNDS: Nosh Detox
Wellness world favourite Nosh Detox believes a juice cleanse is the perfect way to kickstart healthier habits, and its Beginner Weight Loss Fast is one to try. Providing four 500ml smoothies, one lemon and ginger tonic and a nut milk per day, it serves up over two litres of fruit, vegetables and superfoods, which will help reset cravings and reduce appetite following the detox. Unlike other cleanses, Nosh juices contain fibre and pulp, which mean the body takes longer to break down the nutrients, keeping you fuller for longer and more energised. Stick with it and the results are worth it – 98% of Nosh clients lose several kilos within just a few days. If you're looking for a longer programme, consider the Juice Fast Cleanse, which fights toxins, speeds up digestion and aids weight loss. 
From £55.
Visit NoshDetox.com
DISCLAIMER: Features published by SheerLuxe are not intended to treat, diagnose, cure or prevent any disease. Always seek the advice of your GP or another qualified healthcare provider for any questions you have regarding a medical condition, and before undertaking any diet, exercise or other health-related programme.
DISCLAIMER: We endeavour to always credit the correct original source of every image we use. If you think a credit may be incorrect, please contact us at info@sheerluxe.com.