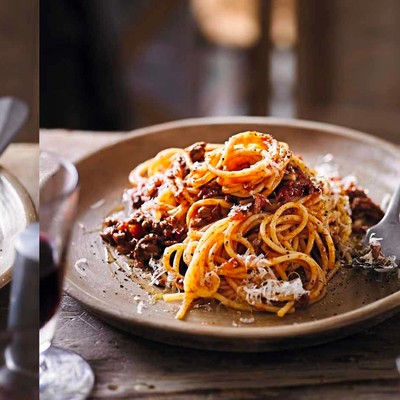 7 Meals To Make In Your Slow-Cooker

There are so many reasons to love a slow-cooker. Not only do they make cosy, comforting food, you can leave them to simmer away in the background – no fuss required. From a nourishing coconut and kale dhal to a couple of family friendly spaghetti dishes, here are seven easy recipes to try this season – plus, the best appliances available now.

All products on this page have been selected by our editorial team, however we may make commission on some products.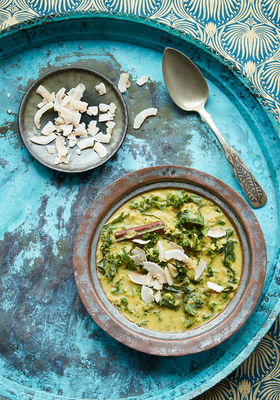 Coconut & Kale Toor Dhal: Nitisha Patel
Ingredients
For the toor dhal base:

500ml

, plus

2

tbsp

of boiling wate
2

.5cm piece of fresh ginger, peeled and grated
For the tadka:

1cm

of piece of cassia bark or cinnamon stick
½

tsp

of ground coriander
½

tsp

of kashmiri chilli or chilli powder
To finish:

1

tsp

of palm sugar/jaggery
50g

of chopped fresh kale
To serve:

Cooked basmati rice or naan breads
Method
Step 1
For the dhal base, pick through the toor dhal to remove any stones. Place it in a colander and rinse under cold running water until the water runs clear. Transfer the rinsed lentils to a slow-cooker with the boiling water, ginger and salt. Close the slow-cooker and place over a medium heat. Cook for about 15 minutes. (If you don't have a slow-cooker, you will first need to soak the picked and rinsed lentils in 1l of boiling water for 4- 5 hours. Drain, then transfer the lentils to a large saucepan with 1l of fresh boiling water, the ginger and salt. Cover with a lid and bring to the boil, then simmer over a medium heat for 60-70 minutes, topping up the boiling water as needed.)
Step 2
When the lentils are soft and falling apart, release the steam from the slow-cooker slowly (or remove the pan from the heat). Most of the water should have been absorbed during cooking, but gently crush the lentils if any small amount that remains. Set aside.
Step 3
For the tadka, place the vegetable oil in a large saucepan over a medium heat. Add the cassia bark or cinnamon stick and the cloves and let them sizzle for 30 seconds. Add the mustard and cumin seeds and shake the pan gently. After about 30 seconds, stir in the curry leaves, cumin, coriander, turmeric and kashmiri chilli/chilli powder.
Step 4
Pour the cooked toor dhal base into the seasoned oil and mix well. Simmer gently over a medium heat for 2-3 minutes.
Step 5
To finish, pour in the coconut milk, add the palm sugar or jaggery and kale. Simmer gently for 10 minutes to allow the kale to soften.
Step 6
Meanwhile, toast the coconut chips in a hot, dry frying pan or skillet for 2-3 minutes, stirring constantly, until crisp and toasted.
Step 7
Divide the dhal into serving bowls and top each one with toasted coconut chips. Serve on its own or with cooked rice or naan breads. Here, sweet, nutty coconut milk is added to the toor dhal base alongside the spiced seasoned oil. Super-healthy kale and coconut chips bring an extra dimension of texture.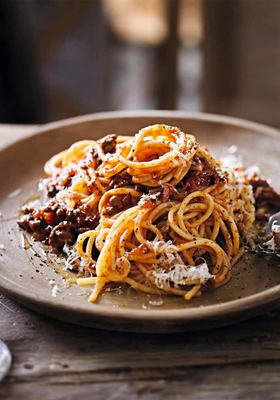 Slow-Cooker Spaghetti Bolognese: Waitrose & Partners
Ingredients
1

x

454g

pack of minced beef
1

clove of garlic, crushed
1

stick of celery, sliced
400g

can of Cirio chopped tomatoes
2

tbsp

of Cirio Supercirio double concentrated tomato purée
1

sprig of rosemary, leaves chopped
300g

of De Cecco spaghetti
Method
Step 1
Fry the mince, onion and garlic to brown, and stir in the beef stock cube. Add all the remaining ingredients except the spaghetti, and place in a slow-cooker. Set on high and cook for 4 hours. Alternatively cook on low for 8 hours.
Step 2
Cook the spaghetti in boiling water for 8-10 minutes or until tender, and then serve with the bolognese.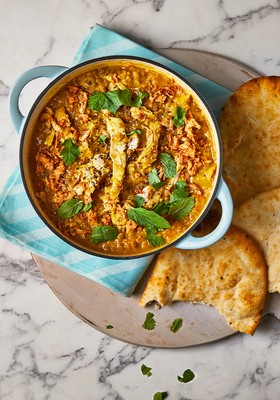 Slow-Cooker Black Pepper Chicken Dal & Naan: Gousto
Ingredients
320g

of British chicken thighs
10g

of coriander and mint
2

.5g of cracked black pepper
50g

of solid coconut cream
185g

of canned green lentils
Method
Step 1
Boil a kettle. Heat a large, wide-based pan with a drizzle of olive oil over high heat. Drain and rinse the green lentils and red lentils together under cold running water.
Step 2
Add the chicken thighs to the pan and cook until lightly golden.
Step 3
Crush the garlic cloves open by squashing with the side of a knife and remove the skins. Crush the cardamom pods open by squashing them with the side of a knife. Peel the ginger, then chop it in half. Roughly chop the coconut cream.
Step 4
Add the rinsed lentils, crushed garlic, ginger halves, cardamom pods, curry powder and ground turmeric to the pan and give everything a good mix up.
Step 5
Add the contents of your pan to the slow-cooker. Add 450ml of boiled water, the chicken stock mix, cracked black pepper, coconut cream and 1 tsp of sugar. Cover and cook on high for 4 hours.
Step 6
When the black pepper dal is nearly ready preheat the oven to 220°C/200°C Fan/Gas Mark 7. Add the plain naans to a baking tray and put the tray in the oven for 3-4 minutes or until warmed through.
Step 7
To serve, pull the cooked chicken thighs into large chunks using two forks. Top the black pepper dal with the pulled chicken and garnish with the crispy onions. Tear over the coriander and mint leaves, serve the warmed naans to the side.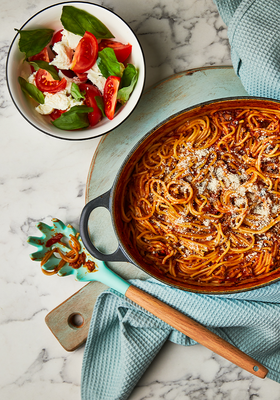 Slow-Cooker Mushroom Ragù Spaghetti & Caprese Salad
Ingredients
35g

of grated Italian hard cheese
250g

of chestnut mushrooms
1

x

210g

can of finely chopped tomatoes
11g

of vegetable stock mix
Method
Step 1
Heat a large, wide-based pan with a drizzle of olive oil over a high heat. Grate the mushrooms and garlic clove.
Step 2
Add the grated mushrooms, garlic and knob of butter to the dish. Add the tomato paste and give everything a good mix up.
Step 3
Add the contents of your pan to the slow cooker with the chopped tomatoes, veg stock mix, balsamic vinegar and oregano. Cover and cook on high for 3 hours.
Step 4
After 3 hours boil a kettle. Break the spaghetti in half and add it to the slow cooker with 200ml of boiled water, stirring everything to separate the strands. Cover and cook for 1 hour further.
Step 5
Once everything is almost done, chop the cherry tomatoes into halves and add them to a serving bowl. Roughly tear the mozzarella and basil leaves over the top. Drizzle with olive oil and season with salt and pepper.
Step 6
To serve, give the mushroom ragù a good mix up with a fork to separate the strands of pasta and sprinkle the Italian grated hard cheese all over. Serve the caprese salad to the side.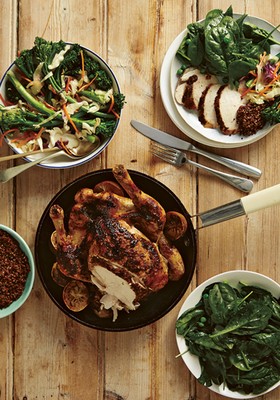 Jerk Chicken With Easy Slaw: Sarah Wilson
Ingredients
1

.5

-1

.8kg whole organic chicken
1

tbsp

of ground allspice
1

tbsp

of rice malt syrup
For the slaw:

2

bunches of tenderstem broccoli, halved lengthways
1

pack of pre-shredded coleslaw mix
Method
Step 1
In the morning, melt the butter in a hot frying pan and brown the chicken all over. Remove from the pan and place it upside down in the slow-cooker insert.
Step 2
Combine the lime juice with the spices and salt in the same pan over low heat. Add the rice malt syrup and stir until melted and combined.
Step 3
Pour the mixture over the upside-down chicken and rub all over, including the cavity, to coat thoroughly. Cover and cook for 6 hours on low or 3 ½ hours on high.
Step 4
In the evening, make the Easy Slaw. Heat the olive oil in a large saucepan, then gently sweat the broccoli until almost tender. Add the remaining ingredients and stir until warmed through.
Step 5
Remove the chicken from the slow cooker and slice the meat from the bone. Serve with slaw.
Vietnamese Beef, Maple and Coconut Stew: Maple From Canada
Ingredients
For the stew:

1

-2

tsp

of dried chilli flakes
Sea salt & freshly ground black pepper
3

tbsp

of pure maple syrup
Method
Step 1
Preheat your oven to 150°C. Peel and finely slice the garlic and peel the onions and slice into thin wedges.
Step 2
Place a large casserole pot or saucepan on a medium low heat and add the garlic and onions with a couple of tablespoons of vegetable oil.
Step 3
Crush the lemongrass a little in a pestle and mortar and add along with the star anise. Fry for 5 minutes.
Step 4
Cut the beef into 3-4cm chunks, removing any large bits of fat or sinew and toss with the chilli flakes, cinnamon, turmeric and a good pinch of salt and pepper until well coated, then add to the pan and fry for 5 minutes until browned.
Step 5
Stir in the tomato purée, then pour in the stock and coconut milk. Chop the tomatoes and add to the pan, along with the fish sauce and the maple syrup. Bring to the boil, cover with the lid and place in the oven to cook for 2 hours or until the beef is tender.
Step 6
Turn your oven up to 180°C, remove the lid and cook for a further 30 minutes, until rich and creamy.
Step 7
Serve the beef over hot steamed rice and garnish with freshly torn basil, mint and lime wedges for squeezing over.
Mushroom Bourguignon With Cheddar & Maple Scone Topping
Ingredients
4

large carrots, peeled and sliced
2

cloves garlic, finely chopped
1kg

of mixed mushrooms, chopped
3

tbsp

of pure maple syrup
For the cheddar & maple scones:

140g

of self-raising flour, sieved
100g

of wholemeal self-raising flour, sieved
100g

of grated cheddar, plus extra for topping
1

tbsp

of pure maple syrup
Handful of chopped parsley
Method
Step 1
In a slow-cooker, heat oil and add carrots, onion, garlic and thyme and cook together for seven minutes. Add mushrooms, season with pepper and stir in maple syrup. Cook until mushrooms start to brown and excess liquid has reduced by over half.
Step 2
Pour in vegetable stock, bring to the boil, reduce heat then gently simmer for up to 30 minutes leaving thick, glossy juices in the pan.
Step 3
Transfer mushroom mix to a deep oven-proof dish, spread out across the base and set aside
Step 4
To make the cheddar and maple scones, blend both flours and salt together and add 100g of cheese. Make a well in the middle and slowly add milk and maple syrup. Bring the wet and dry ingredients together using hands to form a ball of dough. Turn dough out onto floured surface and roll with a pin into a circle about 2cm thick, cut out discs using pastry cutter. Re-use excess dough to make more scones until all the pastry is used.
Step 5
Lay scones on top of the mushroom mix, leaving a small gap between. Transfer to oven and bake for 20-25 minutes until scones rise. Five minutes before finished baking, brush each scone with beaten egg, scatter with remaining grated cheese and chopped parsley. Continue to bake until cheese has melted and turned golden brown
If you're in the market for a new slow-cooker, here are some of our favourite models… 
Crock-Pot Lift & Serve Digital Slow-Cooker, £39.99 (was £59.99)
The stand-out feature on this slow-cooker is the hinged lid – it means no more mess on your worktop as the condensation drips down back into the bowl – and it's removable for easy cleaning. Running up to 20 hours at a time, once cooked, the appliance will automatically switch to a 'keep-warm' setting, so your meal is ready when you are. The large, removable 4.7l bowl is ideal for families, as well as entertaining or batch-cooking for the week ahead. 
Buy here.
Russell Hobbs 25630 Slow-Cooker & Sous Vide, £99.99
If you want to feed a large group, this huge 6.5l capacity slow-cooker is the one to get. Capable of making up to eight servings, just add your ingredients, finalise your settings and you're good to go. It has some other hidden talents too, like the sous-vide setting – whether it's a perfectly cooked rare steak, a moist salmon fillet or vegetables that retain their flavour, this machine does it all. Extra points go to the integrated meat thermometer and cool touch.
Buy here. 
Crock-Pot TimeSelect Digital Slow-Cooker, £49.99 (was £69.99)
What we love about this model is the 'schedule meal' function, which can be programmed to have your dish ready up to 12 hours in advance. All you need to do is choose the food type, quantity and the time you'd like to eat. Add your ingredients to the pot and which dish you're cooking, choose the approximate weight of your dish or how full the pot is. The 'TimeSelect' function then determines the ideal temperature and cooking cycle for perfect results. If your plans change, the cancel timer setting allows you to reset your cooking schedule at any point.
Russell Hobbs Chalkboard Slow-Cooker, £25
With three simple heat settings (high, low and warm), this 3.5l capacity slow-cooker couldn't be easier to use. A glass lid lets you view your food as it's cooking, while cool-touch handles make it safe to carry. Its modern matte black powder-coated finish allows you to write on it using chalk. Capable of serving up to four people, it also has a removable black ceramic pot and lid for easy cleaning. 
Buy here.
Tower T16018RG 3.5L Slow-Cooker – Rose Gold, £23.99 (was £39.99)
Designed to look great in the kitchen, this stylish Tower slow-cooker comes in sleek black with rose-gold details. The non-slip feet provide extra stability on your kitchen worktop, while the removable pot makes for cleaning easy. Meanwhile, the 3.5l capacity bowl holds up to four portions, so it's ideal for serving family and friends, and there are three heating settings and a 'keep warm' function. 
Buy here.
DISCLAIMER: We endeavour to always credit the correct original source of every image we use. If you think a credit may be incorrect, please contact us at info@sheerluxe.com.