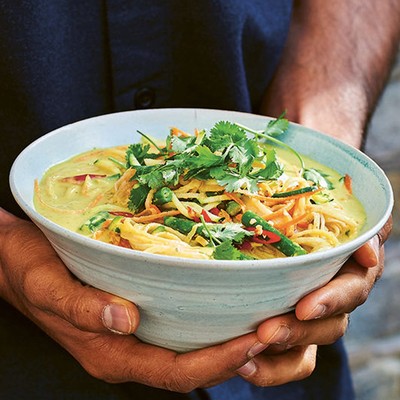 7 Tasty Ways To Use Carrots

Whether you blend, grate, roast or bake them, carrots are pretty versatile, and they go with most things. From a warming laksa to carrot cake bites and carrot and seeds crackers, here are eight easy recipes to try this week.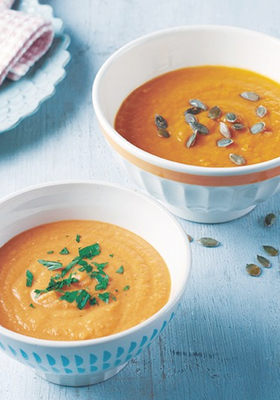 Roast Carrot & Coriander Soup: Lizzie King, Lizzie Loves Healthy
Ingredients
2

onions, roughly chopped
1

tbsp

of coriander seeds
1

.5 litres of chicken or vegetable stock
Handful of flat-leaf parsley, roughly chopped, plus extra to serve
1

tsp

of ground coriander
Pumpkin seeds, to sprinkle
Method
Step 1
Preheat the oven to 190°C. Chop the carrots once or twice, depending on size, to get 7cm lengths.

Step 2
Toss the carrots and onions in the olive oil with the garlic cloves with the seeds, and tumble into a large baking tray. Roast the veg for 30-40 minutes, turning once halfway through cooking, until soft but not fully browned. Remove from the oven and allow to cool briefly.
Step 3
Tip the veg into a powerful blender along with the stock and whizz until smooth. Add the parsley and coriander and whizz again. Ladle into bowls and sprinkle with pumpkin seeds and fresh parsley. Keeps for three days in the fridge and freezes for three months.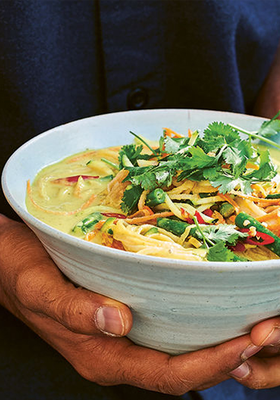 Carrot & Courgette Laksa: Dr Rupy Aujla, Eat to Beat Illness
Ingredients
400ml

tin of coconut milk
200g

of brown rice noodles
300g

of courgettes, grated
200g

of green beans, roughly chopped
½

red chilli, finely chopped
Method
Step 1
Bring the water to the boil in a large saucepan and dissolve the stock cube. Add the laksa paste and coconut milk and bring to a simmer.

Step 2
Add the noodles and stir for 2-3 minutes, then add all the vegetables. Bring to a simmer and allow the flavours to marry for a few minutes before dividing among large bowls.

Step 3
Scatter the chilli over each serving, along with a little chopped coriander. Grate over some apple and finish with a squeeze of fresh lime juice.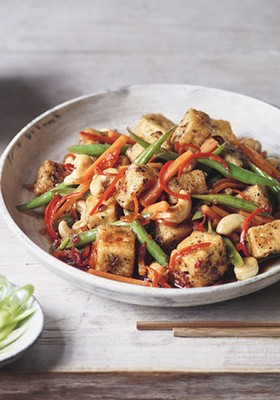 Salt & Pepper Fried Tofu With Carrots, Beans & Chilli Dressing: Annie Rigg, Eat More Veg
Ingredients
1

tsp

of Sichuan peppercorns, crushed
1

tsp

of sea salt flakes, lightly crushed
1

tsp

of crushed dried chilli flakes
1

clove of garlic, crushed
Method
Step 1
Drain the tofu well on kitchen paper and cut into 2cm cubes. Combine the cornflour, crushed Sichuan peppercorns and sea salt flakes on a small tray. Add the tofu and mix well to coat on all sides.

Step 2
Heat the sunflower oil in a wok or deep-sided frying pan. The oil is hot enough when a small piece of bread sizzles and browns in about 30 seconds. Cook the tofu in the hot oil, in batches, until crisp. Drain on kitchen paper and set aside. Quickly cook the cashews in the hot oil until golden, and add to the tofu. Carefully pour off all but 1 tbsp of the oil from the pan.

Step 3
In a small saucepan combine the rice vinegar, caster sugar, soy sauce, sliced chilli, chilli flakes, ginger and garlic. Simmer over a medium heat for 2 minutes.

Step 4
Peel the carrot and cut it into batons. Cut the fine beans in half on the diagonal. Return the wok to a medium-high heat, add the carrots and beans, and stir-fry for 1-2 minutes until tender. Add the tofu, cashews and chilli dressing, and cook for another 1-2 minutes until bubbling and hot through.

Step 5
Scatter with the sliced spring onions and serve.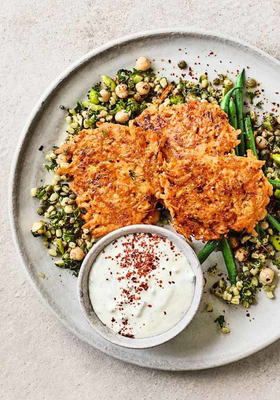 Spicy Carrot Fritters With Tzatziki: Waitrose & Partners
Ingredients
400g

can of chickpeas, drained over a bowl
250g

of carrots, grated to give

200g
1

tsp

of Cooks' Ingredients peppery pul biber, plus a pinch to garnish
300g

pouch of wheatberries, lentils and green vegetables
60g

of tzatziki, to serve
160g

of fine green beans, to serve
Method
Step 1
Put half of the chickpeas into a wide, shallow bowl and crush them well with a fork. Add the grated carrots, flour, 1 tsp of pul biber and a generous seasoning of salt and pepper. Mix with your hands, then add 2 tbsp of the chickpea liquid and mix again. Press into 6 rough, flat rounds while your hands are sticky.
Step 2
Heat the oil in a non-stick frying pan. Sizzle the fritters in 2 batches over a medium low heat for 4-5 minutes on each side, or until deep golden and crisp. Press them down with a fish slice a few times as they cook.
Step 3
Heat the wheatberry mix according to pack instructions, then fold the remaining chickpeas into it. Serve with the fritters, spoonfuls of the tzatziki, topped with a pinch more pul biber and fine green beans on the side.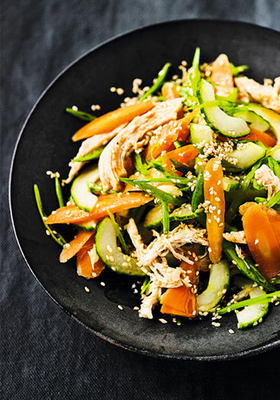 Oriental Roasted Chicken & Carrot Salad: Waitrose & Partners
Ingredients
2

boneless chicken breasts
1

tsp

of Waitrose Cooks' Ingredients Shichimi Togarashi seasoning
150g

pack of baby topped carrots, trimmed and thinly sliced lengthways
100g

of mange tout, shredded diagonally
1

tbsp

of toasted sesame oil
1

tsp

of sesame seeds, toasted
Method
Step 1
Preheat the oven to 200°C, Gas Mark 6.

Step 2
Place the chicken in a small roasting dish and sprinkle with togarashi seasoning and a little oil and roast for 25-30 minutes.

Step 3
Blanch the carrots and mange tout for 3 minutes, drain and run under cold water to cool. Halve the cucumber lengthways and remove the seeds with a teaspoon, then slice into half-moons. Mix in the mange tout and carrots.

Step 4
Whisk together the soy, oil and ginger paste. Shred the chicken and mix into the juices, then toss into the vegetables with the dressing. Serve sprinkled with sesame seeds.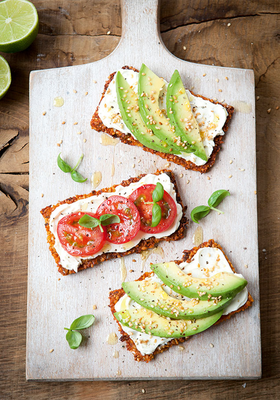 Carrot & Seed Crackers: Davina McCall, Davina's Sugar-Free In A Hurry
Ingredients
100g

of blanched almonds, lightly toasted
2

tbsp

of golden linseeds
2

large carrots, coarsely grated
4

tbsp

of sun-dried tomato paste
2

tbsp

of olive oil, plus extra for greasing
Method
Step 1
Preheat the oven to 200°C/180°C Fan/Gas Mark 6.
Step 2
Toast the almonds in a dry frying pan for a few minutes, then set them aside to cool. Put the almonds into a food processor and pulse a few times until they are coarsely chopped. Add the seeds (reserving the half tablespoon of cumin seeds for later) and pulse a few more times until everything is combined but still coarsely chopped.

Step 3
Add the carrots, sun-dried tomato paste, olive oil and a tablespoon of cold water, then season with a teaspoon of sea salt and some black pepper. Blend until the mixture is sticky and holds together if you pinch a bit in your fingers, but is still quite coarsely chopped.

Step 4
Lightly oil a baking tray and spread the mixture over it to a thickness of about ½cm. Smooth it flat with wet hands and sprinkle with the remaining cumin seeds.

Step 5
Bake the crackers in the oven for 15-20 minutes or until they are lightly golden and firm to touch. Remove them from the oven, trim the edges and discard, then cut into 25 rectangles. Carefully turn them over and put them back in the oven for another six to eight minutes to crisp them up a little more. Take them out and leave to cool on the baking tray for 5 minutes, and then transfer them to a cooling rack to cool.
Step 6
To serve, spread with light cream cheese, sliced tomatoes and a few basil leaves or sliced avocado, a squeeze of lime and a sprinkling of toasted sesame seeds. You can also use these crackers instead of crisps for scooping up dips.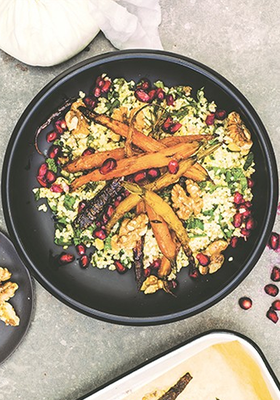 Honey-Roasted Carrot Salad With Bulgur Wheat, Walnuts, Pomegranate Seeds & Labneh: David & Charlotte Bailey, Fresh Veggie Kitchen
Ingredients
500g

of heirloom carrots, cut in half length-ways (if using regular carrots cut into finger-length batons)
2

sprigs of thyme, leaves plucked
125g

of bulgur wheat, cooked and cooled
2

tbsp

of chopped parsley
Seeds from

½

a pomegranate
Method
Step 1
Preheat the oven to 200°C/Gas Mark 6. Line a roasting tray with greaseproof paper.

Step 2
Put the carrots in a mixing bowl, add four teaspoons of the olive oil, the thyme leaves and a pinch of salt and pepper and mix well. Transfer to the lined roasting tray and roast for about 40 minutes, turning them around occasionally until they've started to take on some colour. Drizzle over the honey and roast for a further 10 minutes or so.

Step 3
Meanwhile, place the cooked bulgur in a mixing bowl and combine with the parsley and mint, the remaining two teaspoons of olive oil, the lemon juice and a touch of salt and pepper.

Step 4
Place the bulgur mix in a serving bowl and top with the carrots, labneh, walnuts and pomegranate seeds.

DISCLAIMER: We endeavour to always credit the correct original source of every image we use. If you think a credit may be incorrect, please contact us at info@sheerluxe.com.