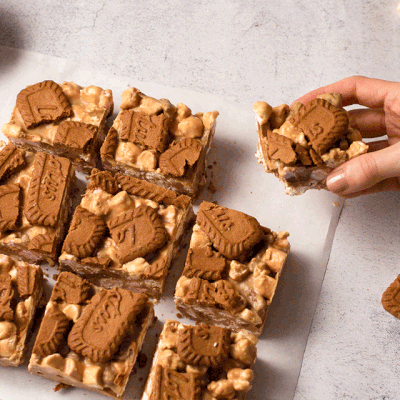 8 Indulgent Biscoff Recipes To Try This Weekend

Just like margaritas and banana bread last year, Biscoff bakes have become this summer's social media sensation. From iced lattes to vegan cheesecakes and quick cookies, here are eight simple recipes – using Lotus biscuits and spread – to try at home.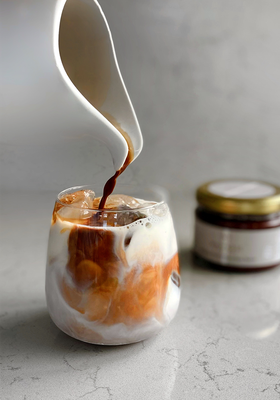 Dark Chocolate Sauce Biscoff Latte: Will Torrent, Waitrose
Ingredients
Whole milk or alternative milk (hazelnut or almond milk work best)
1

tbsp

of Waitrose No.1 Belgian Dark Chocolate Sauce or No.1 Salted Caramel Dipping Sauce
Freshly brewed hot espresso
Method
Step 1
Combine all the ingredients in a glass, stir, top with the biscuit and serve.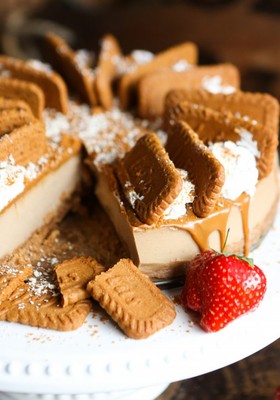 Baked Biscoff Cheesecake: Maryanne Hall, Vegan Recipe Club
Ingredients
For the base:

200g

of vegan digestive biscuits (e.g. McVitie's)
170g

of vegan margarine/spread
For the cake:

500g

of vegan cream cheese
400ml

tin, plus

1

tbsp

of coconut milk
150g

of golden caster sugar
6

tbsp

of plain flour, sieved
1

-2

tsp

of vanilla paste or extract
For the topping:

Vegan whipped/squirty cream
Crushed Biscoff biscuits for sprinkling
Grated vegan white chocolate (optional)
Method
Step 1
Preheat the oven to 150˚C Fan/Gas Mark 2.

Step 2
Line a loose bottom cake tin (approx. 20cm diameter and 7cm deep) with baking parchment.

Step 3
Blend all the biscuits until fine or put in a clean tea towel and bash with a rolling pin until smooth.

Step 4
Gently melt the margarine and coconut oil in a small saucepan on a low heat until fully dissolved. Combine thoroughly with the blended biscuits in a large mixing bowl.

Step 5
Empty the mixture into the lined cake tin and evenly distribute along the bottom, packing firmly with the back of a spoon or with your hands. Place in the fridge until you need it.

Step 6
To make the cake, thoroughly blend (using a food processor, blender or stick blender) the ground almonds, cream cheese, coconut milk, sugar, flour, cornflour, lemon juice, salt, vanilla paste and Biscoff spread until smooth.

Step 7
Take the base out of the fridge and pour the cake mix straight onto the base. Give it a bit of a shake to make sure the mixture is evenly distributed.

Step 8
Fill a deep baking tray with water (around 1 inch). If you are using a cake tin with a loose bottom, make sure it is securely covered with several layers of foil before placing it into the water. Cover the top of the cake with foil.

Step 9
Place the tray with the cake into the preheated oven and bake for 1 hour.

Step 10
When the cake is ready (it might be a bit wobbly in the middle and this is fine, it will set), take it out of the oven and leave it to cool for an hour before putting it into the fridge to set overnight.

Step 11
Once the cheesecake has set, heat the Biscoff spread on a gentle heat for a few minutes until liquid and runny. Immediately pour over the top of the cake, allowing/encouraging some to drip down the sides. Pop back in the fridge to cool and set for 10 minutes before decorating with the optional extras.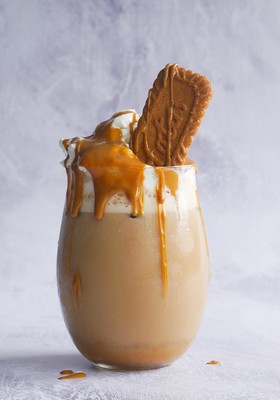 Biscoff Protein Iced Latte: Joanna Lowy, Bulk
Ingredients
1

tsp

of Biscoff spread, melted
5

-10

of Bulk Vanilla LiquiFlav Drops
1

scoop of Bulk Speculoos Pure Whey Protein
300ml

of Bulk Oat Drink or oak milk
Biscoff spread (for drizzling)
Method
Step 1
Melt 1 tsp of Biscoff spread and add the instant coffee and water and stir until combined. Pour into a glass filled with ice

Step 2
Add the vanilla LiquiFlav Drops to the glass, then add the whey protein and oat milk into a blender and blitz until smooth.

Step 3
Pour the protein milk mixture over the coffee mixture.

Step 4
Squirt the whipped cream on top of the coffee, add the Biscoff biscuit and drizzle with the spread.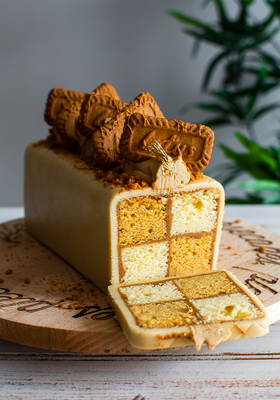 Biscoff Battenburg: Joe Moruzzi, Pleesecakes
Ingredients
For the battenburg:⁠⁠

200g

of unsalted butter⁠⁠
200g

of self-raising flour⁠⁠
Method
Step 1
Cream the butter and sugar together until light and fluffy.⁠⁠

Step 2
Mix in the eggs and vanilla essence.⁠⁠ Sift and fold in the flour.⁠⁠

Step 3
Split the mix in half and add Biscoff spread to one half.⁠⁠ To split your tin in half, wrap card in foil and greaseproof paper to create a divider, or use an 8-inch tin. Then empty each mix into the separate halves of the tin.⁠⁠
Step 4
Bake for at 165ºC Fan for 35-40 minutes or until golden brown.⁠⁠
Step 5
To assemble, cut the sponge into batons and glue together using Biscoff spread.⁠⁠
Step 6
Spread more Biscoff around the sides of the battenburg and roll in marzipan.⁠⁠
Step 7
To decorate, whisk the cream cheese, double cream, sugar and Biscoff spread until smooth.⁠⁠ Pipe onto the top of the battenburg, then top with⁠⁠ drizzled Biscoff spread and Lotus biscuits.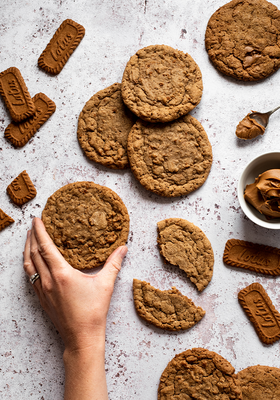 Biscoff Cookies: Baking Mad
Ingredients
For the cookies:

115g

of unsalted butter (room temperature)
100g

of light muscovado sugar
Method
Step 1
Line a baking tray with parchment paper. Using a tablespoon, scoop out 12 portions (about 15g each) of Biscoff spread onto the prepared baking sheet. Freeze until solid, at least one hour or overnight.

Step 2
Preheat your oven to 180°C. Line 2 baking sheets with silicon baking mats or parchment paper and set aside.

Step 3
In a large bowl, whisk together the Biscoff biscuit crumbs, flour, baking powder, salt and cinnamon.

Step 4
Beat the butter and Biscoff spread together until completely smooth and creamy.

Step 5
Add both the light muscovado and caster sugars and beat together until lightened in texture and colour. It should take around 3-5 minutes if using a hand or stand mixer.

Step 6
Next add in the egg and vanilla extract and mix until well combined.

Step 7
Now you need to gradually add in the flour until it's just incorporated. Take care not to overmix this as it will cause your cookies to turn flat when baked.

Step 8
Use a spoon or ice-cream scoop, portion out the cookie batter evenly into 12 equal balls (you're looking for about 50g per ball). Spread these out onto the baking sheets as they will melt and spread in the oven. You don't want them to touch.

Step 9
Using your thumb, make a deep indentation into each dough ball. Then take the Biscoff scoops out of the freezer and working quickly place each one into the middle of the dough indentation you've just made.

Step 10
Gather the dough up over the Biscoff scoops to completely cover them, then roll them into balls as best as you can.

Step 11
Place the cookies 1 sheet at a time into the oven and bake until golden brown. This should be for 10 minutes but take them out a minute early to check: they should be flattened but still a bit puffy. The edges will have begun to set but the centres should still be very soft. Do not bake them until they feel done, or they'll end up hard instead of soft and chewy. The cookies will continue to cook from the residual heat of the baking trays as they cool.

Step 12
Transfer the baked cookies to a wire rack and let the cookies cool for at least 15 minutes. The cookies' Biscoff centre will be lava-like and runny if eaten within an hour after baking. After they've cooled to room temperature, the centre will set and not ooze out, but will remain soft.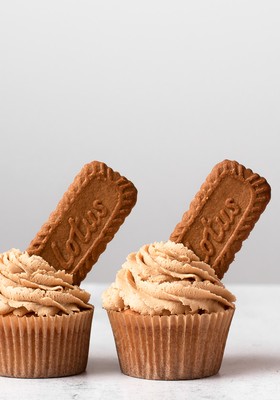 Ingredients
For the cupcakes:

150g

of unsalted butter, softened
150g

of unrefined golden caster sugar
150g

of self-raising white flour
For the buttercream:

175g

of unsalted butter, softened
Method
Step 1
Preheat the oven to 180°C/160°C Fan/Gas Mark 4. Line a cupcake tin with 12 paper cupcake cases.

Step 2
Beat together the butter and sugar until light and fluffy. Gradually add in the eggs, baking powder, flour and vanilla extract and beat until fully combined.

Step 3
Spoon the mixture into the cupcake cases filling each of them 2/3 full.

Step 4
Bake for 20-25 minutes until the cupcakes are golden and springy to touch.

Step 5
While the cupcakes are baking, make the buttercream by beating together the butter, icing sugar, milk and Biscoff spread. The longer that you beat the buttercream, the lighter and fluffier it becomes.

Step 6
When the cupcakes have cooled fully, use a small sharp knife or an apple corer to carve out the centre of the sponge of each cupcake. Fill a piping bag with a large star nozzle and the Biscoff buttercream. Pipe a small amount into the centre of each cake then top with the remaining sponge that you had removed.

Step 7
To finish your cupcakes, pipe swirls of the buttercream on to the top of each cupcake. For an extra touch add a Lotus biscuit on top of the buttercream.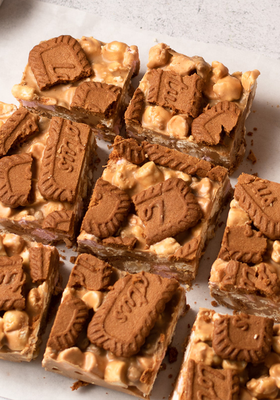 Ingredients
400g

of white chocolate, chopped
125g

of mini white and pink marshmallow
100g

of caramel popcorn, chopped
For the topping:

30g

of Biscoff biscuits, broken
Method
Step 1
Line a square 20cm baking tin with parchment paper.

Step 2
In a large heatproof bowl, melt the white chocolate, butter and Biscoff spread either in a microwave or over a pan of simmering water.

Step 3
Chop the biscuits into small chunks and add these to the melted mixture along with the chopped popcorn and marshmallows.

Step 4
Mix all the ingredients together and pour into the square tin.

Step 5
Top with the broken biscuits and leave to chill in the fridge for 2-3 hours or overnight.

Step 6
Remove from the tin and slice into squares before serving.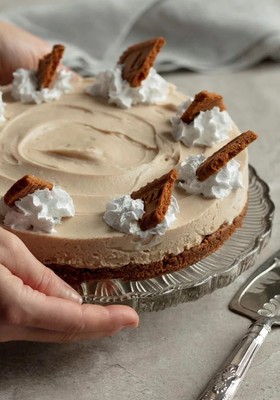 Vegan Biscoff Cheesecake, Juliet Sear
Ingredients
For the base:

80g

of melted vegan butter or spread
For the filling:

700g

of vegan cream cheese
50g

of unrefined golden caster sugar
Method
Step 1
Start with the base ingredients. Crush the Biscoff biscuits using a sandwich bag and a rolling pin. Once you've crumbed the biscuits, mix them with the melted vegan butter and tip them into the spring form tin flattening them to form a base for your cheesecake. Chill in the fridge for 20 minutes.

Step 2
For the topping, beat all the ingredients together and spread over the base.

Step 3
Set in the freezer for a minimum of an hour to an hour and a half. Decorate the cheesecake with Biscoff biscuits. To cut, use a cleaned knife each time to keep it neat.

DISCLAIMER: We endeavour to always credit the correct original source of every image we use. If you think a credit may be incorrect, please contact us at info@sheerluxe.com.