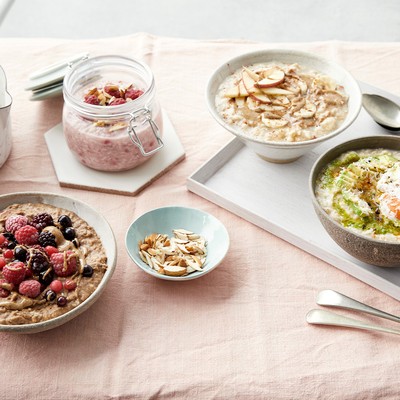 8 Low-Sugar Breakfast Recipes To Try

We all know that sugar is the devil and that breakfast got a shake up a while back, but if you've only just got on board or are looking for some fresh ideas, here are eight tasty low-sugar recipes to try…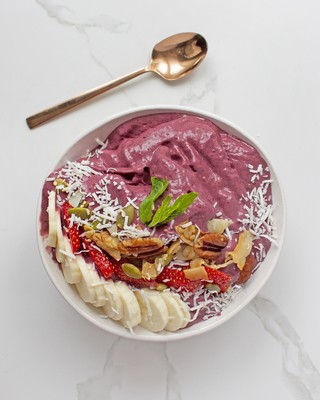 Low Sugar Acai Bowl: Jessica Sepel
Store-bought acai bowls can be full of sugar, but this juice-free version contains protein powder to keep you satiated. It's also packed with fibre, essential fatty acids and is bursting with antioxidants, making it the perfect, nutritionally balanced start to the day.
Ingredients
40g

of frozen blueberries
1

serve protein powder of choice, optional
To serve

½

cup (100g) of strawberries, sliced
Method
Step 1
Place all the ingredients in a high-speed blender and blitz until they reach a smooth, creamy consistency.
Step 2
Pour the mixture into a bowl and decorate with your preferred toppings.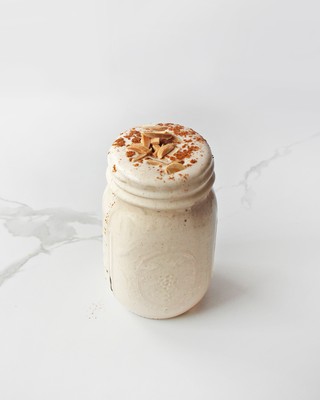 Blood Sugar-Balancing Smoothie: Jessica Sepel
This dairy and gluten-free smoothie is the perfect breakfast when you fancy something sweet without the sugar rush. Packed with nourishing ingredients such as cinnamon and protein, along with fibre-rich chia and flax seeds, it will stabilise blood sugar, curb sugar cravings and keep you full until lunch.
Ingredients
1

serve protein powder of choice
250ml

of almond milk, or milk of choice
1

tbsp

of chia seeds, or psyllium husk/flaxseed meal
1

tbsp

of almond butter, optional
3

drops of vanilla stevia, optional
Method
Step 1
Place all of the ingredients into a high-speed blender and blitz until smooth. Pour into a glass and enjoy.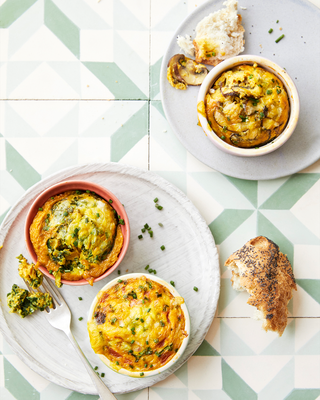 Turmeric Baked Eggs, Rhiannon Lambert
Curcumin is the active ingredient in turmeric – it's said to have anti-inflammatory effects and is a strong antioxidant. Be sure to add a pinch of black pepper, which will aid the absorption of curcumin. Double the recipe if you want to make a bigger batch for the week. 
Ingredients
1

tbsp

of grated hard cheese or

2

tbsp

of soft cheese, such as cottage cheese (optional)
Handful of herbs, such as chives or parsley, chopped (optional)
Pinch of salt and black pepper
Filling options:

1

–2 mushrooms, thinly sliced
Method
Step 1
Preheat the oven to 200°C fan/220°C/425°F/gas mark 7 and lightly grease 2 small ovenproof ramekins (capacity 150ml) or small baking dishes with a little oil or butter and then divide your prepped chosen fillings between the ramekins.
Step 2
Whisk together the turmeric with the eggs then stir in the cheese and herbs, if using. Season with salt and pepper and pour into the ramekins over your fillings.
Step 3
Bake for 12–15 minutes until the egg is browned and set on top.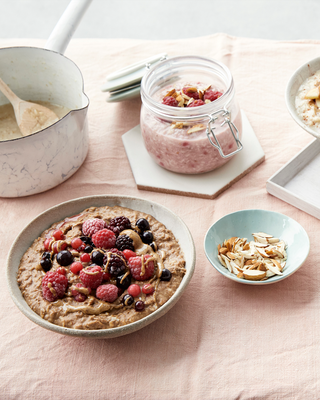 Overnight Oats With Raspberries & Coconut: Rhiannon Lambert
If you're always in a rush in the morning, this is the perfect solution as you can prepare this the night before. Make in a jam jar for added convenience – and just pop into your bag the next day. 
Ingredients
30g

of desiccated coconut
120ml

of coconut milk (from a tin if you prefer a thicker texture)
16

frozen raspberries,

10

roughly chopped and

6

left whole
Handful of almonds, roughly chopped
Method
Step 1
In a bowl or a jar with a tight-fitting lid, mix the oats, coconut and coconut milk, then stir through the chopped raspberries. The oats should turn a nice pink colour. Cover (or add the lid) and leave in the fridge overnight.
Step 2
If the oat mixture is too stiff in the morning, add a few tablespoons of water until you get the consistency you desire.
Step 3
Remove the whole raspberries from the freezer 5–10 minutes before you want to eat the oats. Top the oats with the raspberries and chopped almonds.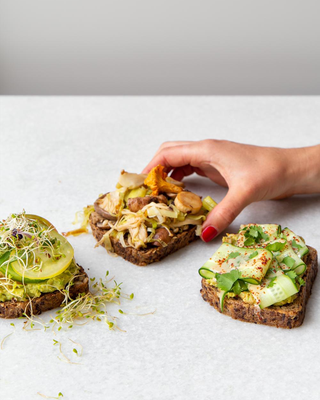 Leek & Mushroom Superseed Toast: Rhian Stephenson
This dish is packed with fibre and won't lead to fluctuations in blood sugar. Try to avoid sweet white loaves and free-from brands that are packed with sugar, potato flour and additives, and instead use rye or brown sourdough.
Ingredients
1

slice of seeded, rye or brown sourdough bread
Squeeze of fresh lemon juice
Method
Step 1
Slice the mushrooms and leeks, discarding the green tips. Add to a non-stick pan with ½ cup water and simmer on high. You may need to add more water until the vegetables are soft and sticky.

Step 2
Once the mixture is soft and most of the liquid is gone, add the sage, rosemary, coconut oil, salt and pepper. Cook for 2 more minutes, stirring frequently and then remove from heat.

Step 3
Toast a slice of your chosen bread and top with the leek mixture. Finish with a squeeze of fresh lemon.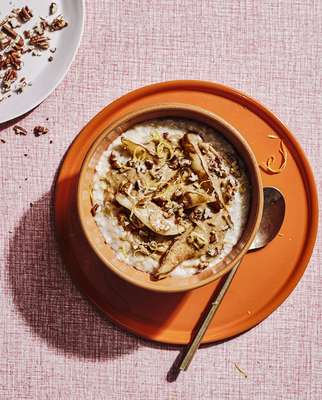 Pear & Almond Butter Porridge: Pip & Nut
This warm and spicy porridge is the perfect recipe for autumn. Spiced with cardamom and lemon zest and drizzled with almond butter, it'll keep you fuelled all morning. Oats provide slow-release energy and the addition of nut butter and pecans will keep you energised until lunchtime.
Ingredients
½

tsp

of vanilla bean extract
50g

of pecans, toasted and roughly chopped
Method
Step 1
Half, core then slice each peeled pear half into 6 lengthways, so you have 12 pieces. Add the coconut oil to a large frying pan and place over medium heat. Fry the pears for 5 minutes on each side. Halfway through, add the vanilla bean paste and a squeeze of lemon juice, and move on to the porridge.
Step 2
Place the oats, ground cardamom, water and milk in a large pan over a low heat. Bring to a simmer for 10 minutes, stirring continuously. This slow and low heat method will give you the creamiest porridge.
Step 3
Ladle the porridge into bowls, top with pears, pecans, a little lemon zest and a large dollop of smooth almond butter.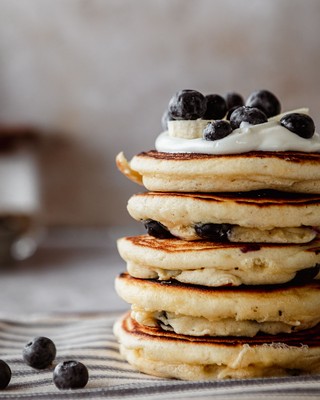 Sugar-Free Vegan Blueberry Pancakes: Karen Koramshai
Pancakes are the perfect weekend treat and you can enjoy these guilt-free. Naturally low in sugar – with just a small amount of coconut sugar, which naturally has a lower GI – and packed with antioxidant-rich blueberries, serve with a scoop of protein-packed Greek yoghurt and an additional handful of blueberries.
Serves
Makes 6 large pancakes, or 12 small ones
Ingredients
1

cup gluten-free flour (containing xanthan gum)
1

tbsp

of melted coconut oil
1

tbsp

of ground flax mixed in

3

tbsp

of water
2

handfuls of blueberries
Method
Step 1
Mix the flour, baking powder, salt and sugar together in a bowl.

Step 2
In a separate bowl, whisk the almond milk, coconut oil and flax together. Pour the wet ingredients into the dry and gently mix until just combined.

Step 3
Gently stir in the blueberries and let the batter rest for 5 minutes.

Step 4
Heat some coconut oil in a large skillet on a medium heat. Pour a scoop of the batter into the pan, letting it cook for 2-3 minutes or until little bubbles start to form. Flip and cook for 1 minute on the other side. Repeat until all the pancakes are cooked.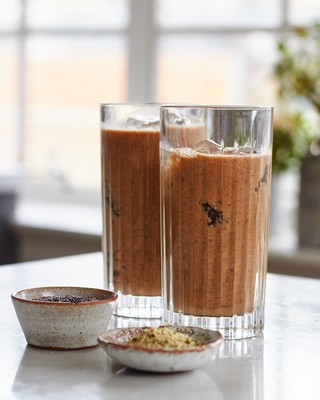 Banana and Coffee Cashew Shake: Deliciously Ella
A simple, speedy way to start your day in the most delicious way. Freezing the bananas makes the shake extra creamy, but don't worry if you don't have any pre-frozen ones, you can simply add ice instead. 
Method
Step 1
Place all the ingredients (apart from the ice) into a blender.
Step 2
Blend into a creamy smoothie. This should take 2 to 3 minutes.
Step 3
Pour into one or two glasses and add some ice cubes prior to serving.
DISCLAIMER: We endeavour to always credit the correct original source of every image we use. If you think a credit may be incorrect, please contact us at info@sheerluxe.com.