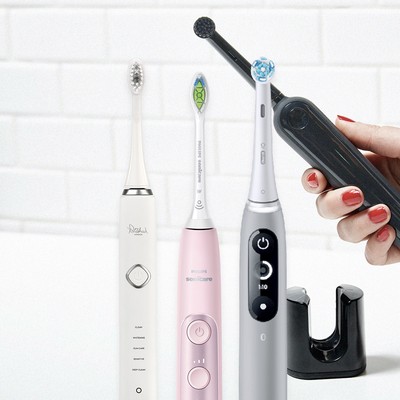 9 Of The Best Electric Toothbrushes – Chosen By Dentists

We all know we should be using an electric toothbrush – but there's a lot of choice out there, and some are bound to be better than others. We asked some leading dentists for the models they rate. Whether you have sensitive teeth or are looking for a whiter smile, these are their top picks…

All products on this page have been selected by our editorial team, however we may make commission on some products.
Here, the experts share their tips for getting the most out of your electric toothbrush…
Don't Overbrush: "The most common mistake people make with an electric brush is pressing too hard on the teeth and gums. Remember, electric toothbrushes are designed to do the work for you, so just holding it on each tooth surface for five seconds is enough. If you press too hard, you risk wearing away your enamel." – Simon
 
Don't Forget About The Gums: "When using an electric toothbrush, angle the brush slightly towards the gum so as to clean the important margin between gum and tooth. Hold the brush on one surface at a time and don't forget to clean the inside of your tongue, which is an area most people miss." – Simon 
 
Change Your Head Every Three Months: "Most brush heads are coloured – when the colour fades, it's time to change it. If you've had a cold, flu or Covid, change your head once you're better." – Uchenna
 
Have A Technique: "An electric toothbrush will do the work for you but it's still vital to brush for two minutes. Try dividing the mouth into quadrants and spending 30 seconds cleaning each. If you're unsure as to whether your method is effective, brush, then chew a disclosing tablet so you can see where the gaps are. I do this once a month." – Uchenna
 
Look For A Decent Battery Life: "A good battery life is essential, as one of the most common reasons people revert back to using a manual toothbrush is the battery life. Do your research and invest in a decent electric toothbrush with a battery life of around two weeks, ideally more." – Simon 
 
 
For more information, visit LondonSmiling.com, KilnLaneDental.co.uk, DrSimonChard.com, ChelseaDentalClinic.co.uk, BowLaneDental.com and DrBeenaHarkison.co.uk
Shop The Expert Approved Brushes Below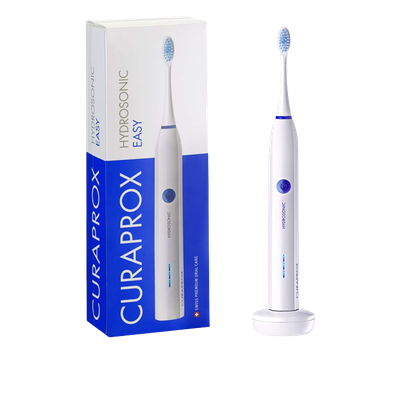 Curaprox Hydrosonic Easy Power Toothbrush, £99
BEST SONIC TOOTHBRUSH
"You may not have heard of Curaprox but it's a well-known brand in the dentist world. This easy-to-use model features a sensitive brush head but still cleans effectively, providing up to 84,000 gentle brush strokes every minute. It also boasts more than 60 minutes of brushing from a single charge." – Dr Beena Harkison, dentist at the Courtyard Clinic Available at Curaprox.co.uk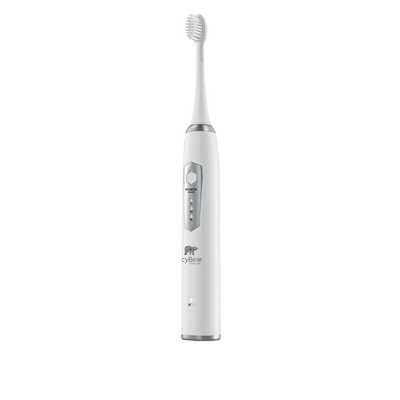 Icy Bear Sonic Whitening Toothbrush, £59.99
BEST FOR: SENSITIVE TEETH
"This sonic toothbrush provides a powerful, dynamic cleaning action that keeps teeth and gums healthy by removing plaque and stains, but is gentle at the same time. With a two-minute brushing timer with 30-second intervals and three brushing modes, this toothbrush makes light work of cleaning and whitening." – Dr Hanna Kinsella, founder of Kiln Lane Dental Available at IcyBearDental.com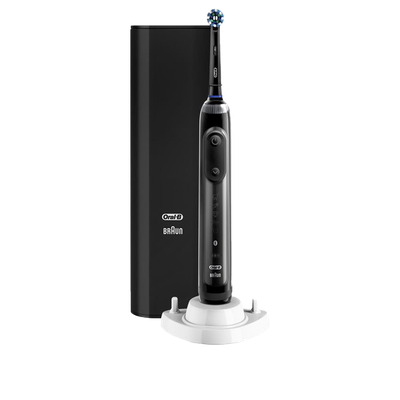 Oral-B Genius, £110
BEST AFFORDABLE OPTION"You don't need to spend a fortune on an electric toothbrush, and I often recommend the Oral B Genius to my clients. When buying a toothbrush, it's important to look for one that has brushes that rotate and oscillate (and ideally one that combines the two in one) as well as a pressure sensor that can tell you if you're brushing too hard. It also has a helpful brushing timer and soft grip handles to make brushing more comfortable." – Dr Uchenna Okoye, cosmetic dentist at London Smiling Available Boots.com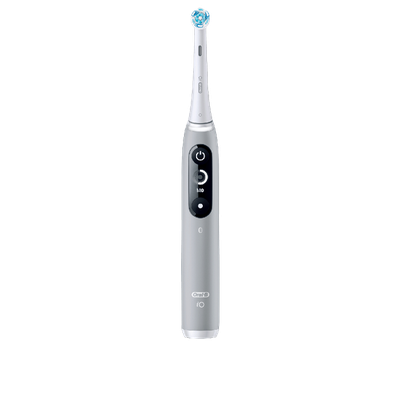 Oral-B iO6, £110
BEST FOR A PROFESSIONAL CLEAN
"This toothbrush gives you the option to switch between five different modes – daily clean, sensitive, whiten, gum care and intense – making it a versatile way to improve oral health. It also provides instant feedback as you brush – you'll see a happy face when you've brushed at the right pressure for a whole two minutes, and a sad face if you cut your brush short." – Dr Simon Chard, cosmetic dentist & co-founder of Pärla Available at Boots.com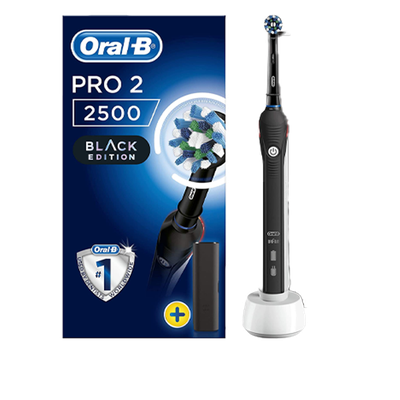 Oral-B Pro 2 2500, £30
BEST ECO OPTION
"This brush has a small head to better reach the back teeth, a pressure sensor and it's only £30. The replaceable heads are also cost-effective but if you're trying to cut back on single-use plastic, you can also use non-Oral B heads which are made from recycled plastic." – Hames Goolnik, dentist at Bow Lane Dental Group Available at Boots.com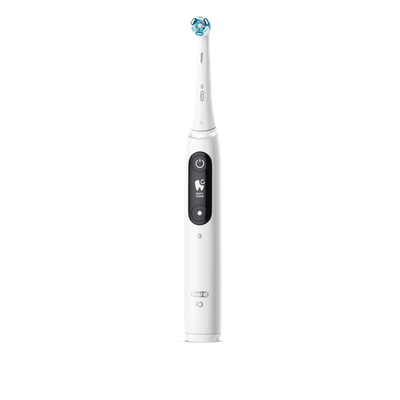 Oral-B iO7, £130
BEST HIGH-TECH OPTION
"Over 82% of people who used this toothbrush experienced a noticeable improvement in their oral health, making it one to try. It also connects to an app, which enables you to monitor how well you're covering the six zones of your mouth in real time." – Rhona  Available at Boots.com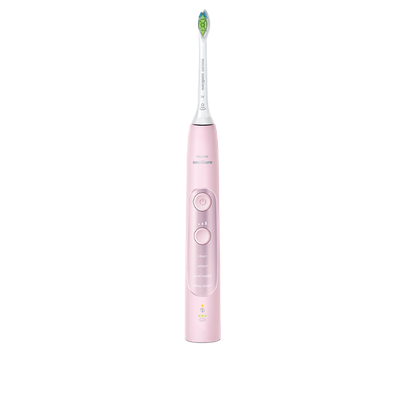 Philips Sonicare, £95
BEST FOR: WHITENING
"Sonic technology is a win-win as it feels gentle on the gums but also gets the job done. This toothbrush has different modes, meaning it can be tailored to your needs – think gum care, whitening and stain removal. It also lets you know when you're pressing too hard and when it's time to replace the head." – Dr Rhona Eskander, founder of the Chelsea Dental Clinic  Available at Boots,com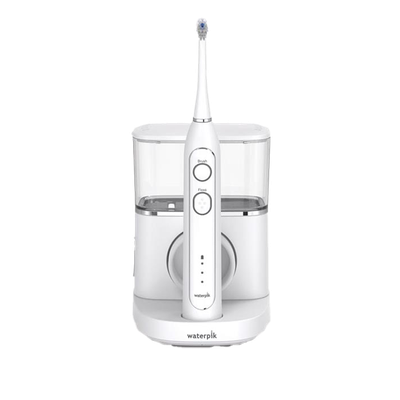 Waterpik Sonic-Fusion, $169.99
BEST FOR: VENEERS
"The world's first flossing toothbrush, this luxe option is two times more effective for removing plaque than regular brushing and flossing. Without switching products, you can brush and water floss at the press of a button. It's a great option if you have veneers, crowns or bridges and boasts ten water pressure settings." – Rhona  Available at Waterpik.com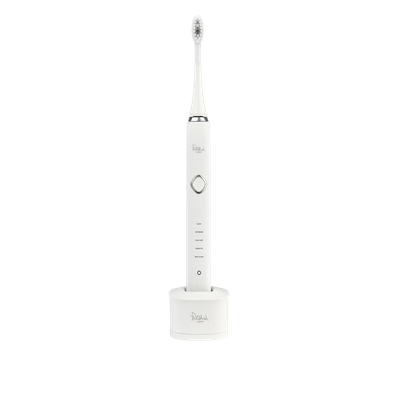 Sonic XP Electric Toothbrush, £79.99
BEST FOR: STUBBORN STAINS
 "The XP is the perfect blend of design and technology. It delivers an impressive 40,000 brush strokes per minute, and each brush head is fitted with high-tech bristles with a clever wave surface design to fit the contours of the teeth and gums and remove stains." – Debbie Sleeman, founder of Polished London Available at PolishedLondon.com
DISCLAIMER: Features published by SheerLuxe are not intended to treat, diagnose, cure or prevent any disease. Always seek the advice of your GP or another qualified healthcare provider for any questions you have regarding a medical condition, and before undertaking any diet, exercise or other health-related programme.
DISCLAIMER: We endeavour to always credit the correct original source of every image we use. If you think a credit may be incorrect, please contact us at info@sheerluxe.com.