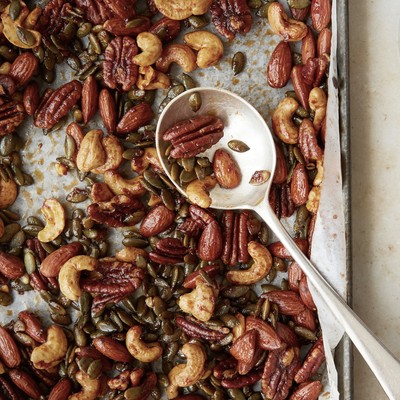 9 Healthy Festive Treats To Make At Home

In case you're someone with a bit of sweet tooth, here five women in the wellness world share their favourite healthy sweet treats.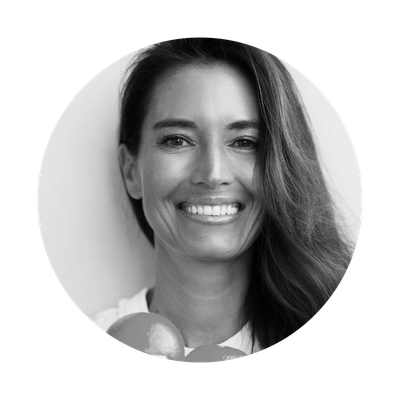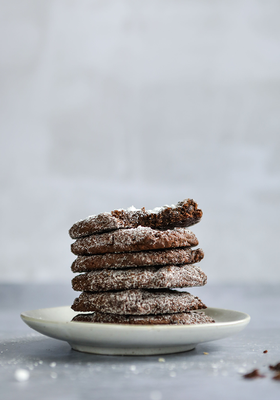 Vegan Mocha Cookies
"Who doesn't love a chocolate cookie? These are squishy and surprising healthy. Serve them with a mug of plant-based hot chocolate."
Ingredients
120g

of mashed ripe banana
50g

of bicarbonate of soda
50g

of instant coffee granules
150g

of dark chocolate chips
Caster sugar & ground coffee (to dust the cookies)
Method
Step 1
Preheat the oven to 165°C (fan).

Step 2
In a large mixing bowl, cream together the sugars, banana, vegan butter and treacle until light and fluffy. This is best done with an electric hand whisk.
Step 3
Stir in the flour, bicarb and cocoa powder. Then fold in the coffee and chocolate chips.

Step 4
Divide the mixture into balls roughly the size of a table tennis ball and space out evenly on parchment-lined baking trays, leaving a little space between them.

Step 5
Bake for 12-15 minutes and remove from the oven. When cold, mix together the extra sugar and coffee and dust over the cookies before serving.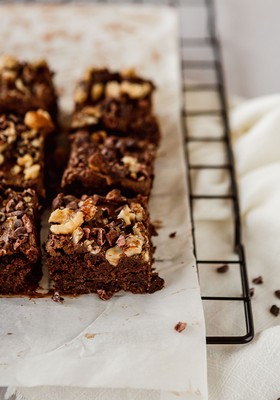 Black Bean Brownies with Avocado Chocolate Frosting
"Quick and easy to make, this a great recipe to have on hand for last-minute guests. They taste so luxurious that no-one will ever know they're full of goodness."
Ingredients
1

x

400g

tin of black beans, rinsed and drained
100g

of chocolate chips (minimum

70

% cocoa solids)
75g

of dark chocolate chips
Method
Step 1
Preheat the oven to 180°C (fan).

Step 2
In a blender, blitz the black beans with the eggs, vanilla and avocado oil.

Step 3
In a separate bowl, combine the cacao, baking powder, sugar and salt. Add the bean mixture and fold in gently – don't overmix.

Step 4
Fold in the chocolate chips. Pour the batter into a parchment lined 20cm x 20cm tin and bake for 23 minutes. Allow to cool.

Step 5
For the frosting, melt the chocolate in a heatproof bowl over a pan of simmering water. Add the avocado and maple syrup to a food processor followed by the cooled chocolate.

Step 6
Blend until smooth and spread on top of the brownie. Garnish with walnuts and cocoa nibs.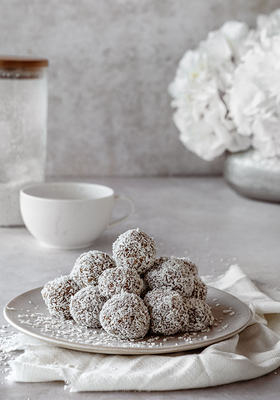 Peanut Butter & Coconut Protein Balls
"Rich and satisfying, these protein balls are vegan and free from refined sugars and gluten. At Christmas, you can make them slightly smaller and serve them in place of chocolate truffles with after-dinner coffee."
Ingredients
1

tbsp

of milled flaxseed
1

tbsp

of milled chia seeds
Method
Step 1
Place all the ingredients into a food processor and pulse until well mixed and combined.

Step 2
Roll the mixture into balls approximately the size of walnuts.

Step 3
As you roll, squeeze the mixture firmly to compact. Roll in shredded coconut for a festive feel, if you want.

Step 4
Place into an airtight container and store in the fridge.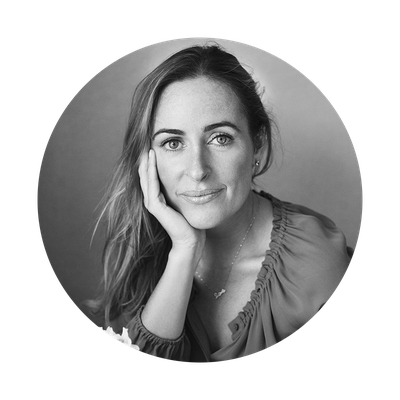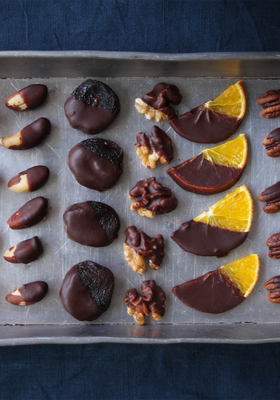 Raw Chocolate Fruit & Nuts
"There's something quite childlike about dipping nuts and fruit into melted chocolate. You could also try dipping mint leaves into the chocolate – they're like a healthy version of an After Eight."
Ingredients
200g

of raw, dark chocolate (I like Ombar)
A selection of dried fruit – figs, apricots, pitted prunes, candied orange
A selection of nuts – Brazil nuts, pecans and walnuts work well
Method
Step 1
Break the chocolate into pieces and melt in a bowl over a barely simmering saucepan of water.
Step 2
Get creative and add peppermint, or orange oil, or sea salt, or orange zest, or chia seeds.

Step 3
Gently dip your dried fruit and nuts into the melted mixture, then lay them carefully on a tray and set in the fridge.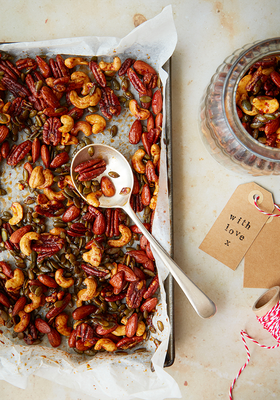 Christmas Spiced Nuts
"These are a lovely and quick snack to serve with a glass of ice-cold fizz. They would also make a sweet present, perhaps packed into a small jar and wrapped up with a festive ribbon."
Ingredients
100g

of pecans (or substitute all of the above for

400g

mixed nuts)
Method
Step 1
Preheat the oven to 160°C (fan). Mix all the ingredients in a bowl until the nuts are well coated.

Step 2
Scatter the nuts onto a large, lined baking sheet.

Step 3
Roast for seven minutes, and then mix, before roasting for a further 7 minutes.

Step 4
Remove, add a good grind of black pepper and allow to cool completely before storing in an air-tight container.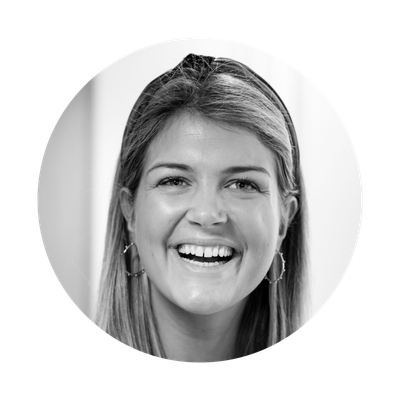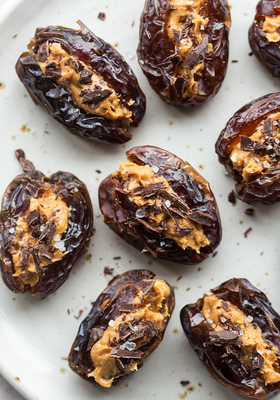 Nut Butter Stuffed Dates
"Full of healthy fats and natural sugars, these stuffed dates are the perfect festive sweet treat. They can also be stored in the freezer for up to a month in an airtight container."
Serves
10 Minutes (Plus 1 Hour For Freezing)
Ingredients
¼

cup of nut butter – I like Manilife Peanut Butter
¼

cup of toasted coconut chips (optional)
Method
Step 1
Slice each date lengthways to remove the pip, but don't go all the way through.

Step 2
Stuff with one teaspoon of nut butter and arrange on a lined baking sheet.

Step 3
Microwave your vegan chocolate chips for 30-60 seconds until they have a smooth, runny consistency.

Step 4
Drizzle this over the dates, then sprinkle with the coconut chips and seal salt.

Step 5
If you have time, freeze for an hour before serving.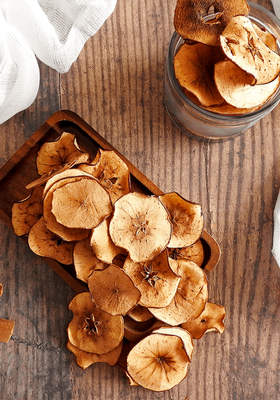 Spiced Apple Crisps
"This healthy baked snack has only three ingredients – just remember to have a handful of these instead of reaching for the tub of chocolates to satisfy a craving."
Method
Step 1
Preheat your oven to 160°C (fan). Core your apples and using a sharp knife or mandolin, finely slice through the middle. You want the slices to be around 2mm thick.
Step 2
Dust with cinnamon and nutmeg and lay flat on parchment paper. Bake in the oven for 45 minutes to an hour – keep checking and remove any that have turned brown. You may also want to turn them halfway through cooking.

Step 3
Make sure they are cool before storing in an airtight container.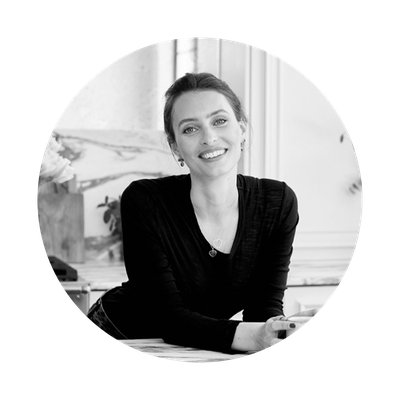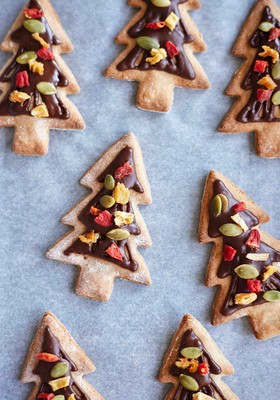 Christmas Tree Cookies
"This is a simple gingerbread cookie recipe that comes together in no time. Decorating these little trees is also a fun, festive activity for the whole family to enjoy."
Method
Step 1
Preheat the oven to 160°C (fan).

Step 2
Place all the ingredients for the cookies into a food processor and mix until combined.

Step 3
Tip out onto a clean work surface, knead gently with your hands and form a disc. Wrap it in clingfilm and allow to rest for 20 minutes.

Step 4
Lightly dust a clean work surface with flour and roll out the dough until it's the thickness of a £1 coin. Cut out the cookies and place on a parchment-lined baking tray. Bake in the oven for 10-12 minutes, by which time the cookies should have darkened slightly around the edges. Remove from the oven and cool on a wire rack.

Step 5
When the cookies have nearly cooled melt the chocolate in a small saucepan over low heat. Stir frequently as it can easily burn. When it has melted use a rubber spatula to scrape it into a piping bag.
Step 6
Cut a small hole in the tip of the piping bag and pipe over your cookies. Stick the pumpkin seeds, dried pineapple and goji berries on and allow to set before eating.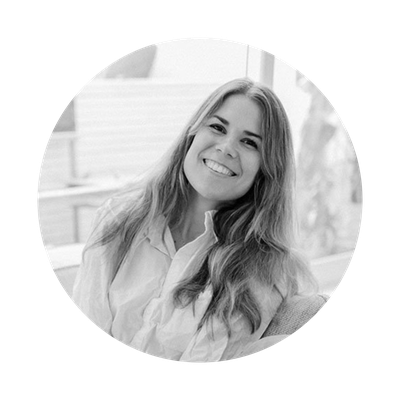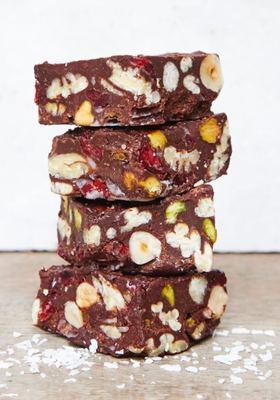 Healthy Christmas Rocky Road
"These are a deliciously nutritious alternative to a standard rocky road, and are made with antioxidant-rich raw cacao. They're so delicious you won't know the difference – serve some slices as a pudding, snack or with a cup of coffee."
Ingredients
120g

of Medjool dates, stones removed
200ml

of coconut milk, melted
Method
Step 1
Toast the nuts in a pan for four minutes until golden then leave to cool.

Step 2
Blend the dates, coconut oil, milk and cacao together in a blender. Mix with the cooled and toasted nuts and dried cranberries.

Step 3
Place in the fridge to set for at least two hours. Slice into bars and serve.

Visit MadeleineShaw.com
 
 
DISCLAIMER: Features published by SheerLuxe are not intended to treat, diagnose, cure or prevent any disease. Always seek the advice of your GP or another qualified healthcare provider for any questions you have regarding a medical condition, and before undertaking any diet, exercise or other health-related programme.
DISCLAIMER: We endeavour to always credit the correct original source of every image we use. If you think a credit may be incorrect, please contact us at info@sheerluxe.com.