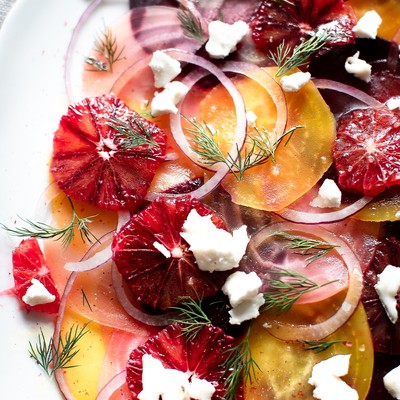 9 Ways With Beetroot

Healthy, versatile and loaded with nutrients, it seems beetroot is the vegetable du jour. From flatbread pizzas to brownies – and with a mezcal cocktail thrown in for good measure – here are nine simple recipes for making beets taste great.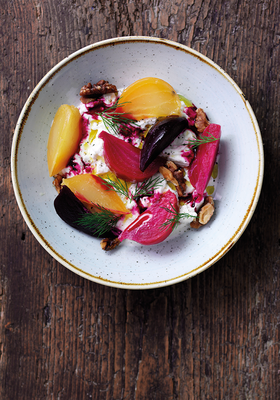 Stracciatella, Pickled Beetroot & Walnuts: Jun Tanaka, The Ninth
Ingredients
320g

of stracciatella cheese
For candy & yellow beetroot marinade:

100ml

of white wine vinegar
For red beetroot marinade:

100ml

of red wine vinegar
Method
Step 1
Steam the beetroot for 2 hours or until cooked. To check, insert a knife into the beetroot and it should slide in easily. When they're ready, take out of the steamer, place in a bowl, cover with cling film and leave to cool.
Step 2
To make the marinades, mix the ingredients in two separate bowls.
Step 3
Peel the beetroot with a knife. Cut into segments, and place in the marinades and season.
Step 4
To serve, spoon the stracciatella into a bowl, season, drizzle over some olive oil, top with 2 pieces of each beetroot and toasted walnuts. Serve immediately.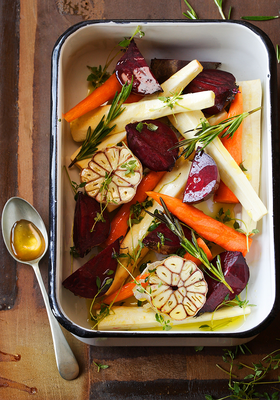 Marmalade Roast Vegetables: Bonne Maman
Ingredients
5

beetroot, cut into small wedges
5

carrots, peeled & cut into batons
5

parsnips, peeled & cut into batons
1

whole bulb of garlic, unpeeled but cut in half
2

sprigs of rosemary, leaves only
4

tbsp

of lemon marmalade
Method
Step 1
Preheat the oven to 180°C/350°F/Gas Mark 4.
Step 2
Place the prepared vegetables, garlic bulb and herbs in a roasting tray. Drizzle with the olive oil and roast in the preheated oven for 30 minutes.
Step 3
Remove from the oven, spoon over the marmalade and honey, mix well with two spoons, then season well with salt and pepper.
Step 4
Put back in the oven for another 10 minutes, then squeeze out the soft garlic, discard the shell, and stir to coat. Serve immediately with any roast meats.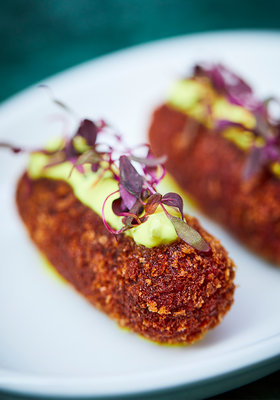 Beetroot Croquettes: Gunpowder
Ingredients
500g

of boiled potato, grated
15g

of green chilli, chopped
½

tsp

of coriander powder
100g

of coriander, chopped
400g

of panko breadcrumbs (to roll the croquettes)
400g

of plain flour (to make slurry for rolling the croquettes)
Sunflower oil (for deep frying)
Method
Step 1
Take a heavy-bottom non-stick pan, add the olive oil. When the oil is hot, reduce the heat and add cumin seeds. Once you can see cumin seeds starting to pop, add the chopped ginger and green chilli. Cook, stirring, for a minute.
Step 2
Add the grated beetroot and cook for 15-20 minutes until the beetroot is cooked and has released its juice completely. Stir through all the powdered spices. Add the salt to taste then keep cooking for 5-6 minutes. Switch off the heat. Let the mixture cool down. (Note: If you think your beetroot mixture has more moisture, cook for a longer duration.)

Step 3
Once the beetroot mixture is cold, add in the grated potatoes, chopped coriander and cornflour. Mix together to make one even mixture.

Step 4
Make 50g small balls with the mixture. The shape is your choice – we like cylindrical.

Step 5
Make a slurry by mixing water and plain flour. Dip the beetroot croquettes in the batter and roll them in the breadcrumbs.
Step 6
Repeat the process, so the croquettes get coated twice with breadcrumbs.
Step 7
Deep fry the balls and drain on a kitchen paper roll.
Step 8
Serve hot with kasundi mustard and yogurt dip or coriander and mint chutney.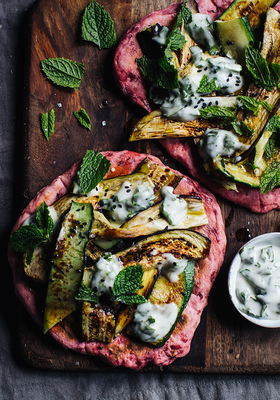 Beetroot Flatbread Pizzas with Griddled Aubergine & Courgette: Niki Webster, Rebel Recipes
Ingredients
For the dough:

1

beetroot, cooked & grated
250g

of organic flour, white or wholemeal
For the veg:

1

aubergine, sliced lengthwise
1

courgette, sliced lengthwise
For the coconut mint dip:

1

tbsp

of extra virgin olive oil
4

tbsp

of fresh mint, chopped
Method
Step 1
To make the flatbreads, add the flour and salt to a large bowl. Mix well.
Step 2
Mix the yeast, sugar, olive oil with the lukewarm water and leave for a minute or so.
Step 3
Create a hole in the middle of the flour and gradually add the liquid until you have a dough.

Step 4
Tip the dough onto a floured chopping board. Knead for a few minutes until the dough is springy. Now add in the grated beetroot, kneading to incorporate.

Step 5
Transfer back to the bowl and cover with a damp cloth for about an hour. The dough should have doubled in size.

Step 6
Transfer back onto the floured chopping board and knead again to knock back.
Step 7
To griddle the veg, add the courgettes and aubergine to a large griddle pan with a little oil. Turn frequently until cooked through and slightly charred.

Step 8
To make the coconut mint dip, add all the ingredients to a jar and mix to combine – add a little water to loosen if desired.
Step 9
To cook the flatbreads, heat a large griddle pan or frying pan to medium.

Step 10
Divide the dough into four then roll out the first flatbread. Pop it on the griddle pan and allow to cook and char a little on that side then flip to cook to on the other side.

Step 11
Repeat for all four flatbreads, keeping them warm on a plate covered with a clean cloth.

Step 12
To serve, top the flatbreads with the griddled veg and dip.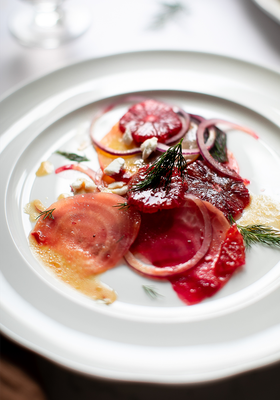 Beetroot Carpaccio With Orange Balsamic Vinaigrette: Sarah Hemsley for Robert Welch
Ingredients
For the carpaccio:

3

-4

fresh whole beetroot (ideally a selection of varieties & colours
100g

of soft goats' cheese (or similar)
1

small handful of fresh dill
For the vinaigrette:

1

tbsp

of balsamic vinegar
2

tbsp

of freshly squeezed orange juice
Method
Step 1
Bring a large pan of salted water to the boil. Scrub the beetroot and, leaving the skin on, place each one carefully into the boiling water. Allow to boil for 30 minutes.
Step 2
Meanwhile, peel the skin away from the onion. Using a mandolin or a sharp knife, thinly slice the red onion, keeping it whole while you slice so the onion slices create rings. Put to one side.
Step 3
With a sharp paring knife, cut the peel away from the oranges, trying to cut away as much of the bitter white pith as possible while keeping the orange whole. Slice into discs. Put to one side with the onion.
Step 4
When the beetroot has cooked, carefully remove from the water with a slotted spoon.
Step 5
Allow to cool slightly until it is easy to touch. Using your fingers or a paper towel, gently rub away the skins. If the skin is a little tough to remove, cut it away with a paring knife.
Step 6
Cut away and discard the ends and then cut paper-thin slices/discs of beetroot. You can use a mandolin or a very sharp knife for this – just try to get the slices as thin as possible.

Step 7
If using a variety of colours, try to keep the lighter beetroot away from the deep purple ones which will spill their colour onto anything they touch, so keep them in a separate container until ready to assemble the carpaccio.
Step 8
Make the vinaigrette. In a jam jar, lidded container or bottle, mix all the ingredients together by shaking briskly until all combined.
Step 9
Plate up the carpaccio by first layering the beetroot and onion on a dish or platter. Add the orange slices and scatter fronds of fresh dill. Tear small pieces of goats' cheese and dot among the beetroot, orange and onion. Drizzle over the vinaigrette and add seasoning to taste.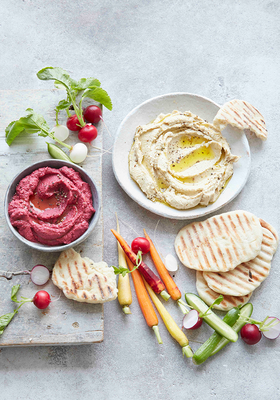 Beetroot Hummus: Justine Murphy, MyMuyBueno
Ingredients
200g

of cooked beetroot, drained & chopped
400g

of tinned chickpeas, drained & rinsed
1

clove of garlic, peeled
1

pinch of flaked sea salt
Method
Step 1
Preheat your oven to 180°C.
Step 2
Place your garlic on a tray or inside some foil and roast for 10 minutes.
Step 3
Place the beetroot, chickpeas, tahini, roasted garlic, lemon juice, olive oil, cumin, salt and pepper in a food processor then blend until smooth.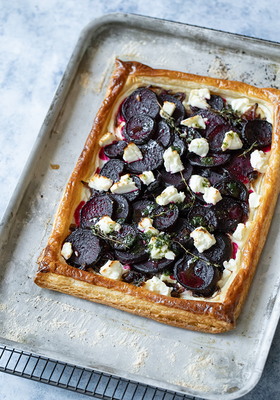 Beetroot & Caramelised Onion Tart With Feta: Lucy Mackenzie, Lucy's Dressings
Ingredients
250g

packet of cooked beetroot, cut into

3mm

slices
2

red onions, cut into

5mm

slices
10g

of oregano leaves, chopped
2

tbsp

of balsamic vinegar
1

packet of ready-rolled all-butter puff pastry
Lucy's Green Pesto Dressing
Method
Step 1
Heat the butter and olive oil in a medium pan. Add the onions and cook for about 10 minutes until softened and golden. Add the balsamic vinegar and cook for another minute or until most of the liquid has evaporated. Stir in the oregano and allow to cool.
Step 2
Put the pastry on a lightly floured baking sheet. Create a border all the way around by lightly running a knife 2cm from the edge. Prick inside of the border with a fork.
Step 3
Spread the ricotta over the pastry (inside the border). Top with half the feta and then the onions. Arrange the beetroot slices on top and crumble over the remaining feta. Brush the border of the pastry with the beaten egg and then chill the tart for 30 minutes.

Step 4
Preheat the oven to 200°C (180°C fan).
Step 5
Place the tart in the oven and bake for 30-35 minutes until golden and cooked through.

Step 6
Place on a board and drizzle over the pesto dressing. Serve.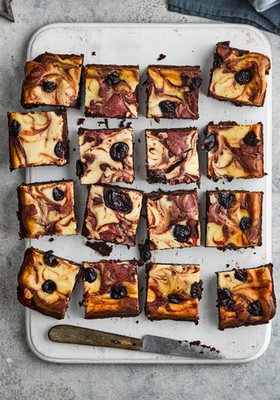 Black Forest Beetroot Brownies: Love Beets
Ingredients
For the brownies:

280g

of Love Beets Cooked Beetroot (1 pack)
200g

of dark chocolate, broken
130g

of soft dark brown sugar
100g

of white chocolate, roughly chopped
For the cheesecake topping:

25

kirsch-soaked cherries, drained (or you can use fresh, pitted cherries)
Method
Step 1
Preheat the oven to 160°C fan, gas mark 3. Line a 22cm square tin with baking parchment.
Step 2
Put the beetroot into a high-speed blender and blitz until smooth.
Step 3
Add the butter and dark chocolate to a heatproof bowl and set over a pan of lightly simmering water to melt, stirring occasionally. Set aside once melted.
Step 4
Add the caster sugar, soft dark brown sugar and eggs to a bowl and beat with an electric whisk for five minutes, until pale and thick.
Step 5
Using a large metal spoon carefully fold in the blitzed beetroot puree and melted chocolate then the flour and white chocolate chunks, until just combined, be careful not to over mix. Pour into the prepared tin and set aside while you make the cheesecake mixture.

Step 6
Melt the remaining white chocolate in a heatproof bowl set over a pan of barely simmering water then set aside to cool for five minutes.
Step 7
Beat the cream cheese until smooth then beat in the egg, sour cream and finally the white chocolate, until combined.

Step 8
Spoon over the cheesecake mixture, swirl through with a skewer to create a marble effect and scatter over the cherries. Bake for 35-40 minutes, until just set with the slightest wobble in the centre. Cool completely before cutting into squares.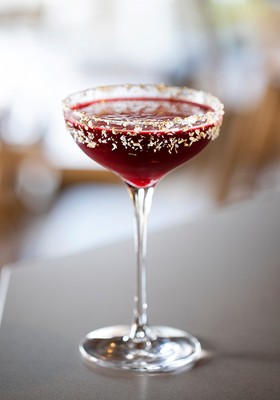 Beetarita Cocktail: Pip Lacey & Gordy Mcintyre, Hicce
Ingredients
30ml

of mezcal (we use Mezcal Verde)
15ml

of cherry liqueur (we use Heering)
For a 700ml batch of beetroot juice:

4

whole beetroot, washed & peeled
2

celery sticks, washed & ends off
Method
Step 1
For the beetroot juice, combine the two ingredients and juice.
Step 2
For the cocktail, pre-ice a coupe glass.
Step 3
When it's ready, use a saucer to rim the glass with lime or fennel salt.
Step 4
Fill a Boston shaker with cubed ice and all of the ingredients. Shake hard.
Step 5
Double strain into the iced coupe glass.
DISCLAIMER: We endeavour to always credit the correct original source of every image we use. If you think a credit may be incorrect, please contact us at info@sheerluxe.com.