Bettina's Kitchen Recipes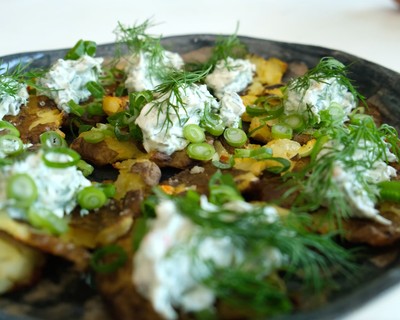 Crushed Crisped New Potatoes With Sour Cream And Dill
I am a huge potato fan, and these little nuggets of goodness are one of my favourite ways of eating them. So crispy and dolloped with a salty fresh sour cream and dill and chive topping, this is a marriage made in heaven.
Ingredients
Toppings

200g

Of Plant Yoghurt Or Sour Cream
1

Tablespoon Of Chopped Chives
2

Tablespoons Of Chopped Cornichons
1

Teaspoon Of Dijon Mustard
1

Tablespoon Of Chopped Red Or Green Chillies
To Serve

2

Spring Onions (Finely sliced)
Method
Step 1
Preheat the oven to 180°C (350°F/gas 4).
Step 2
Cook the new potatoes in a large saucepan of boiling water for 15–20 minutes, until soft, then drain well and allow to cool a little.
Step 3
Line a large baking tray with baking parchment and drizzle with a thin layer of olive oil. Add the cooked potatoes and use the palm of your hand to cover and gently smash each one down so they stay intact but split slightly – they should be pretty flat so the surface will crisp up really nicely.
Step 4
Baste the potatoes with 2–3 tablespoons of olive oil and a generous sprinkling of salt & pepper. Roast in the oven for 20–30 minutes, or until nice and crispy.
Step 5
While the potatoes are roasting, mix all the ingredients for the topping in a bowl and set aside.
Step 6
Once the potatoes are ready, remove from the oven and arrange on a serving platter. Add dollops of topping over the potatoes and sprinkle with the spring onions and dill fronds. These potatoes are fantastic served as canapés or as part of a pick-n-mix dinner.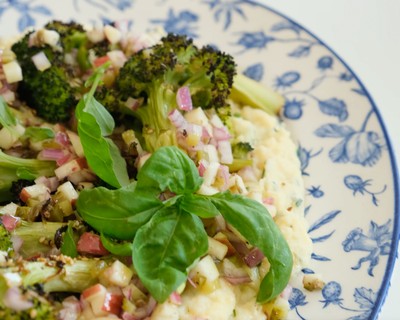 Roasted Broccoli With Cheesy Polenta & Chives
Cauliflower has had its moment in the limelight in my book, so now I think it's broccoli's turn to shine. Poached whole with a zingy dressing over creamy polenta, this dish will impress both your eyes and taste buds.
Ingredients
4

Tablespoons Tamari Or Soy Sauce
2

CM Piece Of Ginger Root (Grated)
2

Tablespoons Of Olive Oil
2

Tablespoons Of Sesame Seeds
For The Polenta

(1 oz) chives, finely snipped
1

tablespoon nutritional yeast
salt and pepper, to taste
Method
Step 1
Preheat the oven to 180°C (350°F/gas 4). Line a large baking tray (pan) with baking parchment.
Step 2
Prepare the broccoli by chopping 1 cm (1⁄2 in) from the base of the stem and peeling the rest of the stem. Keep the stem and broccoli head intact. Cut each broccoli head in half through the top and down the stem.
Step 3
Bring a large saucepan of water to the boil and add the tamari/soy sauce and ginger.
Step 4
Once boiled, add the four broccoli halves to the pan, blanch for 5 minutes (be careful not to overcook) and then drain.
Step 5
Lay each broccoli half, flat side down, in the baking tray. Baste with the olive oil and sprinkle with the sesame seeds. Cook in the oven for 10–15 minutes, or until golden brown.
Step 6
While the broccoli is cooking, mix all the dressing ingredients together in a bowl until well combined. Set aside.
Step 7
For the polenta, bring a saucepan of water (960 ml/32 fl oz/33⁄4 cups) to the boil and add the polenta.
Step 8
Keep stirring until the mixture starts to thicken. Once thickened, remove from the heat, add the cream, chives, nutritional yeast, and salt and pepper, and mix well.
Step 9
Serve immediately by adding a big dollop of creamy polenta to each plate and placing half a broccoli head on top. Drizzle generously with the dressing.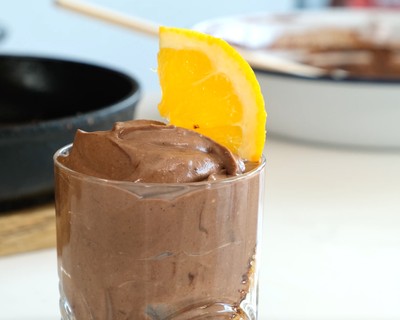 Chocolate Orange & Amaretto Mousse
Very few ingredients are needed to make this incredibly light and satisfying mousse. It has an added grown-up twist of Amaretto, which can easily be skipped for little ones.
Ingredients
320

ml (11 fl oz/11⁄3 cups) good-quality coconut cream or refrigerated full-fat tinned coconut milk
3

tablespoons runny peanut or almond butter
3

tablespoons cacao powder

2

–3 tablespoons maple syrup

2

tablespoons Amaretto
For The Caramelised Oranges

1

teaspoon of coconut oil
3

oranges, peeled and cut into slices
1

⁄2 vanilla pod (bean), split and the seeds scraped out, or

1

⁄2 teaspoon vanilla extract or paste
To Serve

Grated dark chocolate, with at least

70

% cocoa solids
4

slices of orange (optional)
Method
Step 1
Add the coconut cream and all the other ingredients to a bowl. Use an electric hand-held whisk to mix everything together until fluffy (be careful not to overblend).
Step 2
To make the caramelised oranges, heat the coconut oil in a small to medium saucepan and fry the orange slices before finishing off with the vanilla.
Step 3
To serve, add a couple of caramelised orange slices to the bottom of each serving glass and spoon in the mousse.
Step 4
Top with grated chocolate and an orange slice (if using).
Step 5
Refrigerate before serving or eat immediately.
DISCLAIMER: We endeavour to always credit the correct original source of every image we use. If you think a credit may be incorrect, please contact us at info@sheerluxe.com.