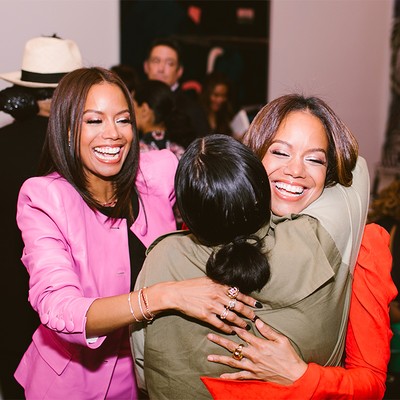 The Career-Driven Digital Membership You Need To Know

Three years ago, Debbie Wosskow OBE and Anna Jones founded AllBright. They opened their first club in Bloomsbury in 2018, followed by a site in Mayfair and a club in LA in 2019. With the physical spaces currently closed due to the pandemic, the team launched AllBright Digital last year, offering its members online content, training, events and networking opportunities. Ahead of International Women's Day – and the 24-hour summit AllBright is hosting – we spoke to the founders…

CREATED IN PARTNERSHIP WITH ALLBRIGHT
Launched by former Hearst magazines CEO Anna Jones and ex-CEO of home-sharing platform Love Home Swap Debbie Wosskow, AllBright started life as an enterprise with a mission to build a global sisterhood. Billed as "a members' club for working women", the collective attracts entrepreneurs, executives, creatives and consultants from all industries. In ordinary times, members have access to spaces, events, talks, exhibitions, debates and networking meet-ups, as well as the bar, restaurants and treatment rooms.
In April 2020, in response to the pandemic, a digital membership launched, allowing the club to bring a global network of smart-minded women together online. Combining digital-first resources and tools, AllBright supports women at all ages and stages of their careers through online training, events and networking opportunities, giving members the tools they need to achieve their goals and build confidence along the way. 
Here, co-founder Anna Jones tells us why AllBright was launched, and why the pandemic means we need to support one another more than ever…
Debbie and I met at a party back in 2015. As we sat and chatted, we realised we had a common passion for empowering women. We were both in senior leadership roles but despite being surrounded by talented and experienced women, the stats showed that only one in six leadership roles roles were held by females.
This frustrated us so we thought: how can we support ambitious women to thrive in their careers? That's when AllBright was born – we're a career network, giving smart-minded women a platform to connect, upskill and access the tools they need to achieve their career ambitions.
The AllBright clubs are for women at all ages and stages, from entrepreneurs to executives, freelancers to thought leaders. Our clubs stand for more than just a building or a members' club, they are a community that brings passionate women together to connect, create and collaborate. 
When we launched, there were men's clubs and different co-working spaces, but there wasn't a space where women could physically meet to work, dine and unwind. We wanted to create a space where women could connect and thrive, because when women come together, amazing things happen. Although men are always welcome as guests of our members, and we have some amazing men on our team, we wanted to provide a place where women could openly share ideas in a supportive, uplifting and inspiring environment. 
Last year, we launched our digital platform. We had always planned to launch the digital arm of our business so women could connect and upskill regardless of their location, but when the world went into lockdown and the clubs closed temporarily, we knew we needed to support our community as much as possible during this time. We moved the deadline to deliver the digital membership from eight months to eight weeks and launched it in May 2020. Since then, our online community has gone from strength to strength, with our digital platform offering daily live events, over 170 training courses, content and a members-only social feed for members to connect and collaborate online. 
We wanted to create a space where women could feel safe and inspired to thrive, because when women are brought together, they can do amazing things.
With the clubs temporarily closed, the digital arm to AllBright is very much a mirror of the clubs, but without the physical space. Community is at its centre. From the start of the first lockdown until the end of 2020, we hosted 337 virtual events with hundreds of thousands of attendees and we can't wait to host even more global events and networking opportunities this year. The AllBright Academy – our collection of online courses, has also taken off. Our most popular is 'Project You', which we launched during lockdown, and is designed to help women realise their professional ambitions.
Our latest initiative is called Sisterhood Matching. It's launched at a time when women feel more disconnected than ever due to the global pandemic. It is a tailored, algorithm-driven way to match you with women within the membership platform that share your goals, motivations and ambitions. With networking and traditional face-to-face meetings being far from normal currently, it's a way for women to still be able to connect with each other, share ideas and create networking opportunities.
Lockdown has been an incredibly difficult time for everyone, and women have been found to be harder hit than men. In fact, a recent report by UN Women said women's gender equality progress has been pushed back a generation as a result. In light of this, it's even more important women have a way to come together, connect, learn and thrive.
Connection is key and it's at the heart of everything we do. For both of us, sisterhood has been the fuel for our own careers and we've seen the magic that can happen when women come together. As women it's very easy to just go to work, get your head down and do a good job, but it's networking and connection that is the real driving force in career progression. If it wasn't for this, then Debbie and I wouldn't have met and we wouldn't be here today with AllBright. That's why we knew that AllBright needed to be a place where women could grow their networks in a safe and fun environment, both physically and virtually, because we've seen first-hand the value it can create.
Whether you're a freelancer, manager, creative or a mother trying to juggle work and childcare, there is a space for you within the AllBright universe. If you're looking to get engaged with a community of kickass, inspiring and supportive women and want to supercharge your career at the same time, then AllBright is for you.
With the clubs temporarily closed, the digital arm to AllBright is very much a mirror of the clubs, but without the physical space.
Keen to learn more? Digital membership at AllBright includes…
Over 170 courses from leading business experts, which give digital members access to a wide range of high-profile business leaders and coaches from around the world. Top courses include: 'How to nail difficult conversations as a manager', 'How to turn barriers into opportunities' and 'The non-linear career'.  
Daily digital events from global industry experts, as well as community led meet-ups. Events are also available to watch on-demand and include events such as 'Reinvent your career and be happy at work' with happiness consultant and author Samantha Clarke, 'The moments that made me' with Ruby Wax OBE and 'How Bala became a multi-million dollar brand in a year'.
Exclusive industry-specific networking groups such as Women in Finance, Women in Fashion and Women in Marketing, each designed to supercharge your connections in your industry field. 
Sisterhood Matching, an algorithm-driven recommendation tool for members to find and connect with like-minded women on shared goals, motivations and ambitions. 
Digital memberships are available at £14.99 a month or £99.99 for an annual membership – including a 14-day free trial. Sign up here.
How to get involved on International Women's Day…
This International Women's Day, AllBright is empowering women across the world to 'step forward and choose to challenge', with a 24-hour global sisterhood summit.
On 8th March, AllBright will host talks and panel events with 18 inspirational speakers including Fearne Cotton, Marie Forleo, Kenya Hunt and more, discussing everything from mental wellbeing and speaking up for yourself to being the change you want to see and ending systemic gender inequality. Find out more about the event here. 
To find out more about AllBright Digital membership – which gives you access to exclusive content, courses, events and the International Women's Day global summit for £14.99 monthly or £99.99 annually – sign up here.
For more information about the club, visit AllBrightCollective.com
DISCLAIMER: We endeavour to always credit the correct original source of every image we use. If you think a credit may be incorrect, please contact us at info@sheerluxe.com.