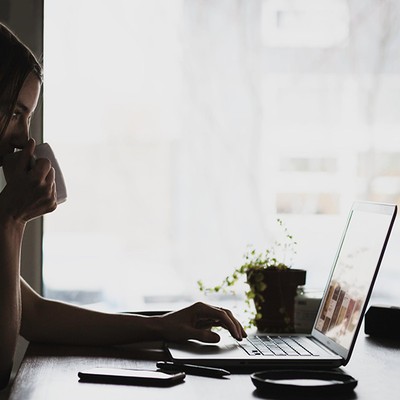 20 Online Courses To Learn New Skills

If you've found yourself on furlough during the coronavirus pandemic, it's important to look on the bright side – you're going to have more free time. To make the best of it, here are some of the top-rated online courses to improve your skills – either for business and for pleasure – none of which cost a penny.

TECHNOLOGY
Analytics For Beginners 
For those whose jobs now interact closely with the digital world (let's face it, that's a lot of us) understanding website traffic through analytics can be incredibly useful. This beginners programme from Google shows new users how to create an account, implement tracking code and set up data filters. You'll also learn how to navigate the Google Analytics interface and reports, and set up dashboards and shortcuts. Finally, the course will demonstrate how to analyse basic audience, acquisition and behaviour reports, and set up goals and campaign tracking. Split across four units and 17 individual lessons, consider this the full – and free – package. 
For more information click here
Successful Strategies To Grow And Optimise Your YouTube Channel 
When it comes to advances in digital media and publishing, few have been more successful than the launch of the professional YouTuber. The online video platform is big business these days, and this free online course teaches you how to build your brand and audience organically. Learn from real-life YouTube influencers and experts how to create engaging videos, how to get more views and subscribers, and – crucially – monetise your channel.
For more information click here
Video Production 101: How To Create Effective Videos for Your Business
We all know that technical skills count in the modern world, so what better time to brush up on something creative – but also highly covetable by employers. Across ten different videos, and easily completed in 45 minutes, this introduction to video production teaches you the essential skills to apply in business. Ideal for marketing executives and production assistants alike, this short and sharp starter lesson is easily digested.
For more information click here
Learn What Blogging Is And How To Do It
The precursor to the Instagram influencer, blogs are enjoying a resurgence in popularity again as people spend more time at home browsing content. Across five videos, 17 lessons and three short quizzes, you'll learn how to create a successful blog and keep the audience growing – all in under two hours. On completion, you'll have crafted a blogging strategy that drives business growth, learnt how to create quality content your audience loves to read and share, as well as understand how to use SEO to fuel your site going forward.
For more information click here
Learn To Code 
Seven years and 45m users later, there are few better places to learn to code online than with Code Academy. The basic package is free of charge, and still includes plenty of interactive lessons and practice exercises – 180 hours of content, to be precise. During the coronavirus pandemic, you can also try the 'pro' premium level free too, which is normally charged at £15.99 per month and includes access to 1,800 hours of content, peer support and step-by-step guidance. At either level, users can choose what they want to learn, whether it be creating their own website or analysing data. You'll also get instant feedback on any code you submit, with the chance to apply your learning with real-world projects and tailor-made quizzes.
For more information click here
BUSINESS & PROFESSIONAL
Practical Guide To Business Etiquette for Beginners
If you're new to the world of work, or have gone through a career change, it can be tricky to know what's expected when it comes to new office behaviour. This free course will teach you how to present your best self in a competitive job market, from choosing the right attire for interviews to creating impactful images on social media and promoting your own skills. Learn how to create an ideal first impression and communicate more effectively, too.
For more information click here
Conquering Your Fear Of Public Speaking 
Fear of public speaking is a common affliction, so what better time to brush up on your technique? This free course focuses on one key fundamental: how to handle the anxiety that comes over you when you approach the stage or stand in front of an audience. The good news is, for beginners or experienced speakers, there are effective tools and tricks you can use to manage this feeling – even at different points in the speaking experience.
For more information click here
Communication Skills: Persuasion and Motivation 
This online course focuses on the art of persuasion, teaching you motivation techniques which are bound to come in useful in multiple situations. You'll discover how persuasion impacts our daily lives and – importantly – how it differs from manipulation. With this course, you'll even delve into conditions like brainwashing and Stockholm syndrome, alongside a range of different motivation theories. Lasting between two and three hours, there's even an official certification up for grabs following successful completion.
For more information click here 
Ultimate Goal Setting And Achieving
Find yourself wasting time pursuing goals which never seem to turn into reality? This course teaches you how to be realistic and avoid the traps people commonly fall into when it comes to goal setting. It'll also show you how to handle tough times by managing negativity and staying inspired and motivated – especially important during the current climate. Based on real-life case studies from some of the world's most successful people, students can enjoy access to 13 high-quality video lectures, under five different sections, each of which comes with a follow-up exercise to ensure you're taking the information on board.
For more information click here
What Great Leaders Do
Led by Bob Sutton, a professor of management science at the Stanford University School of Engineering and a researcher in the field of evidence-based management, this course is designed to help you brush up on your leadership skills and settle team disagreements more efficiently. Through ten different modules and a follow-up assessment, students learn by example, following the habits of some of the world's most-renowned leaders. You'll also learn how to be a better listener, and when to admit defeat. 
For more information click here
LANGUAGES
Chinese In 9 Weeks: Introduction Course
By the end of this course, instructors promise you'll be able to have a basic conversation in Chinese, and even start reading and writing in this complex language. With more than 60,000 previous students, this new approach aims to speed up learning by focusing on the logical components of the language. For example, learn the word for electricity (电), then add brain (脑) and you get computer (electric-brain). By breaking down Chinese into a puzzle which needs to be solved, students can enjoy the first four lessons for free (in total, it only spans two hours of active learning time) before progressing to level one for more free content. 
For more information click here
Quick Italian For Travellers & Beginners
There's no need to have ever taken an Italian class before to enjoy this course. Designed for complete beginners, and split into two sections, nine lectures and nearly an hour of video content, this class is structured to explain and simplify Italian grammar, while sharing some of the most important culture notes which will prove beneficial once we can all travel again. Beginning with greetings, before moving on to nouns, adjectives and prepositions, consider this the ultimate foundation for further learning. 
For more information click here
Basic French Language Skills For Everyday Life
This free online course focuses on the most common French vocabulary and phrases used in everyday life. Whether you plan to travel in the future, or just want to get a grip on the basics, this free course will get you up to speed in no time through a series of engaging video sessions. Split into five different modules, followed by a final assessment, the course takes between six and ten hours to complete, and comes with a full certification at the end. 
For more information click here
Introduction To Spanish
This free course aims to give you a simple run-through of all the basics for learning Spanish – one of the most-widely spoken languages in the world. Learn how to count and use dates – essential for making purchases and reservations – as well as a helpful overview of pronunciation and the alphabet. Across six different lessons – ranging from introducing yourself to numbers and age – a final assessment will tell you how far you've come. Designed to be completed in less than two hours, it's a fast-track intro to the language. 
For more information click here
Fundamentals Of English Grammar
When it comes to languages, sometimes we could all do with brushing up on our native tongue – especially when it comes to grammar. A comprehensive review of the rules of English grammar, this course is ideal for those looking to improve their understanding of the English language and their writing skills, specifically. Refresh your memory with the correct use of commas, semi-colons and apostrophes, with nouns, verbs, prepositions and pronouns also covered in the course outline. Even if English isn't your first language, the level of the course is suitable for those with only a basic understanding, too. 
For more information click here
HEALTH & WELLBEING
Meditation For Wellbeing
Ever wondered what the 'object' of meditation is? Or what the difference is between thought, visual and sound meditation? Not only will this course fill you in, it will guide you through 19 different meditations over 14 days, starting with a three-minute session to get you started. Led by Sharon Key, a mindfulness meditation teacher who turned to the practice after recovering from cancer, students can also get in touch about one-to-one sessions once the course is complete.
For more information click here
Human Nutrition 
This comprehensive introduction to the role of nutrition in our growth and development comes at a time when diet-related illnesses such as obesity, type 2 diabetes and cardiovascular disease are soaring – and we face important choices in terms of food and nutrition on a daily basis. This course will help you make better choices that will ensure good health, with further insight into the role macro- and micronutrients play in our day-to-day wellbeing. Be warned this isn't for the light-hearted – this course takes up to 15 hours to complete, but comes with full certification at the end.
For more information click here
Caregiving For Ageing Parents
For many of us the health of our parents has been thrown into sharp relief by recent events. This free course takes you through several issues which crop up once your parents start to age, from legal and financial, all the way to practical tips like how to identify different mental and physical ailments. Across five sections and 22 lectures, it's possible to complete this short course in just over an hour (if done in a single sitting), giving you all the practical info to take care of elderly relatives and friends.
For more information click here
CREATIVE
Creative Watercolours For Beginners
Feeling like it might be time to hone a creative skill? Originally run as a six-week course in Suffolk, this introductory course to watercolour painting aims to give beginners the right techniques to improve their painting style. There are some basic equipment requirements (all of which are detailed in the course overview), with each module containing five two-hour lessons. Expect demonstration videos, written instructions and close-up photographs, as well as a full introduction to basic colour theory. 
For more information click here
Learn Guitar Quickly
If you've tried to learn guitar but lost the patience to sit through hours of YouTube tutorials to hone your technique, this is the online course for you. Designed to cut down on hours of chat and focus more on playing, it still covers all the basics, from how to hold the pick to different chord shortcuts. Beginners are completely welcome, with more than two-and-a-half hours of on-demand video content to peruse. Bonus lessons allow students to play along with backing tracks, and even learn some advanced strumming patterns. 
For more information click here
DISCLAIMER: We endeavour to always credit the correct original source of every image we use. If you think a credit may be incorrect, please contact us at info@sheerluxe.com.