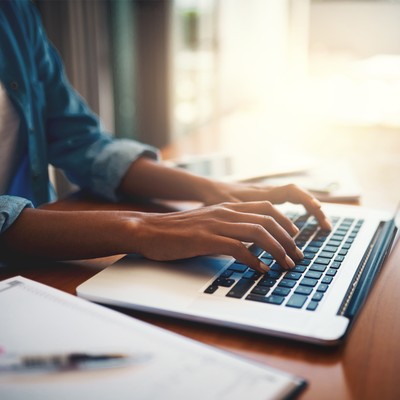 7 Expert-Approved Job-Hunting Tips To Know

If you've found yourself out of work as a result of the coronavirus crisis – you're not alone. Recent research suggests more than 2.6m people in the UK have been looking for a new job since March, and the number is set to rise. To help you kick-start your search, here's what the experts recommend…

Harness Your Online Network
With most of us still encouraged to stay at home as much as possible, it's harder to harness your network of ex-colleagues, former bosses and industry contacts. But that doesn't mean it's impossible. "Don't hesitate to reach out to former colleagues and bosses if you see openings at their companies," says Elana Lyn Gross from online employment advertiser Monster. "They're more likely to hire you because they know your skills and work ethic. Even if they aren't hiring, they can be references for your other applications. Since they're in the industry, they may hear of other jobs through their own network and they can recommend you." As for building a new set of relevant contacts, Elana says it's important to think digitally. "Ask them if they would be willing to do an email intro to people who work at the company or, even better, the hiring manager. Those email intros, or having people in your network send your CV and cover letter on your behalf, can get your application to the top of the pile." Finally keep your eye out for virtual hiring events. Not sure what you'll be getting yourself into? Read this. 
Practice A New Interview Technique
It might be worth using this extra time to brush up on your interview technique – especially as future interviews might adopt a slightly different format, whether it be on Skype or Zoom. "Now that many people are working remotely, job interviews are being done by phone and video," agrees Elana. "It can be more challenging to have a phone interview because it's harder to interpret someone's reaction and have a conversation that flows naturally. It can also be trickier to have a video interview because it can feel awkward to be on camera. You'll stand out better if you learn the ins-and-outs of phone and video job interviews ahead of time." Andrew Arkley from Purple CV agrees: "It's absolutely vital to practise, especially if you've never done a virtual interview before. Speaking into a laptop or phone can feel a little unnatural, so have a few test runs to get yourself used to it. Record yourself answering some potential interview questions and watch the video back to see how you come across. Next, ask a friend or family member to do a mock video interview with you and ask them for feedback. Also, prepare some prompts: write out some bullet points or make a visual aid to help you remember what you want to say. Finally, remember to look the part: you may not be meeting face-to-face, but that doesn't mean you shouldn't dress professionally."
Make The Most Of Transferable Skills
With competition already high, it's important to make the most of your experience to date and any skills you've acquired along the way, as well as applying for jobs which need to find someone fast. "First, prioritise jobs that have been posted most recently because that's a sign that the company has a current role that needs to be filled," adds Elana. "If a posting has been up for weeks, it may be less of a priority for the company right now. Be confident when you're reading job postings and remember that you can still get the job even if you don't meet all of the job qualifications. Use your CV and cover letter to show you have transferrable skills employers are seeking."
…And Learn Some New Ones
While it's more than possible to evaluate which skills you've already got, it's another to think about using this time to acquire some new ones. Now is the perfect time to work on bolstering your qualifications. To know what's worth the time and investment, scour job descriptions for the required skills and experience. Then, consider whether you have that exact skill, if you have the skill but haven't used it in a few years, or if you're lacking the skill entirely. Use that information to determine what you need to brush up on to make yourself an even better candidate when the job market picks up again.
Brush Up Your CV
Making the most of your skills is one thing, but it's another to make sure they stand out on your CV so employers notice you right away. "If you're job hunting during coronavirus, updating your CV is highly advised," says Andrew. "Now is the perfect time to give your resume a good spring clean – especially if you haven't done it in a while." Elana adds: "Spend more time on each cover letter and resume so your job application gets seen. It takes more time but it's necessary. When you apply for a job online, your application often goes into an Applicant Tracking System (ATS), software that reviews your resume to determine how well you'd fit the requirements of the job posting. The secret to getting past the ATS is written right in the job posting – keywords such as the job title, responsibilities and skills. Don't copy everything word for word, but make sure a majority of the most important aspects of the job are in your resume and cover letter." Finally, don't forget your LinkedIn profile. Read this for ways to make the most of yours. 
Take On Freelance Work
If you don't currently have a job, there's no reason not to apply for temp or freelance work to help you pay the bills. "It could lead to a full-time job," argues Elana. "It's also a great opportunity to gain some in-demand skills. If you're currently working from home, remember that employers are looking for people who are self-disciplined enough to work from home, have the excellent written and verbal communication skills necessary to communicate with colleagues and clients remotely, and are organised and efficient." Andrew adds: "A Google search will yield plenty of remote and freelance job boards – here's a list of some of the best to help you on your way. If you haven't considered remote work before, it's definitely worth looking into – there are all types and levels of jobs available, from HR managers to salespeople to virtual receptionists."
Keep In Touch & Stay Up To Date
"With so much uncertainty in the world right now, it can be overwhelming to try to conduct a job search," admits Elana. "Don't get discouraged. If you need help staying focused, sites like Monster will send you weekly email updates with the latest expert advice on how to find a job, write a resume, and prep for an interview. You can also upload your resume so recruiters and hiring managers can find you and get in touch as soon as a new position gets posted." In fact, there are a number of resources to help your job search, all of which are virtual, meaning you don't need to leave the safety of your home to access them. Indeed Live is a livestream hosted every Monday on the recruiter's Facebook Page providing topical information for people who are searching for a job during Covid-19. Past episodes have covered how to update your resume, how to spot fraudulent job postings, video interviewing tips and more. Meanwhile, Job Cast is designed to help job seekers explore a variety of topics, and includes access to free virtual workshops and webinars twice a month. Finally, if you haven't heard back from an interview – don't be shy about following up, just remember all company personnel – including HR – are likely still working from home, so be careful not to badger. 
Need to find a job fast? Register on one of these job sites for all relevant listings…
DISCLAIMER: We endeavour to always credit the correct original source of every image we use. If you think a credit may be incorrect, please contact us at info@sheerluxe.com.