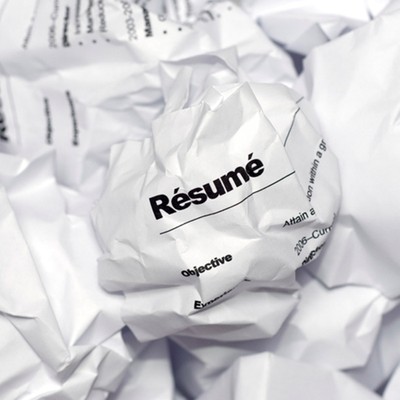 7 Ways To Improve Your CV Right Now

In January, the UK recorded its highest ever employment rate – 76.3%. A few months on, it's impossible to know how many people in the country face losing their jobs. For that reason, now might be the time to give your CV a refresh. When it comes to helping yours stand out in one of the toughest job markets in history, heed this professional advice…

Rewrite Your Personal Statement
If you haven't already incorporated a personal statement into your CV – specifically two or three sentences at the top summarising who you are and the experience you have – now might be the time to give it a refresh. "It's a way of introducing yourself and drawing attention to the things you want hiring managers to notice most," says Andrew Arkley from Purple CV. "Dedicate a good amount of time to getting it just right, as it will set the tone for the rest of your CV. Try to include a few concrete examples from your career that demonstrate your value and expertise, and communicate them concisely and engagingly."
Emphasise Your Ability To Adapt
According to Yvonne Smyth, head of diversity and inclusion and recruitment firm Hays, if you've ever had to adapt your own working practices quickly in response to challenging circumstances, now is the time to highlight this on your CV. "The agility with which many organisations have had to react to the Covid-19 crisis has been incredible, with some workforces moving entirely to remote working and processes being rebuilt from the ground up. As a result, many employers have a newfound appreciation for staff who have change management experience or simply show the right mindset to adapt to change quickly." If you don't have this experience, then try stressing your soft skills, especially those which indicate you're someone with the right attitude to deal with change, whether it be problem-solving, proactivity or flexibility. 
Prove You're Essential
Even if you've been furloughed – or worse, lost your job altogether – there's no harm in emphasising how crucial you were to your last employer during this time as part of your CV. For instance, if you helped prepare your workplace for coronavirus protocols or continued to head to your job amid the chaos, make a point of it somewhere on your resume. Just remember to frame it in a positive light by explaining how you managed to deliver the expected and desired results, albeit perhaps with minimal direction or supervision.
Update Any New Skills 
As a result of the lockdown, many of us have tried to use our free time to learn new skills, whether it be coding, improving our writing or delving into a new interest like analytics. Whatever it is, now could be the time to get some of those new skills onto your CV. "All of these are examples of skills that have the dual merits of being in-demand and easy to learn from home," says Yvonne. "Updating your CV with any newly acquired expertise shows both your commitment to independent learning, and initiative in terms of using furlough leave or free time productively.
Embrace New Opportunities
Long-term consequences of the crisis are likely to include significant shifts in industry, all of which could have a sustained impact not just the job market, but the world at large. With that in mind, demonstrating an openness to new opportunities on your CV may well lead you to gain experience you might not have acquired otherwise, and discover strengths you didn't realise you had. While technical ability has always and will continue to be important, says Yvonne, remember that soft skills emerge time and again as a key priority for prospective employers. "Showcasing these on your CV by highlighting relevant experience and examples of times you've demonstrated excellent communication, emotional intelligence and willingness to learn will show how indispensable your adaptability makes you," she explains. "In a world now shown to be beset by change at all sides, it is this quality that will keep your career on the right trajectory, whatever the future holds."
Check Everything Is Digitally Compatible
Even if companies are looking to hire people, chances are their recruitment processes have gone entirely digital, from CV submission all the way through to final interviews. With that in mind, give your professional online presence the once over. Make sure your LinkedIn profile is up-to-date and try to connect with other professionals in your sector. When it comes to your CV, make sure you include links to these profiles in case employers want to see more, and check the file types are the right format for uploading via different online portals. When applying for jobs, keep an eye out for the format requested by the employer – whether it be a PDF, Word or Google document. 
Remember, It's Better To Be Prepared
While there might not be hundreds of jobs up for grabs right now, it never hurts to be prepared ahead of when things start to recover. Make sure you're looking everything over regularly, and not sending your CV out for jobs you don't really believe are right for you – especially without tailoring your experience and covering letter. "Review your CV, cover letter and the jobs you're applying to every week," advise the experts from employment search engine Indeed. "Applying for several roles is good, but a one-size-fits-all method rarely works. Ask yourself, are the jobs you're applying for a good fit for your skills, background and experience? Is your CV attractive to employers based on their job ad? Does your cover letter expand on your qualities and the specific role? If the answer is no, devote some time to finessing your approach."
For more employment advice visit the Citizens Advice Bureau website here.
DISCLAIMER: We endeavour to always credit the correct original source of every image we use. If you think a credit may be incorrect, please contact us at info@sheerluxe.com.