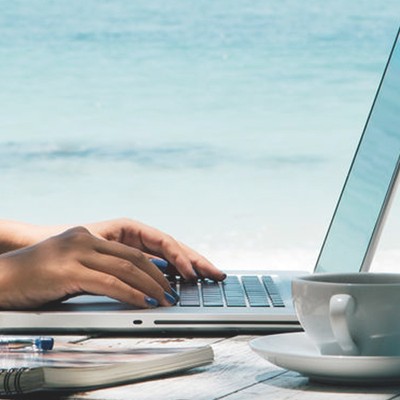 The Best Remote Jobs You Can Do From Anywhere In The World

If you're someone that lives to travel, a full-time desk job can get in the way. But times are changing, and there are now certain jobs you can do remotely – meaning you can explore the globe without quitting your job.

In recent years, flexible and freelance working has increased in popularity – mostly because it offers people a better work-life balance. In an annual survey conducted by FlexJobs, 50% of people said the reason why they work is to travel, and luckily it seems employers are getting more on board with letting workers do their jobs remotely, meaning it doesn't matter where you live in the world, they're just happy as long as you get your work done. Here are the jobs that hold the best prospects for working remotely – so, we'll see you on the beach?

Writer
Some writer jobs require you to stick to a certain location, but there are plenty that'll take you on without having to set foot in an office. Many will be freelance positions, which are great for the freedom, but not necessarily ideal if you're looking for something longer term or are worried about a consistent income. Luckily, there are some positions that'll take you on as a regular contributor. Whether you're a technical or proposal writer, copywriter or journalist, there's something for every kind of editorial whizz. And if you were worried about having to give up on a good company in order to work and travel, Buzzfeed and Bustle are currently looking for remote freelancers. Or, if freelancing is your kind of thing and you want regular updates on new projects, sign up to the Freelance Writing Jobs newsletter. 
And for those in the editorial industry, sometimes it can take a while to build yourself up to a position of seniority. But that doesn't mean you can't enjoy the perks of remote working as someone slightly higher up – these opportunities extend out to editors too. Some, like this Copy Editor position are also part time, which means if you've moved from Blighty to far sunnier climes, it'll give you plenty of time to explore your surroundings.

Project Manger
That's right – you don't have to be near a project in order to manage it. Digital project managers can cover a whole host of topics, from websites and mobile apps to events and social media. And they're not too hard to come by – Indeed is full of remote project manager positions. This job is working in HR project management and although it's London-based, it does involve working remotely. And it's £77,000, which means only one thing: plenty of money for more travel.
Graphic Designer
Every aspect of graphic design is done behind a screen anyway – think everything from brochures and business cards to packaging and logos. In order to do remote working you'll probably need solid proof of your creativity in the form of a portfolio and good working knowledge of Adobe Creative Suite. But this is a good career for someone who fancies trying remote work; some of these jobs can be done from anywhere in the world. Design site 99designs.co.uk has plenty of freelance work for designers who don't want to be tied down.
 
Online English Teacher
In order to teach English, you're often required to go and live in a different country anyway, but with an online job you can live in one country of your choice and be teaching English to someone in a different country entirely. Companies like MPC Connect allow you to teach if you have a bachelors degree or above, are over 18 and own a webcam. Not too hard, right? You must work a minimum of seven hours per week, but anything above that is your prerogative, meaning you'll have plenty of time to go and explore your new home – wherever that may be.
Marketing
If you've built a career in marketing but fancy trying a more nomadic lifestyle, there are still plenty of ways to carry on with your career. Remote.co is filled to the brim with great marketing positions. This job for a Digital Marketing Specialist offers a multitude of perks – one being the option to either work remotely, or can be co-located in their California, Massachusetts or London office. You can't argue with that amount of choice. And you'll get all the perks of someone working a normal 9-5: 28 days holiday, maternity and paternity pay, and a flexible schedule. What more could you want?
Web Developer
Whether it's websites you build, or apps and computer programmes, everything you need sits on your computer, so that's all you really need to be able to do your job. Web development involves very little efface-to-face or client interaction as it is, so it doesn't really matter whether you're working in London or Thailand. Plus, they're kind of available in abundance – just check out these ones on Glassdoor. These kinds of jobs are generally pretty well paid, too – so for someone who wants to have the money to travel a lot, it's the perfect career choice.
DISCLAIMER: We endeavour to always credit the correct original source of every image we use. If you think a credit may be incorrect, please contact us at info@sheerluxe.com.